Good Morning, Illini Nation: Underwood's take on rebuilding a program (even if it's not his)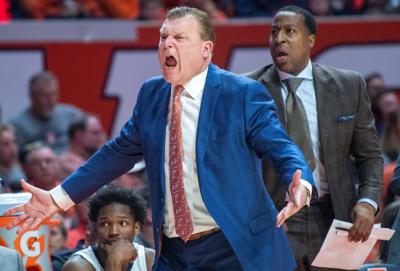 Welcome to "Good Morning, Illini Nation," your daily dose of college basketball news from Illini beat writer and AP Top 25 voter Scott Richey. He'll offer up insights every morning on Brad Underwood's team (in a roundabout way):
Illinois' Saturday win against Rutgers didn't change the fact that the Scarlet Knights — following season after season in the Big Ten basement — still have a spot among the league's best teams at this point of the season. It took some time and plenty of losses the past three seasons, but Rutgers coach Steve Pikiell has his team on the upswing.
Illini coach Brad Underwood had an interesting response after the game to a question about the time it's taken for Pikiell to put that turnaround together and the impatience of fans when it comes to rebuilding a program. Underwood almost could have been talking about his own program, it seems.
"They don't know anything," Underwood said of those impatient fans. "Let's be real. Let's call it the way it is. They don't. I get it. It's hard. Kids don't change instantly, and you don't change a whole team every year. You have to build it, and you have to grow it and you have to go through all the process of speed bumps and injuries and everything else to establish what you do off the court.
"You look at what Steve did at his previous stops, and you know there's a really good coach and what he stands for — the toughness and grit. Rutgers isn't going anywhere. He's got a great staff. They do a great job of recruiting, and they recruit his type of guys. They've all got an edge about him. That's no bottom feeder in the Big Ten anymore. That's going to be a program that's going to be there for a while."