Illinois men's basketball
Good Morning, Illini Nation: Underwood talks Jermaine Hamlin's value to Illini
Welcome to "Good Morning, Illini Nation," your daily dose of college basketball news from Illini beat writer and AP Top 25 voter Scott Richey. He'll offer up insights every morning until practice tips off.
Of all the late, surprise additions to the Illinois men's basketball roster — and there were plenty — Jermaine Hamlin was both the latest and probably the biggest surprise. That's especially true when you consider the fact the Lincoln graduate was firmly planning on attending Link Prep in Branson, Mo., for the 2019-20 school year before the opportunity at Illinois developed.
That the Illini didn't officially sign Hamlin until Aug. 20 — six days before the start of the school year — means the 6-foot-10, 235-pound center heads into his first season in the same place as the latest long-armed project big man at Illinois (think Samba Kane). Behind.
"He's a little bit behind just in terms of he wasn't here this summer," Illinois coach Brad Underwood said.
That doesn't change how Underwood feels about his newest player, though.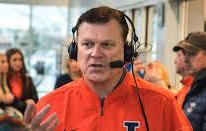 "I love Jermaine," Underwood said. "All 7-foot-4 1 / 2 of his wingspan. His size. His athleticism. He's very, very quick off the ground. I think he's way ahead defensively of maybe where he's at offensively, but I'm excited.
"Right now, he's got a learning curve, and he's got to get caught up. His upside is really exciting, and it's going to be really fun to watch."
How much Hamlin plays this season is the question because the question of if he'll play is one Underwood answered Monday. It was a yes. Because while Giorgi Bezhanishvili might spell Kofi Cockburn at center some, the Illini still intend to play those two together at least some of the time. That makes Hamlin the defacto backup center.
"I don't think there's any doubt about that," Underwood said about Hamlin getting playing time this coming season. "I think he gives us something defensively that we haven't had in that quick-twitch guy that can get off the ground and block shots. I watched a game this summer on the circuit where he had five blocks in one quarter.
"He's a competitor that way, and he's been extremely well-coached. He's a winner. As he's getting adjusted to (strength and conditioning coach Adam Fletcher) in the weight room and that piece of it, he'll continue to grow and make rapid strides pretty quickly."