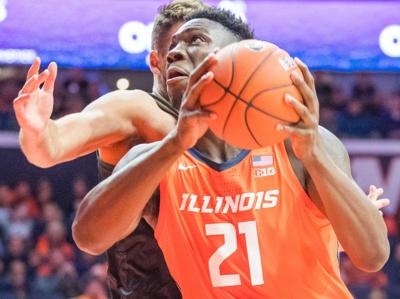 Welcome to "Good Morning, Illini Nation," your daily dose of college basketball news from Illini beat writer and AP Top 25 voter Scott Richey. He'll offer up insights every morning on Brad Underwood's team:
Six Illinois regulars are scoring at least 8.5 points per game. Four of them are in double figures for their averages, with sophomore guard Ayo Dosunmu leading the way at 16.3 points per game and followed closely by Kofi Cockburn (15.3 ppg), Andres Feliz (15.3 ppg) and Giorgi Bezhanishvili (10.9 ppg).
Racking up 29 assists in beating Hampton and then 25 more in another blowout of Division II Lindenwood has stuck with Illini coach Brad Underwood more. Sharing the ball, moving the ball, that's playing with a winning attitude in Underwood's estimation.
"Nobody cares who's getting it," Underwood said. "We've got guys who can go get it now. Kofi probably could have scored at will (against Lindenwood), yet it was a game we got out and got running and got some easy baskets. I think we're becoming a well-rounded team that's been pretty connected."
One of Cockburn's best plays and certainly his most unselfish came late in the first half against Lindenwood. The 7-foot Illini center was posting up 6-1 Lindenwood guard T.J. Crockett when he snapped a quick pass to a wide open Dosunmu at the three-point line. Dosunmu made it to extend Illinois' lead to 32.
" It's a play that there's no right or wrong play there," Underwood said. "If he turns around and scores it, then everyone says, 'Well, he should have posted up a guard.' He made a really unselfish play, and he did it so instinctive.
"It was just like, 'Oh man, my guy's open,' and he just put it on him. Ayo knocks it down, so it becomes a great play. Circumstances are I hope he makes that play nine out of 10 times to be honest."