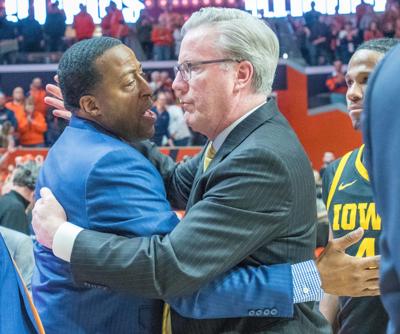 Welcome to "Good Morning, Illini Nation," your daily dose of college basketball news from Illini beat writer and AP Top 25 voter Scott Richey. He'll offer up insights every morning on Brad Underwood's team:
Illinois coach Brad Underwood and Iowa coach Fran McCaffery downplayed the heated nature of what has become a clear rivalry between their two teams. At least for the fans. And the players.
They feel it.
"We don't like each other," Illinois sophomore guard Ayo Dosunmu said. "Simple as that. We just don't. We don't like each other. They want to kill us. We want to kill them. It's as simple as that.
"They want to take us out. We want to take them out.
 We have the respect where both teams know they have to come out and play. … There's no love on the court."
Sunday's game got even chippier than the Feb. 2 game in Iowa City, Iowa. That one didn't have matching pairs of double technicals at the same time. Those were handed out Sunday to Illinois' Da'Monte Williams and Iowa's Connor McCaffery along with the Illini's Trent Frazier and Hawkeyes' CJ Fredrick.
Underwood said he doesn't condone that. But he's all for his team having a rival.
"I think rivalries, if you want to call it that, are awesome," he said. "They're great for sports. They're great for college basketball. You can have as many of them as you want. Those games become fun. They become important to the fans and the players. Every time we play, we're going to compete. That's what it's all about."
Fran McCaffery wouldn't even go that far, though. Didn't want to call Illinois-Iowa a rivalry or say that there was more intensity — and tension — Sunday night because of it.
"I think it's that way every game in this league," he said. "I really do. There's a respect factor when you look at how many teams are going to be going to the tournament, and the quality of player and team that each team faces every night. I just think it's kind of to be expected, I guess."