Good Morning, Illini Nation: What adding Dain Dainja means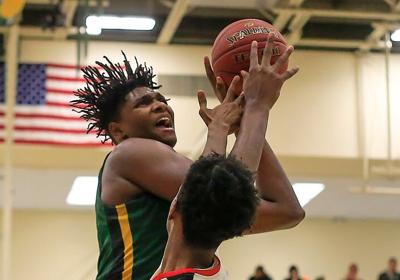 Welcome to "Good Morning, Illini Nation," your daily dose of college basketball news from Illini beat writer and AP Top 25 voter Scott Richey. He'll offer up insights every morning on Brad Underwood's team:
Some Illinois basketball news after a football win. Baylor transfer Dain Dainja commits to the #Illini after a Friday night visit. https://t.co/inIOSTBoIF

— IlliniHQ (@IlliniHQ) November 28, 2021
Dain Dainja didn't waste any time in finding a new college basketball home. The former Baylor big man announced he was leaving the Bears on Nov. 22. By Nov. 27 he was committed to Illinois. Some thoughts ...
— Illinois is now at its full (one-time only because of the pandemic) complement of 15 scholarship players. Brad Underwood left an open scholarship for this very purpose. Now it's filled. And as things stand now, the Illini will be over the limit of 13 scholarship players for the 2022-23 season with Dainja on board.
Alfonso Plummer's scholarship is the only one technically coming off the books next season since Trent Frazier and Da'Monte Williams' scholarships don't count this year. That means Illinois will be at 15 scholarship players again with Dainja coming and three freshmen signed in Jayden Epps, Sencire Harris and Ty Rodgers. 
The count:
Jacob Grandison
Austin Hutcherson
Omar Payne
Kofi Cockburn
Benjamin Bosmans-Verdonk
Andre Curbelo
Coleman Hawkins
Brandon Lieb
Brandin Podziemski
Luke Goode
RJ Melendez
Dain Dainja
Jayden Epps
Sencire Harris
Ty Rodgers
The expectation, one can assume, will be Cockburn doesn't return. Of course, that was the case heading into this season, and the 7-foot center came back. While Grandison and Hutcherson both have eligibility remaining, they'll have a decision to make as to whether or not to use it. So that could mean Illinois will slide easily back to 13. Either way, there's some scholarship math to figure out, and that doesn't even take into account the possibility of transfers out.
— Dainja will be able to use that one open scholarship right away and join Illinois when the second semester starts in January. That's all he can do, however, given he played the first three games of the 2021-22 season at Baylor. Dainja won't receive immediately eligibility.
Here's the thing, though. The Chicago native and Park Center (Minn.) grad will start the 2022-23 season with four years of eligibility. The 2020-21 season doesn't count because of the pandemic, and this will be his redshirt season. That leaves him four seasons in orange and blue on the same timeline as the three incoming freshmen guards.
— Dainja's time at Baylor was basically a wash. He sat out his first year with the Bears after having surgery before the season and then played just nine total minutes in three games this year before hitting the portal. He did put up legit numbers in his senior season of high school, though, averaging 20.9 points at Park Center.
— Dainja's immediate future at Illinois is a developmental one, and he'll get the chance to do so going up against Cockburn (a preseason All-American) every day in practice. Longer term, he'll compete with Omar Payne for the starting center spot beginning in 2022-23 based on the assumption Cockburn won't return for a fourth season. Payne hasn't been much of a factor just yet for Illinois in his first season in Champaign, so Dainja could snatch that spot.