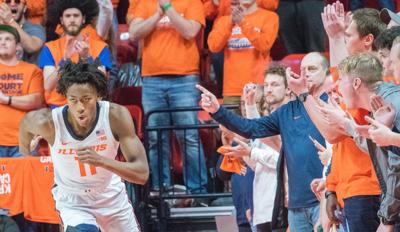 Welcome to "Good Morning, Illini Nation," your daily dose of college basketball news from Illini beat writer and AP Top 25 voter Scott Richey. He'll offer up insights every morning on Brad Underwood's team:
Illinois' 71-59 victory Monday night against Nebraska moved the Illini into a five-way tie for second place in the Big Ten standings. The win didn't, however, get the Illini into double-bye territory in the Big Ten tournament.
The five-team tiebreaker still has them sixth. Good enough for one bye right now with the chance to improve on that in the final four games of the regular season.
Don't mention the Big Ten standings or where Illinois might be seeded in the conference tournament to Brad Underwood. The Illinois coach simply isn't interested.
"What's the day of the last game?" Underwood asked. "March 8? So March 9 I'll look at the standings, and we'll see where we're at. We'll find out if we play Wednesday, Thursday or Friday. I get ticked off every time somebody wants to talk to me about it. I don't look at them. I don't believe in them. They're great for all of you guys.
"(Team spokesman Derrick Burson) wants to talk to me all the time about league standings and this and that. I just look at my phone and turn a deaf ear. But it's exciting to be in the talk. I get all of that. For me to waste my energy on that when it's literally going to change every day, it's all going to flip. It's all going to change, and what happened on Feb. 23 will be different than what's going to be the reality. It's exciting to be in the talk. I'm more worried about us continuing to play well and get better."