Good Morning, Illini Nation: When (a bigger) opportunity knocks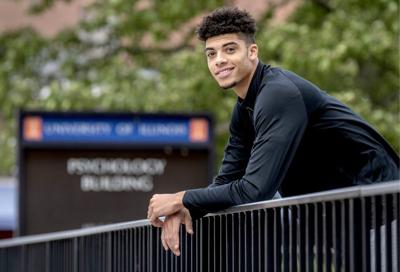 Welcome to "Good Morning, Illini Nation," your daily dose of college basketball news from Illini beat writer and AP Top 25 voter Scott Richey. He'll offer up insights every morning on Brad Underwood's team:
Austin Hutcherson and Jacob Grandison were always going to be in Illinois' plans for the 2020-21 season. Illini coach Brad Underwood wouldn't have added the pair of sit-out transfers last summer if that wasn't the idea.
Hutcherson and Grandison became even more important for next season Tuesday evening when Illinois guard Alan Griffin announced his intent to transfer. Minutes just opened up on the wing, and the Illini will need somebody to fill them. Hutcherson and Grandison — plus Tevian Jones — will be in the mix to do so.
Having Hutcherson and Grandison already on the roster — already a season into their Illinois careers — means the Illini are uniquely suited to handle Griffin's abrupt departure. The transfer duo just spent the entire 2019-20 season giving the Illinois regulars fits in practice. Those two alone made for a better-than-normal scout team, and they know the program and know the system.
The Hutcherson and Grandison fit next season when it matters is all that's left to figure out. Considering Griffin was Illinois' best shooter this past season — and only Illini to shoot better than 40 percent from three-point range — Hutcherson will need to make good on the fact he shot 41 percent in two seasons at Division III Wesleyan (Conn.) University.
Grandison wasn't quite as efficient as a shooter at Holy Cross — 35 percent from three for his career — but he brings some physicality on the wing at 6-foot-6 and 200 pounds. He used that to rebound at a solid clip in his two seasons with the Crusaders. That will be just as important as any scoring he might do given Griffin's emergence as one of the better rebounding guards in the Big Ten.
Regardless of what the original plan was to use Hutcherson and Grandison in 2020-21, their respective roles just became more important moving forward. The door is also open wider for Jones to have his own breakout moment after two inconsistent seasons marred by suspensions.