Welcome to "Good Morning, Illini Nation," your daily dose of college basketball news from Illini beat writer and AP Top 25 voter Scott Richey. He'll offer up insights every morning on Brad Underwood's team.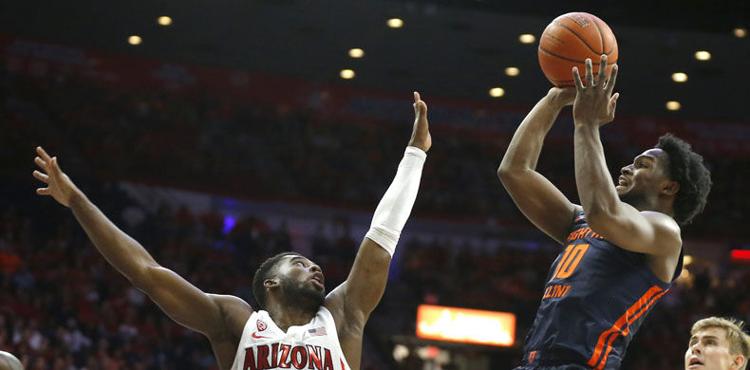 Illinois has won more games than its lost this season. Even took care of business on the road at Grand Canyon. However, the Illini have dropped in the Pomeroy College Basketball Ratings (i.e. KenPom) from their preseason projection as the 35th best team in the country to No. 46.
The initial preseason rating, though, was just as a projection. Now there's real data to crunch. Illinois' is a bit of a mixed bag (with rankings through Tuesday's games).
The good
— No, Illinois didn't haul in 20 offensive rebounds for a third straight game in Sunday's loss at then No. 21 (and now No. 19) Arizona. In fact, the Illini had just eight after dominating the offensive glass against Nicholls State and Grand Canyon. Still, only seven have a higher offensive rebounding percentage than Illinois (44.4), with East Tennessee State the top team in the country (52.1).
— Illinois' adjusted offensive efficiency is also a plus through three games. Again, as a reminder, AOE is points scored per 100 possessions adjusted for quality of opposing defenses, the site of each game and when each game was played with a recency bias. The Illini's AOE sits at 107.2, which ranks them 28th nationally and sixth in the Big Ten.
The bad
— Turnovers, obviously. The raw number of turnovers through three games (62) was a lot. Here's a different way to look at that particular statistic. Illinois has turned the ball over on 26.9 percent of its possessions. Only 18 Division I teams (at least those that have actually played other Division I teams) have more ball security issues than the Illini. North Carolina State is last among that group, turning it over on 36.8 percent of its possessions with 59 total in two games.
— More, OK most, of Illinois' less than ideal advanced metrics come on the defensive end. Through three games, the Illini rank 317th in opponents' three-point percentage, 316th in blocked shot percentage and 274th in steal percentage. The last of those is a result of Underwood backing off defensively from the extreme high pressure, denial-heavy scheme he ran the last two years.