Grades are in: Breaking down Illinois-Maryland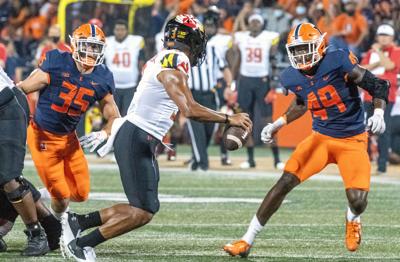 Player of the game
Maryland quarterback
Taulia Tagovailoa
Tagovailoa threw the ball — a lot — Friday night. He also completed most of his passes, going 32 of 43 for 350 yards and one touchdown. A touchdown that came at a rather opportune moment as Tagovailoa led the Terrapins on a game-tying drive. Then a game-winning drive. Tagovailoa's efficiency, though, stands out even more when contrasted with the passing performance Illinois got from Brandon Peters.
Offense
Illinois: D-
Maryland: B-
What's the opposite of complementary football? The Illini defense (more on them in a bit) played significantly better against Maryland than it did six days earlier at Virginia. The Illini offense couldn't match that level of play. The run game was working until both Chase Brown and Josh McCray went down with injuries, but Peters was almost a liability in his first game back after his Week 0 shoulder injury. The Terrapins did their thing — 15 total chunk plays and just enough scoring to leave Champaign with a win.
Defense
Illinois: C+
Maryland: B
The Illini generated a pass rush for the first time in weeks and solved some of their coverage issues from the previous two losses. It was multiple steps in the right direction after a pair of truly concerning performances against Texas San Antonio and Virginia. It took some injuries before Maryland could slow down Illinois' run game, but the clear advantage — even with a better Illini pass rush — was the pressure the Terrapins were able to put on Brandon Peters. And how he handled it. Poorly.
Special teams
Illinois: C
Maryland: C+
James McCourt had a field goal blocked in the first half. Joseph Petrino missed one in the first half. A moment of struggle for both teams' kickers. Petrino did drill the game-winner from 32 yards out, however, to give the Terrapins the slight special-teams edge they would have lost completely if Tarheeb Still had more than muffed a first-quarter punt from Illinois' Blake Hayes and fumbled it back to the Illini deep in Maryland territory.
Coaching
Illinois: D
Maryland: C+
Bret Bielema played the odds when he elected to punt late in the fourth quarter on fourth-and-1 from the Maryland 40-yard line. Blake Hayes delivered what was expected, pinning Maryland at its own 14-yard line. But that opened the door for the Terrapins to burn through the Illinois defense and tie the game. And then maybe Bielema should have gone with his first instinct and turned to Art Sitkowski for the two-minute drill. Peters didn't get the job done.
Overall
Illinois: D-
Maryland: C+
It was just a three-point game, but the magnitude of the loss felt higher after the Illini squandered a chance to go 2-0 in Big Ten play in the closing minutes. That's really the only way to put it. Illinois battled from its own deficit to take the lead, relying on an improved defense and an offense that got lucky on the go-ahead touchdown. But costly injuries — and even costlier mistakes — saw Illinois snatch defeat from the jaws of victory on Friday night. Not ideal.
Scott Richey is a reporter covering college basketball at The News-Gazette. His email is srichey@news-gazette.com, and you can follow him on Twitter (@srrichey).