CHAMPAIGN — Brad Underwood saw Monday night coming.
The way his Illinois men's basketball team scuffled its way through shootaround ahead of its Big Ten/ACC Challenge showdown with Miami was a concern. So were the practices leading up to Monday night's game.
That Miami was lights out offensively in the first half didn't help. But a 27-point deficit for the Illini — based on what Underwood had seen leading up to the game — maybe wasn't such a big surprise.
Illinois put together a comeback in the second half. Erased most of its deficit.
But that 27-point hole was ultimately too much, as Miami fended off a furious late charge by the Illini for an 81-79 victory in front of 11,819 fans at State Farm Center.
"This is on me," Underwood said. "I did a very poor job in getting our guys ready. That can't happen. We saw what a little fight does in the second half."
Underwood called Monday's shootaround the worst in his tenure at Illinois. Attention to detail — and the scouting report — wasn't there for the Illini (6-2). Even simple questions didn't generate right answers before Illinois hosted Miami (5-3).
"It wasn't as much physical as it was mental," Underwood said. "Again, maybe that's on me. It's my job to try to correct those things and make sure we're emphasizing the right things. … I structured a couple of really bad practices. It wasn't enough effort stuff to sustain every day the way we play to win.
"I'm mad at myself, yet guys have to fight with pride. Once the ball's thrown up, to be quite honest, there's very little a coach can do. I mean, I tried everything in the first half. The play card was tried. The timeouts were run out. At some point, your competitive spirit has to kick in, and it did."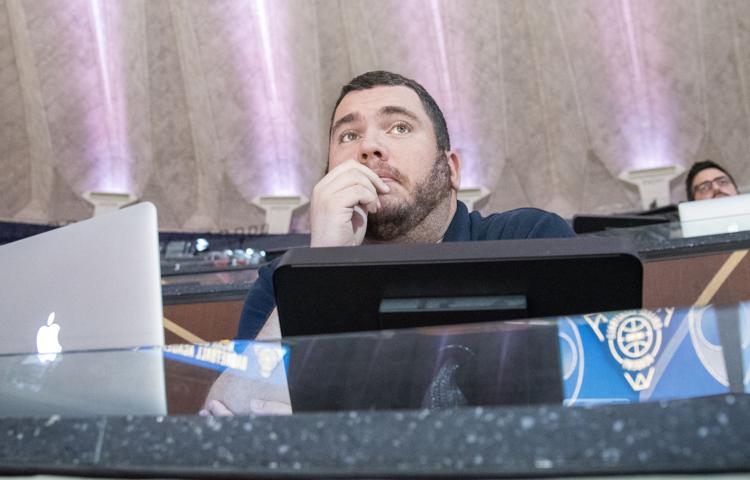 Giorgi Bezhanishvili didn't let his coach take all the blame. He saw some of the same issues leading up to Monday's game. They contributed to the slow start — that 27-point first-half deficit — that Illinois had to scramble to overcome.
"We just didn't come ready as we should into shootaround or practice," said Bezhanishvili, who finished with six points, eight rebounds and five assists. "Not as focused as we should have been. Not as dialed in. We didn't go as hard as we can. You can always go harder and harder, and we didn't go as hard as we could.
"That's on our part. That's on the players' part to come ready every day and, as we say, be everyday guys. We didn't practice as hard. We'll get that right."
The Illini got it mostly right in the second half. They eventually procured some stops and even strung a few together. They also took care of the ball better after 10 first-half turnovers. Their energy was better — higher.
But, again, 27 points was a big hole to climb out of against Miami.
"As soon as we came out, you saw we were fired up, but you obviously cannot win a game going 27 down in the first half," said senior guard Andres Feliz, who had 11 points, six rebounds and three assists. "I think we should have started with that energy from the beginning like we always do. We've just got to come together and keep fighting because we're a great team on the defensive side, and that's what leads us to good offense.
"We've just got to come out more focused. We've just got to bring it and stay together. We're going to be great. We're a great team."
Halftime wasn't about scheming Xs and Os for Illinois. Effort was Underwood's focus. Changing that meant more than anything he could have done to adjust the game plan, and it showed in the second half.
"We addressed that, and it was great to see we've got a locker room full of guys with pride," Underwood said. "And they fought. You can't ask for anything more. Had we been able to finish off that last play, you're talking about the biggest comeback in school history, but we're not."
Miami executed its game plan to the letter.
The Hurricanes wanted to limit Illinois' rebounding opportunities. Chris Lykes (28 points) and DJ Vasiljevic (20 points) followed through by shooting a combined 18 of 28 from the field (64 percent) and knocking down seven three-pointers. Ball screens in the middle of the court with Lykes keeping his dribble created even more offensive opportunities.
"We have great respect for Brad Underwood and his staff and team," Miami coach Jim Larranaga said. "We came into the game so darn worried they were just going to crush us on the boards that we wouldn't really have a chance. Instead, our guys came out with great effort and great execution of the game plan, played very good defense and were on fire on offense. We're very, very happy with the win. It's our second road win of the season, and those are very hard to come by."