On Monday, the only University of Illinois baseball alum to throw a no-hitter in a Major League Baseball game will celebrate the 50th anniversary of his legendary gem.
Ken Holtzman, a 1965 letter-winning pitcher for coach Lee Eilbracht, held the Atlanta Braves without a hit at Wrigley Field on Aug. 19, 1969, thanks significantly to a strong Lake Michigan breeze blowing over the left-field wall.
Returning to Chicago from a successful 12-game West Coast swing, the first-place Cubs came into the Tuesday afternoon game at 29 games over .500. Third baseman Ron Santo's three-run home run in the bottom of the first off knuckleballer Phil Niekro provided Holtzman with an early cushion.
Chicago's 23-year-old left-hander, in his fifth season with the Cubs, breezed through the early innings, tossing strike after strike, relying primarily on his pinpoint fastball on that 76-degree day at the Friendly Confines. In the top of the seventh, Holtzman faced eventual home run king Hank Aaron in what would prove to be the most crucial moment of the game. The Hammer hit Holtzman's 2-2 pitch as well as he could.
"I had pitched long enough to recognize the crack of the bat and the trajectory," Holtzman told newspaper reporters after the game. "When you throw a pitch like that, especially to a guy like Hank Aaron, I'm thinking, 'OK, well now the score is 3-1.'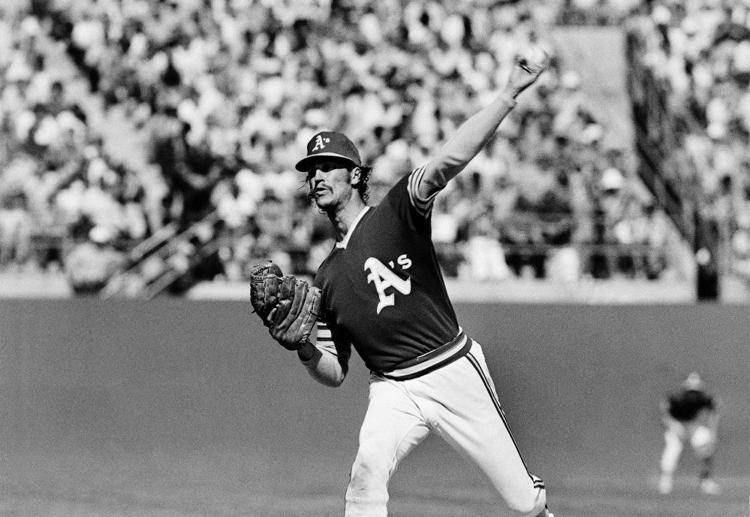 Initially, Cubs left fielder Billy Williams assumed the ball was gone, too, then quickly remembered the strong wind that afternoon. He backed up into the "well" at the ivy-covered wall, then lifted his glove triumphantly.
Said Aaron afterwards: "It was the hardest ball I ever hit. I don't know why or how it stayed in the ballpark. I thought for sure that I hit a home run and, sure enough, the wind blew it right back to Billy Williams. Every year at Cooperstown, Billy always reminds me about that play."
In the top of the ninth inning, Holtzman had to face the Braves' top of the order. Felipe Alou popped up to shortstop and Felix Millan grounded to third base. Now Holtzman's flirtation with a no-hitter stood between only him and Aaron. When Atlanta's future Hall of Famer grounded to Glenn Beckert at second, a wild celebration ensued, marking Chicago's first no-hitter since 1960.
It proved to be one of the Cubs' last highlights of 1969, though. They would win only 15 of their final 40 games, finishing eight games behind the New York Mets in the National League East final standings.
For Holtzman, however, success continued for the most part over his final 10 big-league seasons. He threw a second no-hitter in 1970, this time against the Cincinnati Reds.
He was traded to the Oakland A's in 1972, joining a Charlie Finley staff that included Vida Blue, Jim "Catfish" Hunter and John "Blue Moon" Odom. During his four years in Oakland, Holtzman's cumulative 77-55 win-loss record helped the A's win four straight American League West Division titles and three World Series championships.
His career statistics with the Cubs, A's, Orioles and Yankees included a 174-150 record and a 3.49 earned run average.
During his only season with the Illini (1965), Holtzman had a 6-2 record and struck out 72 hitters in 57 innings. He was Illinois's Most Valuable Player and earned third-team All-Big Ten honors. Today, at the age of 73, Holtzman resides in his hometown of St. Louis.
Illini Birthdays
Sunday: Abigail Martin, swimming & diving (20)
Monday: Stephanie Steinhoff, soccer
Tuesday: Don Hansen, football (75)
Wednesday: Kaylee Heimes, swimming & diving (19)
Thursday: Brian Johnson, basketball (44)
Friday: Bruce Sullivan, football (74)
Saturday: Hope Sanders, track & field