Illini share their Olympic stories: 'It was pretty awesome'
The Tokyo Summer Games start this week. A year later than expected after the COVID-19 pandemic pushed the Games back by 12 months. Before the world watches the quadrennial showcase, Illinois beat writer Bob Asmussen asked nine Illini Olympians to share some memories from their unique Olympic experiences: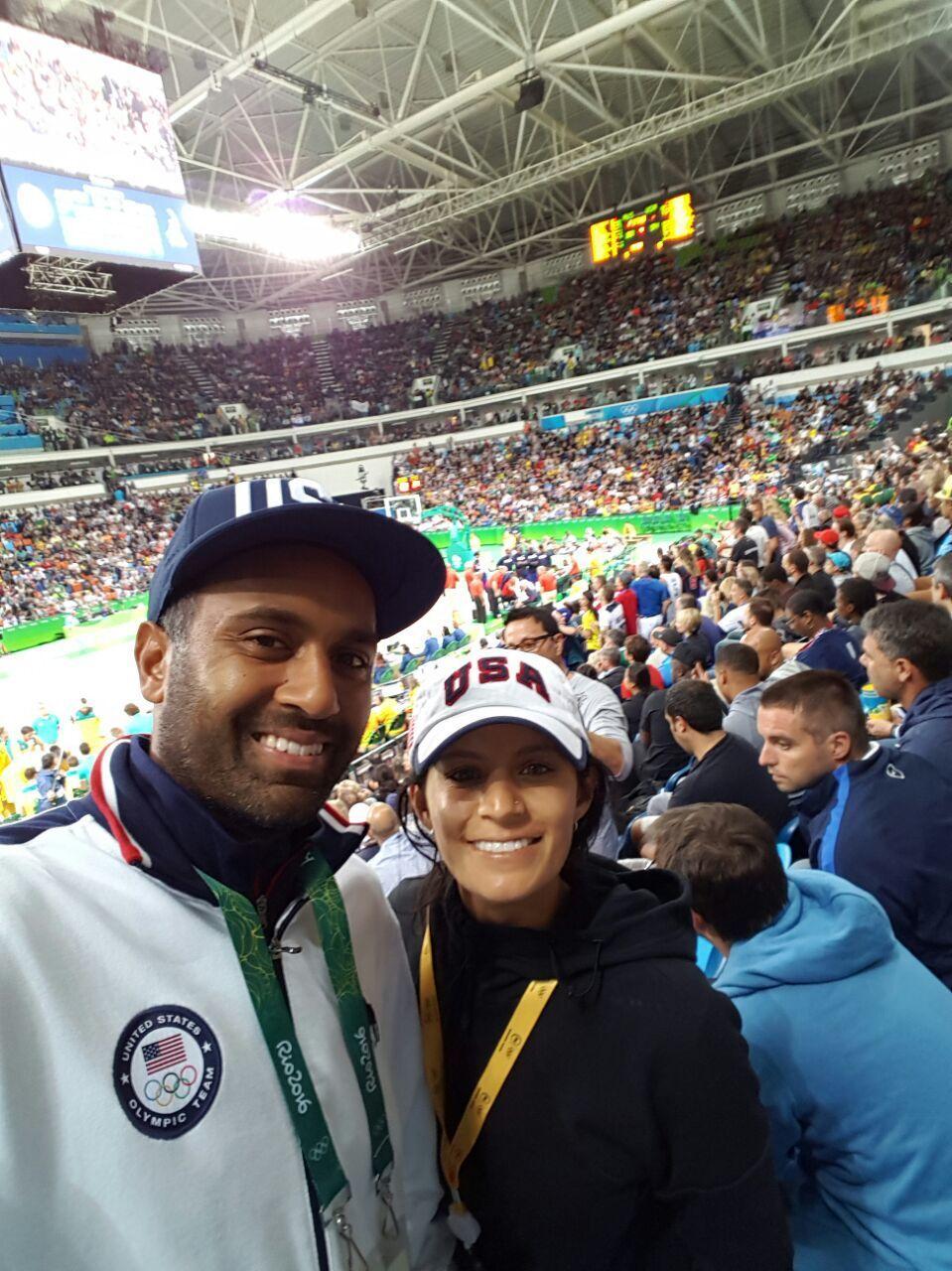 Rajeev Ram
U.S. tennis, Rio 2016 and Tokyo 2021
"The Opening Ceremonies were incredible. It's always something you see on TV. You see all of the hoopla. It doesn't do justice to what it's like in person. It really was what made it special. Even more than winning a medal, just being part of that.
"I got to see some people I knew from other arenas, other areas. We were all in this together as one big, athletic family. That part was pretty cool, maybe more than meeting a celebrity.
"There was the Zika virus that was a big issue. The U.S. team decided for tennis that we were going to stay at a hotel to try to be as safe as we could from that. Fortunately for everybody, it proved no issue.
"My wife (Illinois alum Zainab) was there, and we got to go see a men's swimming relay. We saw the U.S. win a gold medal there. Michael Phelps was on the team. We watched the U.S. men's basketball team play in the quarterfinals against Australia.
"I did OK in the tournament, got all the way to the end in mixed doubles (with Venus Williams).
"Brazilian people are quite passionate and quite into their sports. When it got going, it was pretty awesome.
"I'm leaving (Tuesday) for Tokyo. I'm playing doubles and mixed doubles again. Same as last time. I would love to give it my best shot for another medal. If it happens to be gold, that would be the best kind.
"We play all kinds of tennis tournaments and (there's) a lot of prestige. The Olympics are different. To represent the U.S. and receive a medal is right up there with anything else I've ever done in the sport. It almost felt bigger than the Grand Slams."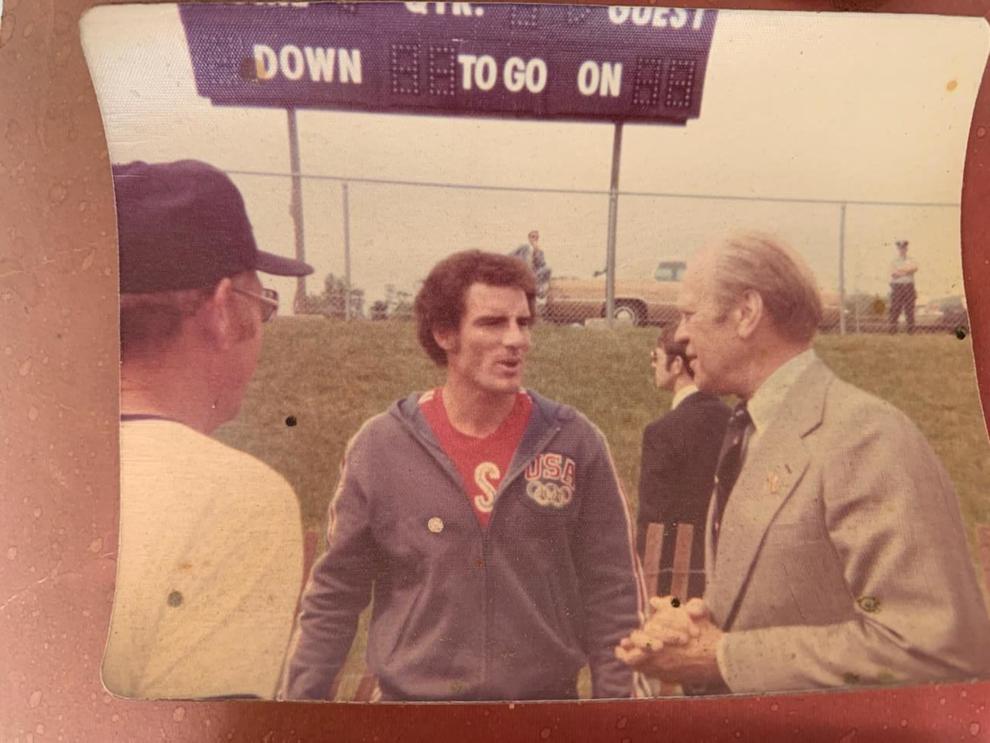 Mike Durkin
U.S. track and field, Montreal 1976
"We actually stayed in Plattsburgh in upstate New York for about a week before we went on to the Games. While staying there, we got a visit from President (Gerald) Ford. We were talking a little bit about Big Ten sports and the fact that I was an Illini and he was a Wolverine. I didn't let that come between us. I'm normally not a Michigan fan.
"We took buses up to Montreal. In the middle of the week, they held a meet on the practice track next to the Olympic stadium. We were in Montreal a week before the Opening Ceremonies. Montreal is such a historic city, and I was a history major in college. I was digging walking around, seeing the historic sites. That was a good time.
"We were selling T-shirts in the Olympic Village. The U.S Olympic Committee gave us nice uniforms, but the T-shirts they gave us were really ugly. Craig (Virgin) had a friend who designed some shirts, and those things were selling like hotcakes.
"I did walk in the Opening Ceremonies. That was one of the highlights of making the team. It was very emotional. You're representing your country. We marched past Queen Elizabeth. She was there in a pink suit.
"A couple years before, I ran in the NCAA Indoor Championships at Cobo Hall in Detroit. This was 1973. Rob Mango was a senior, and he was one of the favorites in the half-mile. He had a tussle with a runner on one of the turns. This runner pushed him off the track essentially. The runner was Marcel Philippe, who went to Fordham. I met Marcel at the finish line and we had a confrontation. No blows were struck. The irony of the Olympic Opening Ceremonies is when we marched in and stood on the infield, the French team was a couple of rows over and I ended up seeing him. We shook hands and didn't come to blows.
"The food was extremely high quality. I wasn't as sophisticated as I am now as a 68-year-old man, but the food was darn good for somebody who was 24 and used to eating at a college dormitory.
"The security was not that oppressive. We sold out the first order of T-shirts. Craig and I had to get five big boxes shipped into the Village. I think we had to give one or two T-shirts to the guards.
"With the money I made in Montreal (selling T-shirts), I bought a leather jacket that was a slip-on. It was a beautiful jacket.
"They gave us tickets to various events. I had tickets to men's gymnastics. Women's gymnastics was hugely popular. The neophyte that I was, I was like, 'These tickets for men's gymnastics have to be worth gold.' I went to sell my gymnastics tickets in downtown Montreal, and I practically couldn't give them away.
"I had wrestled when I was in high school, so I went to one of the wrestling competitions. I saw cycling at the velodrome.
"We had 12 guys in a two-bedroom apartment. Bruce Jenner was there for one night. Jenner had a contract with Wheaties coming up, so they sprung for a nice hotel room.
"I actually slept in the kitchen. There was no furniture in there other than the beds.
"I'm still a big fan of the Olympics, the Summer and the Winter. I was a fan before I made the team and just as equally afterward.
"I consider myself in 1976 lucky to have made the team. I was in law school, and I was working after school to pay my tuition. I had stopped running for six months after I graduated in June of '75. My goal was to qualify for the Olympic Trials. I knew if I could make the Olympic Trials they would pay my way, and I could watch the second-greatest track meet. When I made the Olympic standard in the semifinals, it dawned on me all I've got to do is finish in the top three. I ran it like a qualifying race. I ran the fastest time of my life by almost 4 seconds."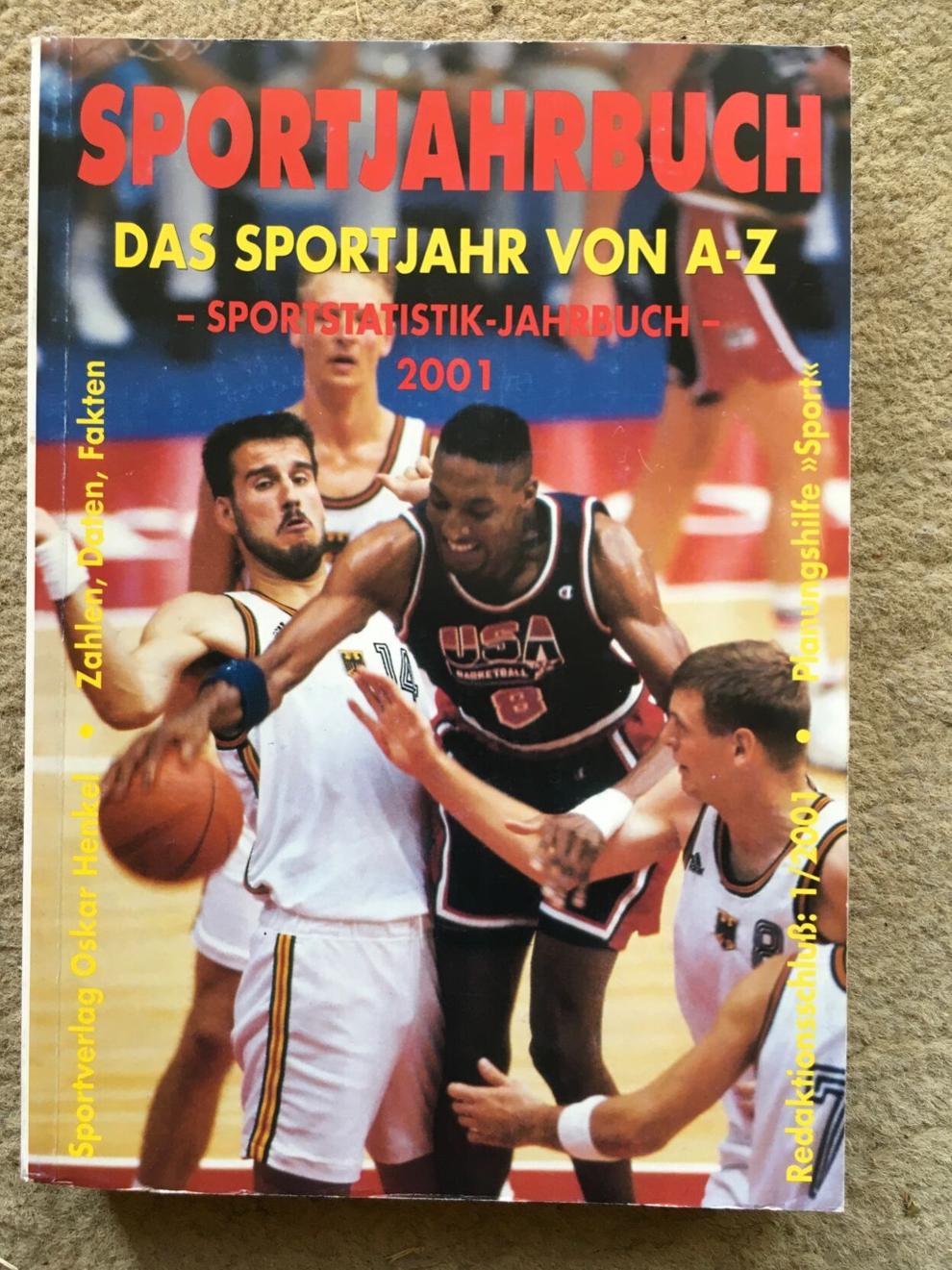 Jens Kujawa
Germany basketball, Barcelona 1992
"First thing I think of: the Dream Team. We played against Michael Jordan and lost by 43. I shook hands with Charles Barkley, traded pins with him. I blocked Christian Laettner and took a hook shot over Karl Malone. Those are my memories as far as the game.
"The gold-medal game, I sat next to Evander Holyfield, Spike Lee and Boris Becker. Nice company. As an athlete you were a VIP.
"The Opening Ceremony was a four-hour wait, but it was well worth it. We were the only part of the German team that didn't wear the official shoes. The coach said we could not take part if we wore the official shoes because they were new. He was afraid we would get blisters. The team decided to wear sneakers with our beige suits and straw hat.
"Steffi Graf was hunted by autograph-hunters all the time. She came to us and said 'OK guys, stand around me.' She disappeared behind everybody else.
"I was at a Boris Becker match. It was 40 degrees Celsius (104 Fahrenheit), clay court and he played 41/2 hours. I had to leave three or four times to go in the shade and get some drinks.
"I went to track, basketball and tennis. We practiced all the time. In the evenings, we had free time and we went to the VIP tents, Mercedes or the German organization. We were the athletes, so we were always invited. That was excellent.
"The Closing Ceremonies were very emotional. All the athletes stood arm-in-arm in the bleachers and sang. Everybody got to down on the field at the end.
"We placed seventh, which was good. We beat Spain in the opening game. We had a chance in the quarterfinals against Russia. We lost a very close game. We were all happy. A good time.
"My two biggest years with the biggest memories were 1992 in the Olympics. In 1993, we won the European Championship. That was the first-time ever.
"It was a huge success even to qualify. Just like now, Germany qualified for the first time in a few years.
"I didn't get the time I would like to get on the court. I only played six minutes against the Dream Team. I wasn't very happy. After the game against the Dream Team, the coach didn't let me play anymore. I criticized him. Against the Dream Team, he put Detlef Schrempf in down 40 with 10 minutes to play. It was a dream for everybody, and some people only played two minutes. I thought that was awful. Ten years later, he said sorry for that.
"At least I was in in the first half. I could foul Michael Jordan.
"The day before, watching them in the gym, you were in awe.
"I will watch the German games in Tokyo. That's a fun team to watch. They might last through the first round."
Gia Lewis-Smallwood
U.S. track and field, London 2012
"London was absolutely incredible, to be at an Olympic Games with people from all over the world. Everybody is speaking different languages, and you are all coming together with a sense of purpose. There are very few events that we have right now that bring us together as a world. This is one thing every four years that does.
"When you are there, you would think it would be a tense situation. And it's not at all. Instead, it's this feeling of unity and sense that you can do anything here. Go for it. This is your time.
"You get to know tons of different people. You get Olympics pins that you trade throughout the Village. That's kind of how you get to know people. It's a really cool environment. The dining hall is amazing. They had stations with different types of food. You could have pretty much anything you can think of.
"They had a 24-hour McDonald's. The line was pretty long, and I was shocked. I'm like, 'What idiot is eating McDonald's before the Olympics?' Somebody was like, 'Look, the McDonald's here is way better than the McDonald's at home.' I was like, 'No way.' After my competition, I had to try the McDonald's. Sure enough, it was way better. In London, some of the things that McDonald's uses in America, they can't use. It tasted way better. I got a Big Mac and fries.
"The stadium was packed. It was so loud you couldn't hear yourself think. A good friend of mine said, 'When you first walk out of the tunnel to the discus ring, you need to look down a little bit. You don't want to get overwhelmed.' You could really feel the energy. It transforms you.
"I really understood why the Olympic movement is so important.
"The Opening Ceremonies were crazy. You get to be who you are, and you are still a part of the group.
"In America, LeBron James is the king of all and Gia Lewis-Smallwood is a lowly discus thrower. At the Olympics, you are all equal. You're an Olympian, they are Olympians and they want to meet Olympians. He would totally come up to you: 'Hey, how's it going? How's your event?' LeBron would, Kobe Bryant did. People talk to you. They take pictures with you. They've already had the NBA experience. They are there for the Olympic experience.
"I had more life experience at 33 in terms of thinking about the world as a whole and being able to recognize how the Olympics aren't about a single person as much as it is about us celebrating humanity. I don't think I would have quite gotten it like that if I was younger."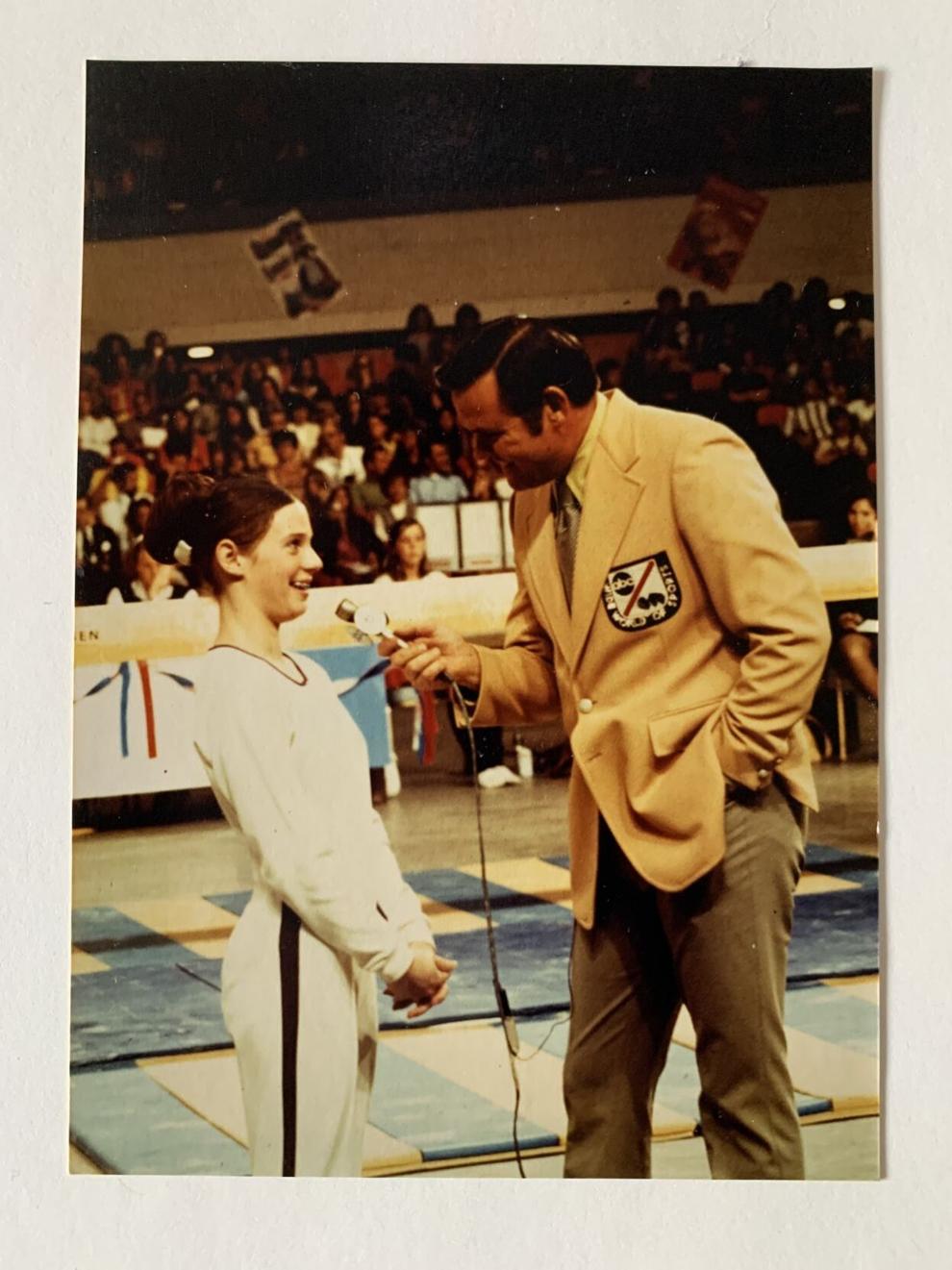 Nancy Thies Marshall
U.S. gymnastics, Munich 1972
"Me getting to Munich and competing in Munich was both a family effort and a community effort. My family was so supportive; I had four siblings, and they all had to sacrifice a lot. They bought into it.
"I remember coming home when I made the team. My junior high got school buses and all drove out to the airport. They met me with the two mayors of the cities. We did a motorcade to Lincoln Square. My junior-high friends really cheered me on.
"The gymnastics took place the first week of the Games. My family had gone over. At the end of the competition, we ended up leaving. It was actually the day the terrorists went into the Village. I didn't know about it until we were on the plane flying home. I remember a flight attendant coming and briefing me on what had happened. We got home to Urbana, and it was still occurring.
"It's a hard thing for me to get my brain around because my own experience the first week was so incredible. I wasn't there for the second week.
"I remember driving in from the Munich airport on the bus with the first load of Olympians that were on that plane. I was with my two teammates, Cathy Rigby and Linda Metheny. Both of them had been at the '68 Games in Mexico City. We were driving from the airport to the Village and they were telling us, 'Don't get your hopes up," and they were describing what it was like in Mexico City. There were buildings with great, big dorm rooms. And it was not finished when they arrived. We're hearing these stories and we arrive in Munich. We step off the bus and everyone is given a key. We said, 'What's this for?' They said, 'This is for your apartment.' We went in and the U.S. gymnastics team had one corridor of rooms. We each got our own room. My first impression upon arriving was, 'Wow.' I had just turned 15, and here I am with my own little apartment. I felt like I was the queen of the universe.
"The Germans had worked so hard. One of their goals was to erase the memories of the '36 Olympic Games (in Berlin). Incredible architecture. A whole recreation area for all the athletes. I remember a chess board that was life-size. All kinds of things like that. Really creative ways to bring the athletes together in nonathletic environments.
"All the security people were in leisure suits. They didn't want them to look like policemen. They wanted them to look like hosts.
"The Germans were trying to be as hospitable as possible.
"I had two ID cards. One was issued by the U.S. Olympic Committee, and the other was issued by the Munich Organizing Committee. Both had my picture on it. Both were accepted to get into the Village. My sister, who is 15 months younger than me, we both have the same color hair, the same length of hair, so one time we decided to see if we could get Susie in with me. She took one ID and I took the other, and we walked right in, no questions asked.
"My parents and four siblings were there, with my grandparents, my two uncles and their wives — there was a large contingent of people there to support me. They could go to the front gate of the Village, and you could apply for passes to get in.
"The U.S. women weren't allowed to march in the Opening Ceremonies, because we started to compete the next day.
"After the competition was over, three or four of my teammates and I walked around the entire Olympic grounds, inside the Village and out.
"The food at the Village was amazing. We were limited. I remember walking in there, wishing I could eat everything.
"The Olympics I got to taste were much closer to the original intention of the Olympic Games.
"It was such a dividing point in history. It brought terrorism onto the international stage for the first time. It changed everything in our world. The whole idea of Olympic security changed after that.
"When I did the back somersault on the balance beam, which I have been co-credited as being the first person with Olga Korbut to do that stunt, I did it on a wooden beam.
"I do vividly remember landing my backflip and hearing my mother screaming from the other side of the arena. My ear was tuned to her way of cheering me on.
"Four years later, they changed the beam to fiberglass. The equipment was not as hard on your body.
"At Munich, the floor exercise 'mat' was actually a raised platform of plywood that was covered with a carpet. You look at our routines from '72 and you go, 'How did they ever make the Olympic team?' because we are so used to seeing what we see today, the high-flying stuff."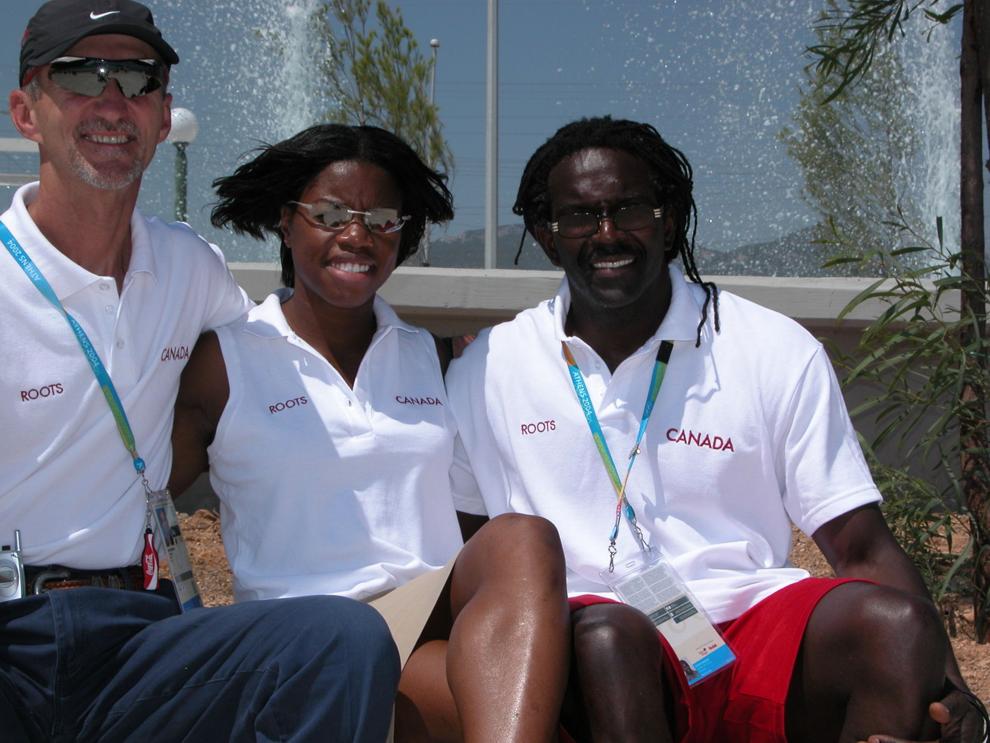 Perdita Felicien
Canada track and field, Sydney 2000 and Athens 2004
"I'm new to Illinois (in 2000). I start in January, and I'm in the Olympics that September.
"In the 400-meter finals, there was a woman named Cathy Freeman, who held all the hopes of Australia. We had been in Australia acclimatizing for almost a month. Every newspaper, every news channel, you would see Cathy Freeman's face. I just got sucked into it. 'Who is this woman? She is amazing. She's everywhere.' I didn't understand the weight of what was on her.
"We had a pass that would let us get into the stadium to watch. I wanted to be at the finish line. So I basically snuck under these barriers to go get a seat where the finish line was. Not supposed to be there, but hey, no one is looking, and I can sit on the stairs.
"Before the gun goes off, you could see the tension in her face — the stress, the weight. The stadium was massive and it was packed, especially for this race. She had a hooded one-piece on, so that's striking. Nobody else had that. When the gun goes off, the stadium erupts, almost like a roaring thunder that I had never felt before.
"Everywhere you could see thousands of flashing cameras — click, click, click. It was like the stars came and they were all exploding. The race is going to last under 1 minute. Everyone is trying to capture this moment for themselves.
"Cathy Freeman comes down the backstretch, and she's breathing and she is huffing. We're all yelling, and I'm not Australian. As Cathy Freeman crosses the finish line in first, the crowd found another octave, another level. Cathy Freeman didn't scream. She didn't run around like someone who had lost their mind. She crouched and simply stayed there. I realized 'Good God, this woman just wanted to exhale.'
"I loved (the Sydney Games). I soaked the whole thing in. Because I was sort of young and fresh, I remember going to the Olympic square and walking around. I was in my Canada uniform, and I would get bombarded by people with their programs, 'Can you sign? Can you sign?' I was embarrassed. I was like, 'I'm not famous. I'm not anyone.' They would say, 'Are you competing? Then you need to sign. You're an Olympian.' I remember thinking, 'This is what rock stars must feel like.'
"I remember being in the Village and there was a spa, a discotheque, there's a library, there's a post office. It was a miniature village and everything was free. I remember soaking it all in. That was the last time I could truly enjoy world-class sport on that level in that way because I became a contender years later.
"There were no expectations on me, I was unknown. I was glad to be there.
"I met Yao Ming at the Closing Ceremonies. I asked him for a picture and he said 'no.' I think he felt bad because a minute later he came back and, 'OK, I'll take your picture.' I remember being in line behind Andy Roddick at McDonald's in '04 and tapping him on the shoulder and talking to him. My friend was mortified. She was so embarrassed. I was like, 'He's human, too.'
"It was really, really cool to rub shoulders with Venus Williams, Serena Williams, Andy Roddick and Yao Ming.
"The food was amazing. We didn't have to pay for it, and it was open 24 hours.
"I never went to the Opening Ceremonies. Our team said no because of the walking and being on your legs.
"In Athens, I'm now the world champion. I'm the favorite. I'm a threat. So, there's responsibility there. That was very different, but that was what I worked for. You want to go to the Olympics and be a contender.
"I fell and it was a disappointment. For me, I was always in love with the pursuit. People always say 'former Olympian.' But there is no such thing. Once an Olympian, always an Olympian."
Chris Robinson
Canada baseball, Beijing 2008
"Being in the Village is a memory I will always have, walking about with the best athletes in the world. At that time, I was a professional athlete, thinking I was in pretty good shape. You walk through there and it's like, 'We're not in real great shape compared to some of these people.'
"The interaction between athletes is really cool. The year we were there, I got pictures with Kobe Bryant and Yao Ming.
"I had lunch with Michael Phelps one day. It just randomly happens. One day, we sit down, my roommate and I, and (Phelps) sits down a couple of seats from us and we're talking. I actually met him again when I was in camp with the (Baltimore) Orioles a couple years later.
"The Opening Ceremony was something I'll remember forever. You see it as a kid growing up. We got into the tunnel, and the whole Canadian Olympic team started singing 'O Canada.' It was really, really neat.
"They told us to take it in and appreciate the moment. They were exactly right. It was probably the coolest experience I've ever had in my career.
"I've seen a ton of footage of that. It doesn't get old. We were told, 'When you watch it 15, 20 years from now, it will still give you goosebumps,' and it sure does.
"The cafeteria was one of the most impressive things I've even seen. The length of a football field or two.
"I don't think I've ever had so many Chicken McNuggets in my entire life. We joked that you'd see all the swimmers and track athletes and all the real athletes eating their food. Then you've got the American and Canadian baseball teams sitting down and crushing McDonald's the whole week.
"You could walk around the whole Village. They looked like condo complexes. There were huge flags on each building. We stayed as a country and by team. The baseball team had the seventh and eighth floors.
"My wife (Amy) and my mom and dad were there. That was really cool. We got to see the Great Wall. We spent time at some of the silk markets where you're bartering with the people.
"Diving into the culture is part of the Olympic experience and something we didn't miss out on. We were all-in on that stuff.
"We felt safe. They advised us to make sure we were wearing Canadian stuff everywhere. Maybe everybody loves Canadians. There were more clothes than we could ever imagine wearing.
"The Canadian Olympic committee rented a restaurant just outside the Village. That was where we spent a lot of time meeting up with our families. It was a great setup.
"They tell you, 'You're always an Olympian.' You're only a professional baseball player until you're done playing professional baseball. I'm no longer a professional baseball player, but I'm still an Olympian.
"The one memory I talk about all the time, we were in the stadium the night Usain Bolt won the 100-meter final and set the world record. We were right at the end of the track, and he basically ran right into us. It was 9.7 seconds, and it was the most electric 9.7 seconds of any event I'd ever seen.
"It was really devastating on the baseball side. We lost five games by one run and finished fifth. It doesn't really factor into the experience I had."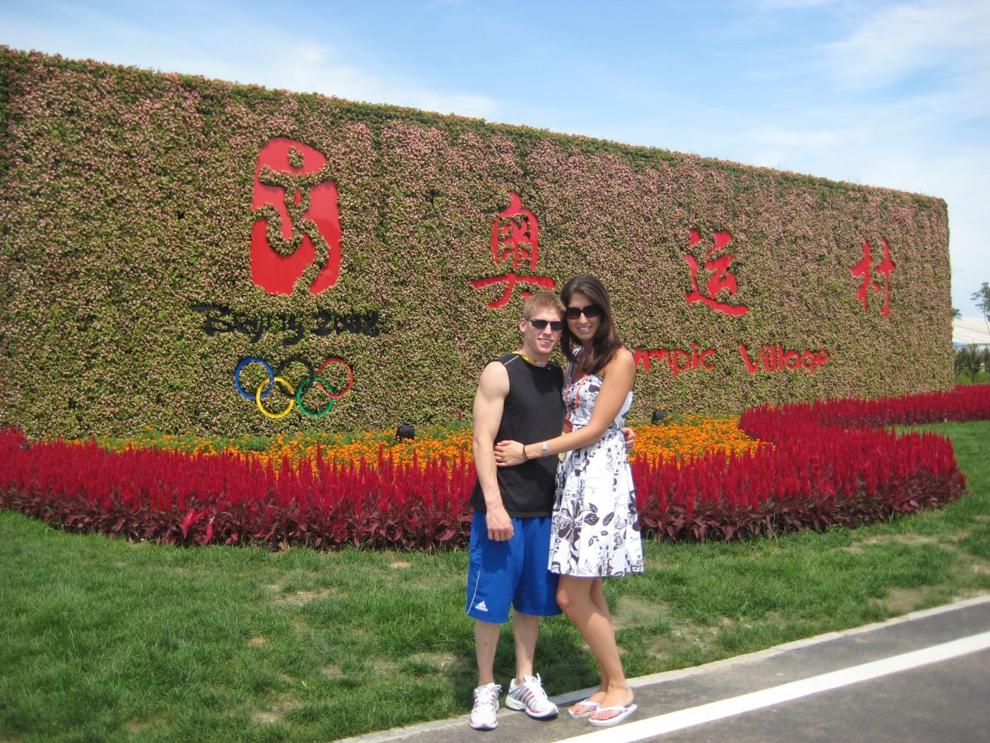 Justin Spring
U.S gymnastics, Beijing 2008
"It was surreal. When you're in a sport like gymnastics, you've heard your whole life, 'Are you training for the Olympics?' This thing becomes larger than life. Talking to some of the guys at the Athens Games and later the Rio Games, they were like, 'Oh, it was a mess. It was disorganized and this and that.' Some of the guys that were on my Olympic team that were at the previous Olympics, they were like, 'Beijing was the most incredible Olympics put on the history of the modern Games.' I don't know any different.
"It was just unreal what Beijing did, from a financial input to a support input to resources. They held nothing back. They put on a show for the world. It was amazing, and it was a great time.
"Their budget for flower arrangements in the city was probably like $10 million. The whole city was decked out. It was insane.
"The Village was fantastic. You're a little bit in your zone. You kind of burn time hanging out with the guys. Smart phones weren't around, so we're not sitting in our rooms searching through social media. The one time our team went to the computer lab, which was a big deal, and on Facebook Jonathan Horton saw an article that was written about us. 'This U.S. team could be a fun one, but don't count on a medal.' I remember us all being so (angry). We never counted ourselves out.
"When our time competing for the team was done, we got to go out. We got to experience Beijing a lot. We did some nightlife. We ate at restaurants. We were at the market. There was the Team USA House, and there was food and TVs and swag and things like that. There was dinner and drinks and a hangout space after we won a medal, and you meet some of the donors. We'd bring our medals. You felt really special. You felt like you were a part of this big movement.
"The athlete Village was like an airport. Metal detectors and the whole nine. It was totally a lockdown. Getting into the Olympic Village, you felt like one of the chosen ones. It was super hard to get in.
"Michael Phelps was in the middle of his prime. He was just that really good swimmer right there in the dining hall. It was like, 'Oh, my God, he just won a third gold medal. Oh, my God, he just won a fifth gold medal.'
"The USA basketball team did not stay in the Olympic Village because they were too famous. They had one day they came in the Olympic Village and did the tour. That alone almost caused a riot. They just got mobbed. Deron (Williams) was there. I said, 'Hey dude, fellow Illini.' He pretended he knew me. Maybe he actually did. We were the same era.
"Men's and women's gym are always one of the first competitions. We watched the Opening Ceremonies from our room together. We were allowed to go, but we chose not to. You don't want to standing for four hours the day before."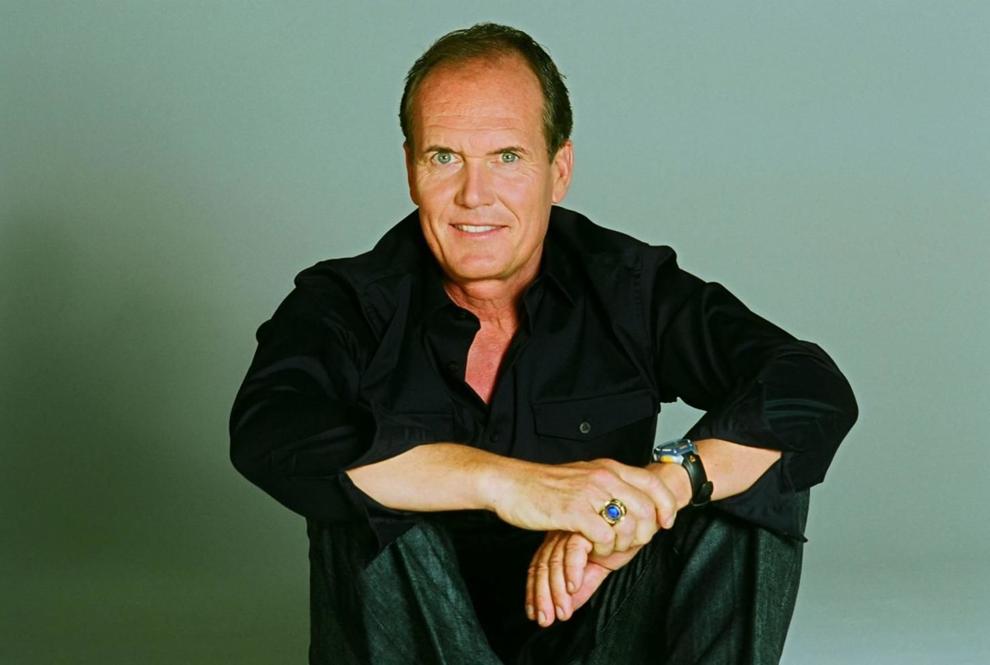 Craig Virgin
U.S. track and field, Montreal 1976 and Los Angeles 1984
"I qualified for the Olympic Trials by running a solo 10,000 meters at Memorial Stadium at the Illini Classic. I had my teammates scattered around the track to cheer me on and tell me jokes to keep my mind off of doing 25 solo laps. I ended up running the fastest time in the country that year.
"I had all these blisters on my feet. When I laid down at the end of the race, Coach (Gary) Wieneke took my shoe off, and when he did blood and stuff dripped out. That's the only time I've ever seen Coach Wieneke turn pale.
"At the Olympic Trials, I was able to stay with Frank Shorter. I passed him at the bell, and he passed me back on the backstretch. I held on to make the team.
"It was so wonderful to be on my first Olympic team. To be on it with my former teammate Mike Durkin was a bonus. It was a thrill to be there with somebody I knew and loved, to share that experience. Coach Wieneke was so excited.
"The best part of the Olympics is the Opening Ceremonies. Nobody has lost. Everybody's dream is still intact. You've got on your team uniform. You really do feel this bond of Olympic competitors no matter what the country. It's almost like knowing Christmas is coming and Christmas Eve is the Opening Ceremonies.
"At Montreal, we started a mile from the stadium. The speakers were on the field. They were as tall as us. We walked into the stadium and it erupted. The hair was standing on the back of my neck. I wish I could have run my race right then, because I had so much adrenaline in my body.
"The excitement of the Opening Ceremonies, the optimism everybody shared, the pride of being part of a very elite fraternity of worldwide Olympians, it just was a thrill. You can't get higher than that. For the first time, the Olympics had restricted entry. You had to go through a metal detector. They were very strict about the IDs.
"The cafeteria and the Olympic Village was the best I had ever been at in my life. They have to feed big people, small people, thin people, fat people. They have to have food for all kinds of cultures.
"I tasted Yoplait yogurt for the first time. That was one of my favorite things from the cafeteria.
"Our official Olympic T-shirt was terrible. I worked with a guy in Champaign, and we put together a couple designs. He had them printed up, and I got them into the Village. I was getting knocks on the door day and night from people who wanted these T-shirts.
"Sam Bell, the Indiana coach, was the (Olympic) distance coach. He was upset with me because I didn't make the final. He said, 'Virgin, you spent too much time selling those T-shirts.' I was sick and hurt and he was the Hoosier coach, so I ignored him. On the last day of the Games, he said, 'Hey Craig, can you save me six of those T-shirts for my family?' We gave him six shirts.
"Bruce Jenner was one of my roommates. We enjoyed watching him win. I met his first wife and got to know him a little bit. We were very proud of him. We knew he was going to go places and do things."