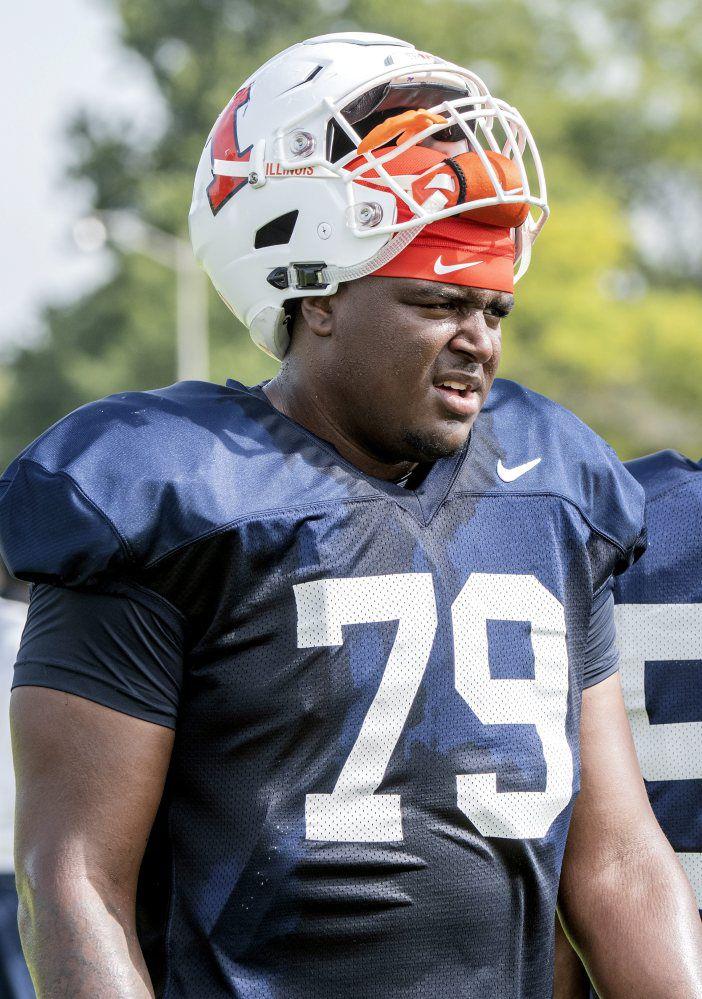 CHAMPAIGN — Vederian Lowe's summer couldn't have run a wider gamut of emotions. From life-affirming high to devastating low, all in a month's time.
Lowe's son, Kingston, was born in mid-June. It was an event the Illinois junior offensive lineman called "the best thing ever" that has kept a smile on his face the last four months. The feeling of being a new dad was one the 20-year-old Lowe would ultimately have to lean on just a month later as his mother, Veneka Cockrell, died suddenly and unexpectedly having never met her first grandson.
Lowe's growing family in Champaign — Kingston and now fiancee Haylee Luttrell — kept him grounded as he dealt with the loss of his mother.
"When I'm with my family, I'm not sad," said Lowe, who wears a necklace with a photo of his mother around his neck every day. "(Luttrell) was the biggest part of my coping with the passing of my mother. … She's my rock. She's my backbone. I couldn't do this without her."
Lowe's new family and the loss he suffered this summer has also sharpened his focus at Illinois. His mother's long-held determination that he earn a college degree has the Rockford native more focused in the classroom. Wanting to provide for his soon-to-be wife and son is doing the same for Lowe on the football field, as Illinois (2-3) returns to action at 11 a.m. Saturday against No. 16 Michigan (4-1) at Memorial Stadium.
"He's really grown up," Illinois offensive coordinator Rod Smith said. "He's always been a quiet-type guy — not real talkative, kind of to himself — but you can see he's become a man. The boy's become a man, and he's got other responsibilities now that kind of helps speed that process up a little bit.
"At the same time, he's taken care of himself. He's changed his body. His mindset's completely different. Vederian Lowe has been tremendous for us, and I think his best football is still ahead of him."
The 6-foot-6, 320-pound Lowe has shown flashes of NFL potential at times this season. The start of his junior season, though, was rough. Lowe's mother died a little more than two weeks before the start of training camp, and the left tackle for the Illini was hurting mentally.
"I felt really numb," Lowe said. "When I first came back to workouts, it was really hard. I had no motivation. I didn't want to lift weights."
The turning point came the second week of camp. Lowe woke up not feeling well for a midweek practice and spent the first part of it in what was essentially the injury tent for players not participating that day. Then he got to thinking about his family — specifically Kingston and Luttrell.
"I was just sitting on the benches under the tent and was like, 'Man, today is not my day,'" Lowe said. "I just got to thinking about it that I can't have days like this if I want to get to where I want to go. I have to push through every second, every rep.
"Everyone has those days where it's just like, 'Man, I don't know if I can go today. I don't have the will to go today. I'm really tired. I don't have something to get me going.' When I think about my family and think about the position I want to put them in, that gives me the extra strength to keep going — to get through practice and dominate practice and be coachable."
It's a change from how Lowe, who has made 18 straight starts dating back to his true freshman season in 2017, approached his first two seasons at Illinois. He admits to being "lackadaisical" both in football and life. He was "just getting by."
"With me having a son now, it made me want to dominate things, as I would say," Lowe said. "Dominate the classroom. Dominate football. Make sure I do everything the right way. Show everybody I have a child and I'm still doing everything the right way."
Lowe is finding balance as both a student-athlete and new dad. He relies on Luttrell during the week, as his time is filled with classes, practices and meetings. Sundays are for father and son. Kingston gets to hang out with dad — and the rest of the Illinois offensive line — as they get treatment and watch film together.
"I was 19 when I found out," Lowe said about hearing the news he was going to be a father. "It was very surreal. I don't know anybody who's ready to be a father at that point. … I was like, 'Oh my God.' I was crying and everything. I didn't know what to think. I had so many mixed emotions.
"I never knew I was capable of having a child and balancing football. I didn't think it was possible, but with the help of (Luttrell), everything has been so much easier. … When all this first started, I didn't know I could do anything like this. I was 19 years old not knowing what I was capable of. This has helped me grow as a man."