College football
Asmussen | Comeback story a credit to perseverance, strong support system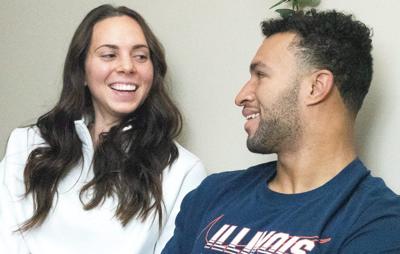 SAVOY — When they went apartment shopping, Dre and Lindsay Brown weren't looking for swanky.
Their priorities were inexpensive and convenient. They found it at an apartment building in the Champaign suburbs. Close to a veterinary clinic and railroad tracks.
"We don't really know where we're going to be next year (more on that later)," said Dre, the senior-ish Illinois running back. "We wanted to find a place that was cheap and we could save a lot of money. That's kind of where we're at."
They cut the cost even more by adding a boarder. Illinois tight end Justice Williams moved in for the semester.
"He's definitely paying rent," Dre said. "We're what people call 'house hacking.'"
The two-bedroom, one bathroom apartment is close enough to where Dre spends the bulk of his day, 3 1 / 2 miles from Memorial Stadium. And it's convenient to Lindsay's job as a manager at Champaign's Bella Mia Boutique.
Lindsay studied kinesiology at Indiana Wesleyan, where she was a standout volleyball player.
Fortunate accident
Dre was recovering from his second ACL surgery when the local Fellowship of Christian Athletes leader asked him to attend a sports camp in Jacksonville.
Because of his bad wheel, Dre couldn't be very physically active. He wondered why he should even bother.
"Something just kind of got into me. I was like, 'I'll go,'" Dre said. "It worked out pretty well."
That's where he first met Lindsay, a Centennial graduate, in May 2016. Lindsay was home for the summer.
Fate.
"It was an overnight camp and he doesn't prepare well," Lindsay said. "He forgot a pillow and a blanket."
Lindsay drove her dad's car to the camp. Fortunately, "he had an extra pillow and blanket in the car."
Lindsay to the rescue. That's what they call a "meet cute."
"It was our first one-on-one interaction," Lindsay said.
"We ended up hanging out all summer," Dre said. "She was going to go off to Indiana for her senior year."
Lindsay, 24, is 2 years older than Dre.
"He didn't tell me he was 18 when we first started dating," she said. "He had a full beard. I had no clue. He was already giant. It was too late by the time I found out."
Lindsay was entering her senior season with the Wildcats. Because Dre was hurt, he could visit Lindsay when the Illinois football team was on the road.
Dre took a trip with Lindsay's parents, Melanie and Chris, for a volleyball tournament in Des Moines, Iowa. Way to get in good with the family.
Before too long, Lindsay and Dre were engaged. They got married May 26, 2018.
Their days are now consumed by work and football. They try to go out to dinner at least once a week, usually Monday afternoons.
"We only get really three nights out of the week," Dre said.
When football ends, they will have more time. Dre will be taking classes in the second semester.
Tough call
Should Dre stay or should he go? That's the internal clash for the running back.
Because he has missed two full seasons with injuries, it is a near lock the NCAA will grant him a rare sixth year. If he wants it.
Recently, Dre met with Illinois coach Lovie Smith to chat about the possibility.
"We had a good talk about it during the bye week," Dre said. "He's a great person just to talk to.
"He wants me back."
But there are other options for Dre. A dynamic return man and talented tailback, he will certainly have appeal to the NFL.
"You've got to weigh football," Dre said. "Where am I at? How's my body feeling? Am I getting pro interest?"
He can also say goodbye to football and start life away from the game with Lindsay.
In the days after this Saturday's Northwestern game, Dre and Lindsay will talk about their future.
"We're a little bit older," Dre said. "She's not in college anymore. It's different when you're married. We'll still go to campus. But it's just a different dynamic.
"We'll make a decision when a decision needs to be made."
One reason to stay: Dre will be in line to start and star at tailback. Leading rusher Reggie Corbin is out of eligibility after the bowl game.
"It's definitely attractive to be the guy," Dre said. "The Purdue game was fun when I got all those carries (18 for 131 yards). If my life revolved just around football that would be it. I've got a lot of other things."
Dre will definitely participate in Senior Day activities Saturday.
"I want to walk with my class," Dre said. "I've been through so much with those guys. It's going to be a pretty emotional day."
He could have a second Senior Day at the end of 2020. The Illini host Ohio State on Nov. 21 in the home finale.
Hanging tough
After his second major injury in 2016, Dre's football future looked bleak. The body can only take so much.
What kept Dre going? His faith was a big part of it.
"I relied on that," Dre said.
And his family and friends.
"I had her parents and my family," he said. "It was such a great support system. I felt like I couldn't quit. I wanted to quit, but I thought I'd be letting down them because they had so much invested in me. I just stuck with it. I knew if I kept working hard and doing the right thing that eventually something good would happen. That's just kind of how I see life."
Lindsay's family convinced Dre to shift his focus from himself to serving others. He became involved in CU Church. He taught Sunday school and served as an usher.
"Old Dre was just football only," he said.
He became an FCA leader, talked at schools, coached flag football. Less time to be sad about being hurt.
He never asked, "Why me?" But he did have a few chats with God.
"I was like, 'God, I don't know what you're doing. But I'm going to trust you," Dre said. "That was big for starting that process. I went into a room by myself. There were some tears.
"Trials grow your character. I really grew through that."
Big payoff
Dre made it all the way back in 2017, debuting against Iowa. His first career carry came against Rutgers and his first start was against Northwestern.
Dre had a breakout game at Ohio State, gaining 76 yards on 15 carries.
His first career touchdown came in 2018 against Minnesota on a 72-yard sprint.
"Good first touchdown," Dre said.
This season, Dre is second on the team in rushing with 528 yards. He has played a vital role for a bowl team that scored big wins against Wisconsin and Michigan State.
"When you see the Wisconsin and the Michigan State game, that makes sense why I went through all that," Dre said. "It's a journey. I've learned so much."
Had his career followed the original path, Dre would have played all four years and been gone after 2018.
"It all worked out," Dre said. "I'm having a lot of fun. It's been cool to see it turn around."
Dre always hoped the big wins would come.
"Going into the Wisconsin game, I didn't know how we were going to beat them," he said. "But I know we're going to beat them."
Dre helped set up the winning field goal by James McCourt, refusing to fall to the ground on a late run.
Wish he was here
Yes, the injuries and the losing seasons were hard. But Dre had bigger tragedy earlier in his life.
At age 8, he lost his father, Aaron Brown, to a heart attack.
"I remember my mom telling me and I just went in my bed and cried," Dre said. "It's still shocking today. I still don't understand. You hear the stories about my dad and what a great person he was. It doesn't make sense to me."
Aaron Brown played football at Decatur MacArthur and Millikin.
"He grew to love Iowa football," Dre said. "I have this picture of me when I was 6 or 7 with an Iowa Hawkeyes shirt on."
Dre had Aaron on his mind during Dad's Day earlier this month.
"I think about, 'What if he was here?'" Dre said. "I love hearing stories about him."
Dre walked with his father-in-law and his stepdad, Ron Hill.
His mom, Michele, became his role model.
"I followed her actions," Dre said. "She always did the right thing and was really a leader. I feel like a natural-born leader as well."
Michele works as a consultant. She travels across the country, helping clients.
"She's so awesome," Dre said. "She's always on. She's a high performer. I don't even remember seeing her sad a lot growing up, even when things were terrible. She always had that spirit of, 'Even if things are going bad, you can find the good in it.'"