Illinois football
Asmussen | Lovie left wondering how Harding's breakout is going unnoticed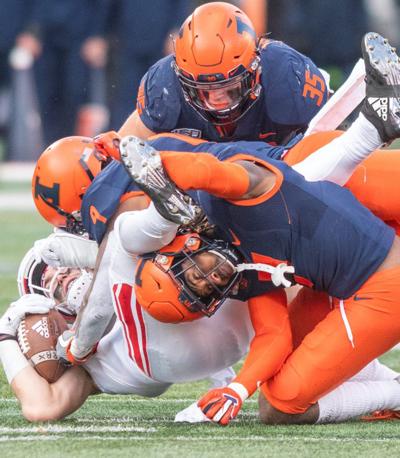 CHAMPAIGN — Somebody is missing from the Butkus Award semifinalist list: Illinois senior linebacker Dele Harding.
The nation's No. 4 tackler and reigning Big Ten Defensive Player of the Week, Harding didn't make the 12-player cut announced Monday.
Five players from the Big Ten remain in contention, including Harding's teammate, Illini junior Jake Hansen.
Like Harding, Hansen is having a stellar season. He leads the nation in forced fumbles with seven and is second in fumble recoveries.
Hansen trails Harding in tackles with 72. That's 34 behind Harding's season total of 106. Harding leads the Big Ten with 11.8 stops per game. None of the other Butkus candidates from the Big Ten rank in the top 35.
The slight left Harding's coach Lovie Smith shaking his head Monday afternoon.
"How can a player playing the way Dele Harding is not be on the Butkus watch list, too?" Smith asked rhetorically. "Try to figure that one out."
You think Illinois might have leg up when it comes to the Butkus Award. The namesake played at the school and has a new statue near the Smith Center. A pair of Illini won it in 1994-95 (Dana Howard and Kevin Hardy).
"I'm just going to say University of Illinois, Butkus statue out front, MIKE linebacker at the University of Illinois has as good stats as anyone around," Smith said. "Who's the leading tackler in the Big Ten? Who scored more defensive touchdowns than Dele Harding? Caused fumbles. Recovered fumbles. What else are you looking at? I don't know the criteria for it."
The Butkus Award selection committee is made up of current and former NFL coaches and GMs, college coaches and college and NFL media types.
Harding didn't enter the season with a lot of hype after recording 37 tackles and starting just two games in 2018. But he has done enough this season to earn his place.
National award voters need to leave room for late-comers. The Heisman Trophy tries to identify the nation's best player, even if the winner has a surprising season.
Waiting his turn
This season, Harding has more than doubled the career tackle total of 82 he had coming into 2019.
His teammates noticed his hard work, picking the 6-foot-1, 230-pound Maryland native as a captain for the second year in a row.
Harding didn't become a full-time starter until this season. How did he manage to hang in there?
"It was a heckuva process," Harding said. "Just keeping faith overall has been the biggest thing. A lot of guys work their tails off and don't even get the chance. I've finally got my chance. I wanted to take advantage of that chance."
You get the feeling Harding is patting himself on the back after winning the Big Ten honor. It's a team thing.
"That's just an accolade for the defensive success," he said. "I can't take any personal accolades. Everybody has something to do with it. There's 11 players on the field. Whether it's the D-line up front or the coverage in the back allowing me to shine through with my game."
Harding's skill set fits Smith's defense.
"First off, he's a smart player," Smith said. "He gets it. He knows."
Smith likes guys who lead by example.
"He does everything right, so he has everybody's attention," Smith said. "Knowing what to do and being a voice that's good. Then, when you start playing, you need to play good football. Nobody's played better football than Dele Harding has. That gets your attention a little bit more."
Harding is the quarterback of the defense. He makes calls based on offensive formations.
"He's got a lot on his plate before he has to line up and do his job," Smith said.
Offering support
Of course, Hansen is happy to be a Butkus semifinalist. But he wants his buddy with him.
"It's great to have the national recognition, but I'm disappointed that one of my buds isn't on that list," Hansen said. "I think it's a little bit more bitter than sweet. Dele was super happy for me as well. It's frustrating to see a kid who has done just as good, if not better than me, not get on list. He's a great player, and I think he's one of the best linebackers in college football,"
Hansen would like to talk to the committee.
"But I don't think I have that power," Hansen said.
Harding and Hansen are friends. They room together on road trips and have taken multiple classes together.
And they like to challenge each other.
"We're always competing," Harding said. "I can relate it back to the summer. Sometimes, we wouldn't even tell each other we were working out, trying to get that edge."
Harding and Hansen are part of a resurgent Illini linebacking corps that also includes Washington transfer Milo Eifler.
The linebackers have a new position coach this season: Miles Smith, Lovie's son.
"First off, he has some guys to work with and they buy into it," Lovie Smith said. "I'm pleased with what's happening in that room."