Illinois football
Asmussen | Robinson enters new territory with possible first start looming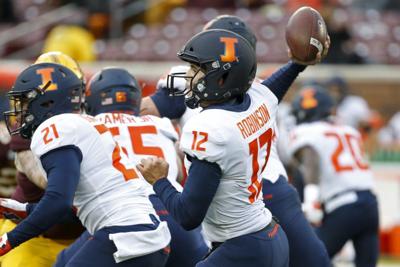 CHAMPAIGN — Matt Robinson has done interviews before at Illinois. On Media Day in 2018. During spring ball last March and April. At training camp.
But Tuesday was different. For the first time, Robinson met the press as the potential Illini starting quarterback.
The redshirt freshman from California handled himself well. Friendly, polite, confident. Even as the clock ticked toward his late-morning class, he didn't seem to be in a rush to leave Memorial Stadium. That's an important quality for a quarterback.
"Each week, I want to prepare like I'm the starter," Robinson said. "This week, not much different. But going into the game on Saturday makes you want to prepare even harder. I had a lot of fun out there. It makes you want to keep working at it to see if we can keep getting better."
Of course, we don't really know his status for Saturday's home game against Michigan.
Starter Brandon Peters left the Minnesota game in the second quarter after taking a hard shot.
Illinois coach Lovie Smith didn't offer a detailed report on Peters after Tuesday's practice. Or the status of injured freshman Isaiah Williams.
"I can give you some update: they're getting better," Smith said. "Brandon is getting better. Isaiah, too.
"It was a productive day. We'll kind of see how it goes (Wednesday). We haven't ruled anybody out of the game this week."
Robinson finished the Minnesota game, throwing 29 passes.
Now, he is position to start for the first time in college.
"He did get some reps (Tuesday)," Smith said. "It's a lot different situation when you finish the game in the starting role. Your mindset is definitely different."
Other than outsiders wondering who starts at quarterback on Saturday, it was a typical Tuesday for the Illini, Smith said.
The team started to put in the plan for Michigan. Generally, the workouts improve as the week goes on.
"We know who's coming into town," Smith said. "We'll be ready."
The fourth-year Illini coach said Peters "was out on the practice field."
So, was Peters able to practice?
"You normally don't go full normally," Smith said. "The quarterback never gets touched anyway. Again, Brandon is making progress. We'll kind of see how it goes a little bit later on."
There are no rules for the Illini about practicing a certain number of days in order to play.
"I don't know many guys would rule out somebody Wednesday if that guy would give them the best shot to win on Saturday," Smith said. "There's a few days in there. Especially a player that's been your starter, that's gotten a lot of reps, that knows the game mentally. You wait right up until a minute before the game if that's the case."
The unknown at quarterback gives the Michigan defenders something to think about. It works to Illinois' advantage if the Wolverines spend time this week planning to see both guys.
As a defensive coordinator, Smith prefers to know what he's about to face.
"It would definitely cause some challenges for you because they are two different players," Smith said. "If your backup has the same skill set as your starter, not much then.
"We would describe Brandon as more of a thrower than a true, dual-threat running quarterback. Matt, you would describe him probably reversing the roles a little bit. More of a dual threat. Run before pass. Two different ball games you have to prepare for."
One snap away
Smith tells his guys all the time that you never know when your chance will come. A twisted ankle or hip pointer can send a player to the sideline. And mean his backup has to go.
Robinson showed he was ready.
"When you're a backup, I think you know what you signed up for," Smith said. "You have to be able to first benefit from mental reps, watching, preparing. And just knowing that it's not coach talk when we say, 'Everybody's a play away.' It's not just the guy in the backup role, but the next guy."
Robinson was a late addition to the 2018 recruiting class, the third of three quarterbacks to commit, following redshirt freshman Coran Taylor and since-departed M.J. Rivers II.
What did Smith like about Robinson?
"It's what you've seen," Smith said. "He has quickness. He can move the chains with his legs. He also had his moments throwing the football. That's what we saw then. He shows up every day. Good teammate. A guy that's developing.
"He got a big opportunity last week. We'll see how it plays out this week."
As a starter or backup, Robinson is excited for a chance to play against the Wolverines.
"That's what you want," Robinson said. "When you're a kid, you want to play against the best teams. It would be pretty cool. I'd feel it would be kind of a dream to play against Michigan."
Ready to roll
The good quarterbacks wisely pass out credit for their success. Robinson has learned well.
"I think it just comes from having good coaches in the past," Robinson said. "My high school coach (Pat Harlow) taught me good lessons and good morals. Also, my parents give me good advice."
When he first entered the game against the Gophers, Robinson wasn't nervous.
"I was more excited," Robinson said. "Once I got out there, I was just having fun, bouncing around. I wasn't thinking too much. Just kind of enjoying the moment."
Though this week is different, it won't cause Robinson to change his habits.
"Prepare the best I can," he said. "If my time does come, I'll be ready."
If Illinois hadn't recruited him, Robinson would have likely ended up in the Mountain West Conference.
"It worked out here," he said. "I'm glad I'm here."
He already had a connection to Illinois. His dad, Jeoff, played football at Pacific with former Illini coach Ron Turner.
Turner called Robinson after the Minnesota game.
"I told him how I felt out there and he was happy for me," Robinson said. "He just gives me advice."
Bob Asmussen can be reached at 217-351-5233 or by email as asmussen@news-gazette.com.