Illinois football
Our one-on-one with James McCourt: 'I know it was a big moment'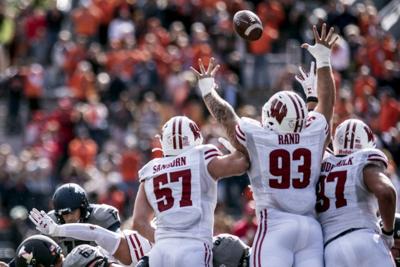 Yes, it was. Last Saturday, James McCourt nailed the kick heard 'round the college football world, with the Illinois redshirt junior hitting a 39-yard field goal on the final play to beat then-No. 6 Wisconsin. It created a rush to the Memorial Stadium turf by the fans and a lift to the sky from his teammates in the moments after the game. Not bad for a guy who sat behind Chase McLaughlin for three years and had to win a training camp battle against Caleb Griffin. Beat writer BOB ASMUSSEN sat down with the Irish-born, Parkland, Fla., native earlier this week to talk about surviving a dogpile, clutch kicking, Adam Vinatieri and much more:
Can you breathe now?
A little bit. It's definitely been a lot of attention, something I haven't been used to for the past couple years. I caught my breath a little bit and the team has also. We're focusing on Purdue now.
For kickers, it's make the kick and you're a hero or miss the kick and you're a bum.
That's the position I signed up for. I knew coming into college, and I wanted to be the kicker. You can be the hero or you can be the villain.
Let's try that James McCourt game winner again. #Illini pic.twitter.com/184svtDs23

— Scott Richey (@srrichey) October 19, 2019
Was there a point in the pileup when you thought, "Am I going to die?"
I passed out at the bottom of it. I don't know if that thought went through my head at the exact moment, but I was definitely a little bit scared at the bottom of it.
And the celebration after. #Illini pic.twitter.com/UprOLsaSiR

— Scott Richey (@srrichey) October 19, 2019
That would have soured the celebration.
Just a little bit.
Next time, will you be more cautious around the pile?
I was talking to (Illini kicker) Caleb Griffin about it. He said he told me I should have run away. I was like, "When you hit your game-winner, you'll understand. You don't really know what to do with your body. You kind of just freeze." Maybe next time, I'll try something different.
How many times have you seen the replay?
I saw it a lot on Sunday and a lot Monday. I tried to not watch it too many times. I'm really focused on Purdue. And really focused on moving forward. I know it was a big moment. But you're only as good as your last kick. There are a lot more opportunities to come. We have five more games.
What was it like to see yourself on "SportsCenter"?
It was definitely a different feeling. It was something I never really thought was going to happen, but in the back of my mind I always thought it was possible to happen. And it was something I always worked toward. It hasn't even hit me yet. When I opened up the ESPN app and my face was there, it was kind of like, "Wow." It's kind of a dream honestly.
Would Illinois special teams coordinator Bob Ligashesky have made that kick?
I don't know about Coach Lig's past kicking experience. I have faith in him. He's a very determined man. I think he would.You said after the game that moment is what you dream about.
In your dreams, do you always make it?
Yes, you have to. I visualize a lot. I'm a pretty big proponent of visualizing. There's one rule of visualizing is always success. It's always at the biggest stage and it's always you succeeding. You've got to feed your brain those positive thoughts.
Who was the first person you reached out to after the game?
I FaceTimed my mom and dad (Margaret and Ciaran). They were at home watching the game. My mom was in tears. It was really a feel-good moment for myself. I even teared up a little bit. When I see so much happiness in my parents' faces, it makes me really emotional.
Do you have a routine before taking a kick?
Yes. You want to practice a similar routine going toward the kick, getting your mind right. Just so you're comfortable in each situation no matter if you're home or away.
Give me a guesstimate of the number of calls and texts you received.
A couple hundred definitely. People I haven't heard from since fifth grade, sixth grade, teachers I had in middle school, elementary school reached out to me. It was definitely overwhelming. But it was very humbling to have that many people think about me and reach out to me.
When you were Chase McLaughlin's backup, did you ever see yourself in this position?
I had to think that. I believed in myself. I believed that if I worked toward this opportunity, I would be given this opportunity of a game-winning kick. It's something I worked toward every day. When I was behind Chase, I still believed in myself, and once I was given this opportunity, I would succeed.
Being the No. 2 guy can be hard. What kept you going?
Honestly, him being good gave me confidence. I was behind a really good kicker. It taught me so much. If I was behind a bad kicker, and I knew I was better than him, that would frustrate me. Obviously, there was frustrating moments. But being behind someone like Chase, who is kicking on Sundays now and has proven himself and has kicked in college really well, it gave me confidence.
Did you ever consider leaving Illinois for another school?
I'd be lying if I said I never did after maybe my freshman year. Obviously, those thoughts go through a lot of people's heads. Today's day and age, I feel like a lot of people jump ship pretty early if they don't get the starting role. I've always been pretty ambitious. I committed to this university. They invested in me. And I wanted to prove to myself, I wanted to prove to the coaching staff and I wanted to prove to my teammates their investment in me was worthwhile.
How have you improved as a kicker since you first got here?
My work ethic. I was pretty naive as a freshman and didn't really know what it took to be a starting kicker at this level. Having Chase in front of me really showed me. He set out a framework of what you need to do to be successful at this level.
What's your favorite thing about being a kicker?
The pressure. You wouldn't want to be a kicker if you didn't like pressure. Every kick, all eyes are on you. If you make a mistake, it's magnified.
What's the biggest pain about being a kicker?
Everyone thinks they could do your job. A lot of people think it's easier than it actually is. Earlier against Wisconsin, you missed a 40-yard field goal.
Was that in your head when you went on the field for the final kick?
No, I can honestly say it wasn't. As a kicker, you have to put those things behind you. You can't think about the negative things.
What was in your head as you lined up?
I was pretty calm. I get more nervous for other kickers in those situations than I do myself because you're in control of the situation. I was insanely locked in. To another level. I knew what I had to do.
Why did you pick Illinois?
My senior year, I was told that I got an offer from here. I came up for my visit and I fell in love with the campus, fell in love with the stadium, fell in love with the people. I could really see myself being here.
Where did you grow up?
I was born in Ireland, and I moved to south Florida when I was 8. It was for my dad's job. Both my parents are Irish. I was born in Dublin.
How often do you visit Ireland?
Initially, we'd go back every summer. As I got older, I started focusing more on football. I'd maybe go back a week or two. At the beginning of this summer, I was over there for an internship. I got to really experience it. I was there by myself, living with just my grandma.
Who is the one person, living or dead, you would most like to meet?
Meeting Adam Vinatieri would be pretty cool. I would want to pick his brain on his mental approach to kicking. He's definitely a role model of mine.
Tell me something people don't know about you.
Once, my parents put me in a camp in Ireland. You're only allowed to speak Irish at the camp. And I didn't know any Irish. I was in eighth grade. I didn't learn Irish growing up because I moved. My parents were like, "Yeah, you're going to this water sports camp." Little did I know that I was only allowed to speak Irish. I knew very minimal Gaelic. It was a great time. I was taking classes with first graders.
Tell me something people don't know about one of your teammates.
Griffin Palmer thinks he has a really good singing voice. And does not. He sings anything, from country to pop. He likes the sound of his own voice.