Redbox Bowl: Illinois vs. California, 3 p.m. Monday (Fox, WDWS 1400-AM, WHMS 97.5-FM)
Redbox Bowl special: How'd they get here?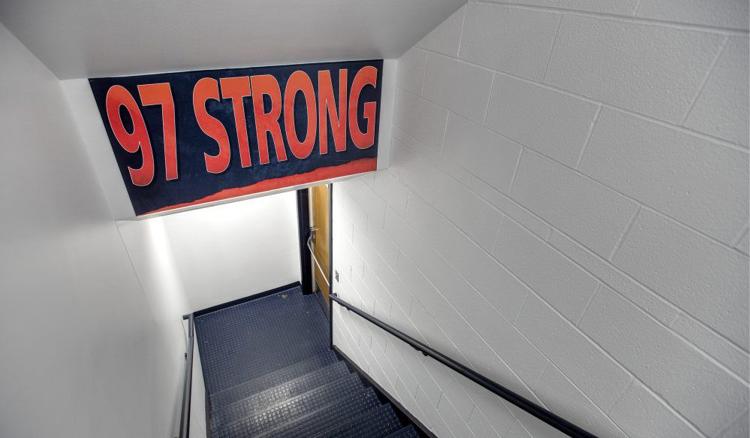 1. Remaining present
Bobby Roundtree provides constant inspiration to the Illinois players, coaches, staff, students and fans.
On May 18, near his home in Largo, Fla., Roundtree suffered a severe spinal injury in a swimming accident.
After surgery and rehab in Florida, he moved to a facility in Chicago.
Roundtree stunned his teammates by showing up for the Nov. 30 game against Northwestern. He spoke to the crowd on the videoboard and to his teammates in the locker room.
The team has dedicated the season to him, wearing his number on their helmets and keeping his locker ready for when he returns full time.
And that will be soon. He is expected to be back in classes during the spring semester as he works toward completing his degree.
The football program and athletic department have pledged their full support to Roundtree. A fundraising account started by the athletic department, #97Strong: Fight for Bobby Roundtree, has raised more than $120,000.
2. New digs
Just before the start of the season, the Illini moved into their fancy training area: The Henry Dale and Betty Smith Football Center. The $80 million facility puts the school on a level playing field, or better, with the rest of the Big Ten. The Illini now have the latest gadgets, bells and whistles, including a bowling alley and a barbershop.
The building has turned into a hangout for the bulk of the team, which is what the coaches hoped would happen.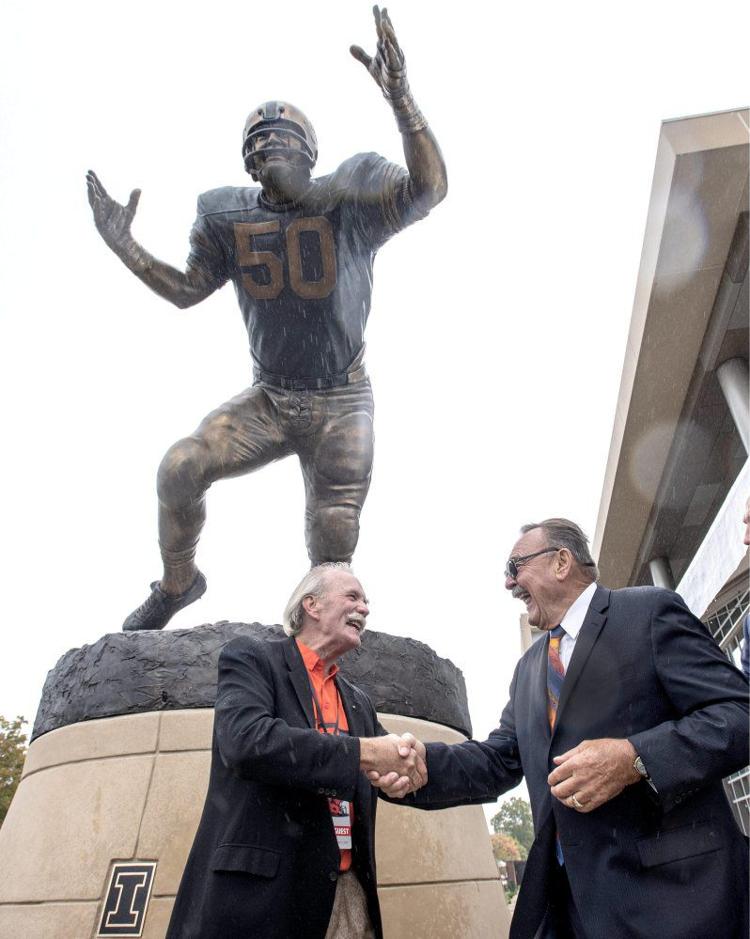 3. Busted
The greatest linebacker in football history, Dick Butkus, was honored by his alma mater. George Lundeen's stunning bronze statue sits outside the Smith Center. The players walk by it every day on their way to workouts.
The statue was unveiled in a ceremony Oct. 11. A week later, the Illini started a four-game win streak with an upset against Wisconsin. Coincidence? We think not.
4. Turnovers, turnovers, turnovers
To borrow from James Carville, it's the takeaways, stupid.
Lovie Smith craves them. And so does his team.
Illinois is tied for third nationally in takeaways with 28. That's 16 fumble recoveries and 12 interceptions. Only Florida Atlantic (31) and Baylor (30) have more.
That's a whole lot of extra possessions. Even better, the team scored six touchdowns on defense.
5. Lou can do
Lou Hernadez, the one-time strength coach for Ron Zook, helped the 2007 team reach the Rose Bowl. So, when well-respected Joey Boese left for the NFL, Lovie Smith turned to fellow Texan Hernandez, who had an immediate impact on the current team — just as the former Illini who worked with him promised he would.
The mentality changed in a positive way. Players were held accountable. And all of the benchmarks for strength and conditioning drastically improved.
The Hernandez Effect will have an even greater impact in future seasons.
6. Hoosier helper
Michigan backup quarterback Brandon Peters went looking for a new school after the 2018 season.
Wanting to play close to home in Avon, Ind., Peters picked the Illini. Despite limited time in the summer to get to know his new teammates, Peters quickly gained their trust and respect.It helped that he can spin the ball. In 10 games, he has thrown 17 touchdown passes and seven interceptions. The team is 6-4 in his 10 starts.
Going into the bowl, he has 1,611 yards, the most for an Illini quarterback since Wes Lunt had 2,761 in 2015.
Most important, Peters will be back in 2020.
7. Just say "No"
Illinois went after two other quarterbacks besides Peters.
Tommy Stevens went from Penn State to Mississippi State, where he threw for 934 yards, nine touchdowns and five interceptions.After his dad said he was coming to Illinois, Matt Fink stayed at Southern Cal, where he threw for 574 yards in seven games. Fink has four TD passes and four interceptions.
Brandon Peters outperformed both.
8. Failure to launch
In three seasons with Southern Cal, receiver Josh Imatorbhebhe caught just two passes and barely played.
In his first season at Illinois, the Georgia native leads the team with 33 catches for 634 yards and nine touchdowns. He has made big play after big play. The Illini would not be in a bowl without him.
9. The end is near
Oluwole Betiku, another player Southern Cal let get away, leads the team with eight sacks and is second with 111 / 2 tackles for loss. Injuries kept him out of three games or his numbers would have been bigger.
He is scheduled to return to the Illini in 2020.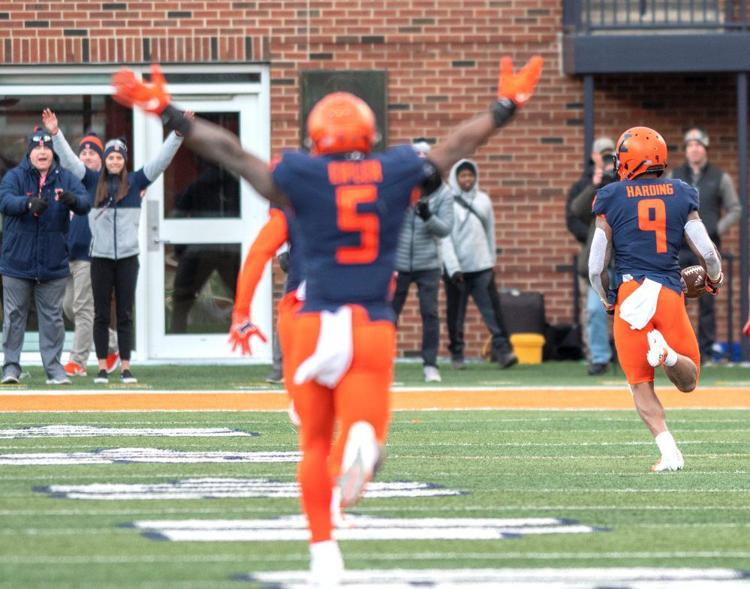 10. A star is born
Determined Dele Harding leads the Big Ten in tackles and is second nationally with 147. Not bad for a guy who did the bulk of his earlier work on special teams.
With six tackles against Cal (the linebacker should get it by halftime), Harding will move to sixth on the school's single-season tackle list. Just ahead of J Leman. With a really big day, he can zoom to fourth.
Harding is a team leader on and off the field, pushing the Illini in workouts and leading by example in games.
11. Brainiac
Earlier in his career, center Doug Kramer relied on Nick Allegretti. Now, he has taken Allegretti's role as the linchpin of the offensive line.
His linemates rave about Kramer's ability to keep everything moving in the right direction.
He injured his knee in the finale against Northwestern and his status for the bowl is uncertain.
12. B.M.O.C.
Defensive tackle Jamal Milan struggled with injuries earlier in his career, missing four games in 2018 and two each in '16 and '17.
This year, he has played in all 12 games and piled up career-best numbers for tackles and tackles for loss.
13. Green machine
Peorian Kendrick Green is powerful enough to pick up a car. "A small one," he says modestly.
Green came to Illinois to play on the defensive line but was switched to offense. He is in his second season as a starting guard.
If Doug Kramer is unable to go against Cal, Green will likely move to center.
14. Next in line
When Luke Butkus left to work for the Green Bay Packers, Lovie Smith and Rod Smith didn't need to look very hard to find his replacement.
Bob McClain was already on the staff as an offensive analyst and had worked with Rod Smith in the past. It has been a smooth transition for the offensive linemen, who appreciate McClain's emphasis on technique.
15. Chip off the old block
Another easy hire. Miles Smith is the team's new linebacker coach after working with the defensive backs in 2018. Younger than most of the staff (Smith just turned 30), he has a good rapport with the Illini linebackers. Very relatable.
16. Welcome back
Former Illini receiver Mike Bellamy replaced Thad Ward as running backs coach. Bellamy had worked on two previous Illinois staffs, coaching receivers for Tim Beckman and Bill Cubit.
Bellamy, who spent the 2018 season at Toledo, welcomed the chance to return to his alma mater.
He has helped the running backs improve their pass-catching skills and blocking.
17. Change of venue
Former Alabama backup lineman Richie Petitbon wanted to find a place where he could start in his last season. He stepped in for the graduated Nick Allegretti at guard and has been in the lineup every game.
No. 74 also reunited with former high school teammate Reggie Corbin.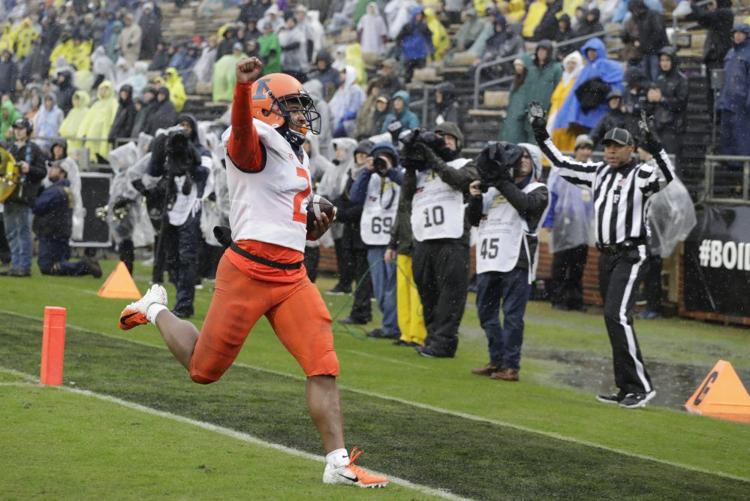 18. Staying put
Coming off the first 1,000-yard season by an Illini running back since 2010, Reggie Corbin considered testing the NFL draft waters.
But he came back and started again for the Illini. Corbin leads the team with 634 rushing yards and has six touchdowns. Injuries kept him from another 1,000-yard season, but he will play in his first bowl as an Illini. A trade he was happy to make.
19. Nose for the ball, part I
Injured linebacker Jake Hansen, who is uncertain for the Redbox Bowl because of injury, did a lot of damage in his nine games. He continues to lead the nation with seven forced fumbles. Ohio State superstar Chase Young is second with six. That's good company.
20. Nose for the ball, part II
After Jake Hansen forces them, Illini safety Stanley Green recovers them. He is tied for first nationally with four fumble recoveries. He also is tied for fifth with three forced fumbles.
21. Taking nothing for granted
When you find some success after struggling to win for years, there might be a tendency to relax.
Not with the current Illini. Any concerns of a letdown after the Wisconsin win were dispatched with a dominant win against Purdue. Followed by a dominant win against Rutgers.
Success didn't spoil the Illini. It motivated them.
22. Special guests
On Hall of Fame weekend, Illini superstars Simeon Rice and David Williams talked to the team. And the current players paid attention to their advice.
Rice is one of the all-time best at rushing the passer. In both college and the NFL. He set a sack record at Illinois that will never be approached.And Williams is the school's all-time leading receiver. Like with Rice, his numbers will never be broken.
23. Fast start
Just 3 minutes, 7 seconds into the 2019 season opener against Akron, Reggie Corbin's touchdown gave the Illini a lead they would not relinquish.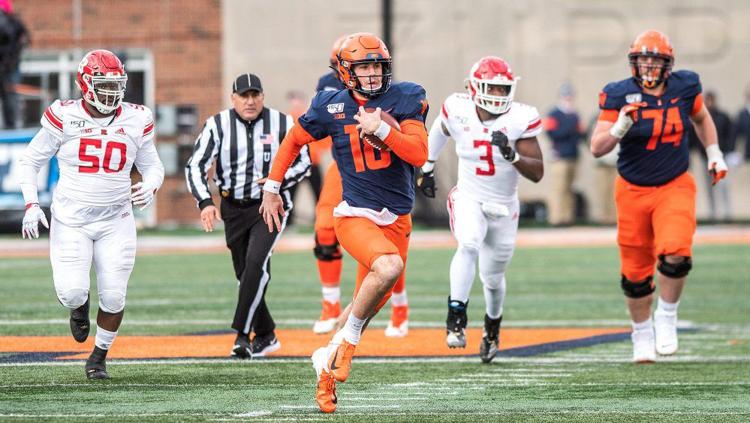 24. Armed, dangerous
Brandon Peters made sure, throwing three touchdowns and running for a fourth score in a 42-3 victory against the Zips.
25. Big leg
Illinois fans will be talking for a long time about James McCourt's winning kick against Wisconsin. In his first season as starter, taking over for NFL kicker Chase McLaughlin, McCourt is 11 for 17 on field goals. Four of his kicks are from 50 and beyond, including a record-tying 57-yarder against Eastern Michigan. That impressed Dan Beaver, who made the earlier kick.
McCourt had to win a training camp battle against Danville's Caleb Griffin. Good news for Illini fans — McCourt will be back in 2020.
26. Distance and precision
The Big Ten's top punter, Blake Hayes (left), constantly got Illinois out of trouble with booming kicks. And he showed an uncanny ability to place the ball. Of his 72 punts, 28 landed inside the opponent's 20.
Like James McCourt, Hayes will be back for another season.
27. Calm, cool
Brandon Peters' calmness at UConn.
After his team fell behind 13-0, including a score on a pick-six, Peters didn't panic.
He led his team back for a 31-23 victory, throwing four touchdown passes. Two went to Josh Imatorbhebhe, who became a favorite target for Peters throughout the season.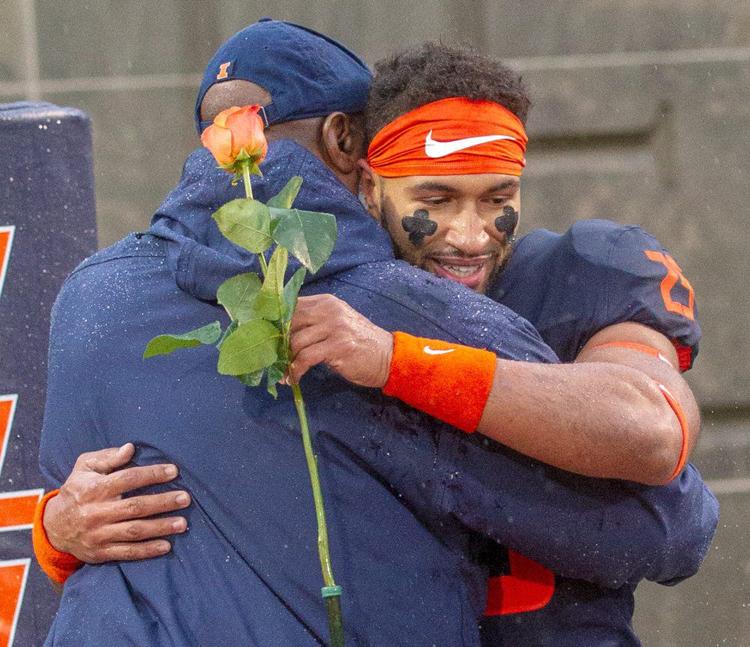 28. Inspiring story
Dre Brown missed two full seasons with torn ACLs. Some wondered if he would ever be able to play again.
But hard work and faith helped Brown not only return to the team, but become a vital member. He is second on the team in rushing with 545 yards and also leads the team in kickoff returns, setting up the offense with a 26.3 average.
29. The organizer
Director of football operations Tim Knox is the behind-the-scenes wizard who keeps the train on the tracks. And on time.
First hired by Tim Beckman, then retained by Bill Cubit and Lovie Smith, the friendly Ohioan makes the job easier for the coaches and players. And he seems to know everybody.
30. One step ahead
Illinois equipment manager Trent Chesnut is in his 20th season. Like with Knox, he makes the job easier for the coaches and players with his preparation and attention to detail.
If somebody forgets an important item on a road trip, Chesnut always has an answer.
31. Special group
Unaware he was about to get fired, Bill Cubit signed a class of 25 players in 2016. Many of them didn't stay long. But nine had an impact in 2019.
Where would the Illini be without Dele Harding, Doug Kramer, Jake Hansen, James McCourt, Stanley Green, Tymir Oliver, Ayo Shogbonyo, Kenyon Jackson and Jake Cerny?
32. Willing to adjust
In a perfect world, offensive coordinator Rod Smith would like a dual-threat quarterback. That didn't work out in 2019, with Brandon Peters the only real option to open the season.
Smith has incorporated Peters' ability to throw the ball into an offense that generally favors the run. And Smith hasn't been afraid to ask No. 18 to run, with the quarterback making several critical gains on the ground this season. He has 145 rushing yards and three rushing scores going into the bowl game.With another year to work with him, the Smith-Peters combination figures to be better in 2020.
33. Keeping the faith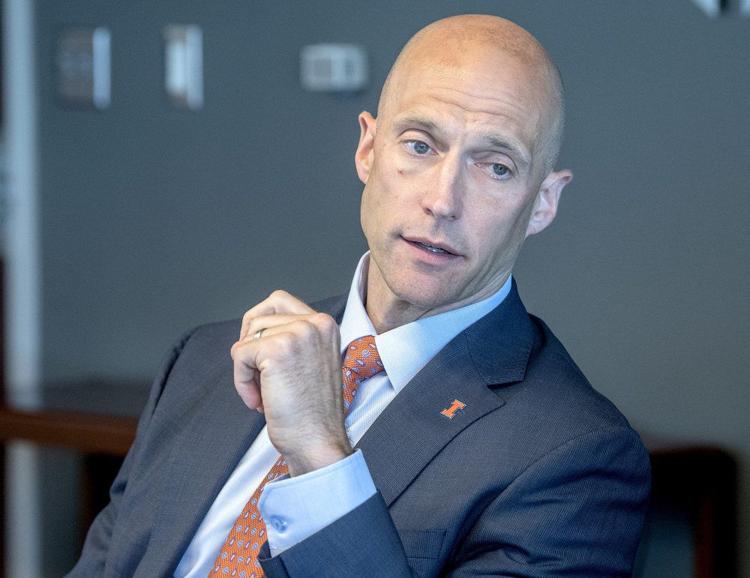 Illinois athletic director Josh Whitman received all sorts of outside advice about his football coach. Before the season, Lovie Smith was considered to be on the hottest of seats. Even though Whitman never indicated that was the case.
Whitman added years to the back end of Smith's contract and vowed his support. Over and over and over again. The payoff came as they hugged after the win against Wisconsin, the biggest victory at Illinois since the 2007 team won at Ohio State.
34. Think like a pro
Illinois special teams coordinator Bob Ligashesky has years of high-end experience working in the NFL. Where the special teams are the best. He came back to college for the first time since 2003 to work for Lovie Smith. The results have been positive on punts, kicks, returns and coverage. Blake Hayes was named All-Big Ten punter in part because of Ligashesky's work.
35. Important connections
Former Trinity head coach Cory Patterson, now in his second year in charge of Illini tight ends, continues to recruit the St. Louis area. With turmoil at Missouri, which just replaced coach Barry Odom, Patterson has already taken advantage of the situation.
36. Knows the feeling
One-time Cal defensive tackle Austin Clark played six years with the Bears before starting his coaching career. Clark's youth (he is 29) has been a plus as he works with the Illini defensive linemen. Like with Miles Smith, he can relate to the players because his time on the field wasn't long ago.
Considered a talented recruiter, Clark will be sought after. It will be important for Illinois to reward him for his success as a coach and in luring talent to Illinois.
He played a vital role in the addition of three Southern Cal transfers this season.
37. Follow the leader
Receivers coach Andrew Hayes-Stoker worked with Lovie Smith for nine seasons on the staffs of the Tampa Bay Buccaneers and Chicago Bears. So, when Smith took over at Illinois in 2016, Hayes-Stoker soon joined him.
It's important for the head coach to be surrounded by people he trusts. And Hayes-Stoker is clearly one of those guys for Smith.
38. Lead by example
A former NFL first-round pick as a player, Gill Byrd spent 10 years with the San Diego Chargers and became the team's all-time leader with 42 interceptions.
After retiring as a player, he went to work for the Packers. In 2003, Byrd began his coaching career that included time with the Rams, Bears, Bucs and Bills.
39. Voice of reason
One of the newest members of the coaching staff, Keynodo Hudson joined the team this season. Working with the cornerbacks, he has helped Nate Hobbs become one of the best at the position in the Big Ten.
40. Healing powers
Football trainer Jeremy Busch has had more than his share of injuries to deal with this season.
Thanks to the new training area in the Smith Center, Busch and his staff have all the equipment they need to help the injured Illini with their recovery. Busch was lauded for his role with Bobby Roundtree.
41. Looking sharp
As Billy Crystal's "Fernando" used to say, "It is better to look good than to feel good."
Did dressing up for the Illini Walk — with sports jackets courtesy the Illini Quarterback Club — help the team play better? Let's go with, "Yes."
42. Big smasher
Washington transfer Milo Eifler is fifth on the team in tackles and first on the team in crunching hits. He had many, "That's got to hurt" moments against opposing running backs and receivers. His reward is a trip home for the bowl. Eifler is a Berkeley, Calif,. native.
43. Blanket coverage
The reason junior cornerback Nate Hobbs doesn't get more interceptions (he has one this season) is because opposing quarterbacks don't throw his way. The Illinois coaches understand Hobbs' value.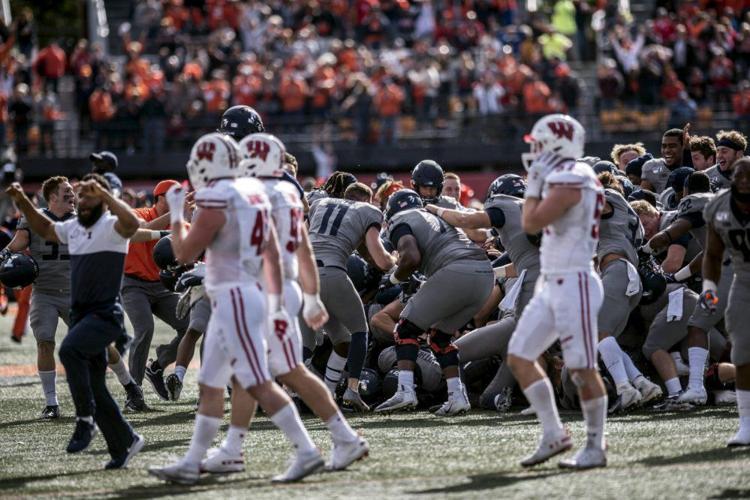 44. Fighting back
The Illini didn't finish the job against Eastern Michigan, losing to the Eagles 34-31, but they didn't stop playing after falling behind by 14 early in the fourth quarter.
Touchdowns by Reggie Corbin and Josh Imatorbhebhe tied the score at 31-31 before Eastern Michigan hit a late field goal to win it.
45. Learning from loss
Different setup, but the same result against Nebraska. This time, the Illini led by 14 late in the third quarter before the Cornhuskers rallied for a 42-38 victory.
The close call seemed to help Illinois in later games.
46. Stellar second half
Shea Patterson and the Michigan Wolverines dominated the first half, taking a 28-0 lead with 4:33 left before the break. The Illini got a brief lift with Matt Robinson's touchdown pass to Josh Imatorbhebhe just before halftime.
The Illini kept scoring in the third quarter. A long field goal by James McCourt and short touchdown runs by Robinson and Dre Brown cut the margin to 28-25.
Michigan regained control with two late scores. But the Illini left the game talking more confidently than they had in previous games. As if they knew something big was about to happen.
47. Extra effort
Receiver Josh Imatorbhebhe showed once again he could be counted on, catching five passes for 102 yards and a touchdown against Michigan. It was one of his two 100-yard games this season ... so far.
48. Good timing
Donny Navarro, the transfer from Valparaiso, took Brandon Peters' pass 48 yards for a score with 5:53 left in the first half against Wisconsin. It told the team and the fans that the Illini weren't going to lay down against the 31-point favorites.
It was Navarro's only reception in the game.
49. Closing the gap
Reggie Corbin's 43-yard touchdown run came with 48 seconds left in the third quarter and pulled the Illini within 20-14 of Wisconsin. The play made the comeback opportunity real for the team.
50. Isaiah on the spot
Wisconsin was driving for another score midway through the fourth quarter. Jake Hansen forced Jonathan Taylor's fumble and Isaiah Gay recoved at the Illinois 25. Disaster averted for the Illini.
51. Touchdown saver
At the end of a 35-yard pass play, Illini freshman Devon Witherspoon got Kendric Pryor to the ground at the 3.
52. What was he thinking?
With his team at the Illinois 2 and a chance to go up by two touchdowns, Wisconsin coach Paul Chryst twice called on fullback John Chenal. Instead of superstar tailback Jonathan Taylor. Chenal gained 1 yard on the first try and lost 1 yard on the second.
The question in Madison: Why?
53. Right place, right time
Illini defensive lineman Jamal Woods got a tackle for loss against Chenal. That set up a 20-yard field goal for the Badgers by Collin Larsh. What could have been a 27-14 lead was instead just 23-14.
54. Another clutch catch ...
... by Josh Imatorbhebhe. This one went for 29 yards and a touchdown, cutting Wisconsin's lead to 23-21 with 5:53 left. Collars tightening on the Wisconsin sideline.
55. Throw it to me
What was Jack Coan doing? Illini defensive back Tony Adams seemed to know, getting in perfect position to make a game-changing play.
56. Second-down dash
From the Wisconsin 38, Dre Brown took the ball and went 13 yards in the final minute against Wisconsin.
Three more runs, including two by Brown, set up James McCourt's heroics.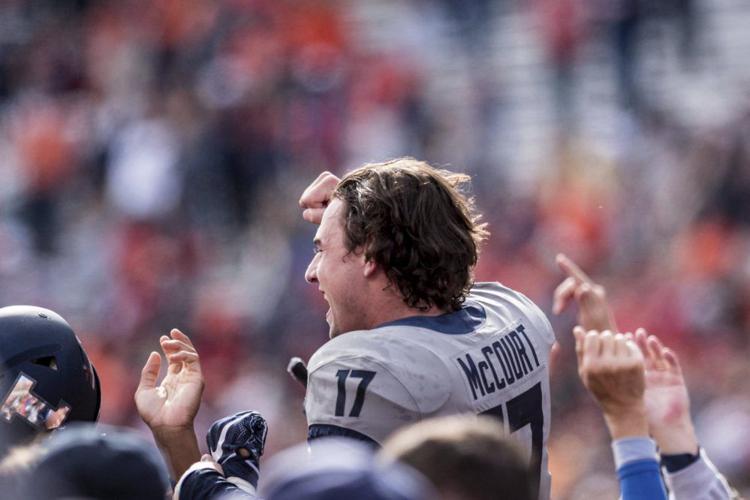 57. One for the ages
Just another kick. Never mind that it could be the biggest win for Illinois in years. While also ending Wisconsin's undefeated season.
James McCourt knew it was good when he kicked it. He should have run for cover, but instead got mobbed by his teammates and fans.
It will be a moment McCourt remembers for the rest of his life.
58. The field stormers
Most of the big wins for Illinois the past three decades came on the road. So, when James McCourt's kicked sailed through the uprights against the Badgers, the fans filled Zuppke Field at Memorial Stadium.
Wisely, security at the stadium didn't interfere. And other than McCourt, who got knocked silly, all came away unscathed.
59. Beef House lunch
The Illini stopped at the tasty Covington, Ind., restaurant on their way to Purdue. The Wrights were able to get the team in and out the door in a hurry.
Wonder how many pounds of steak were gobbled? And how many rolls?
60. Singing in the rain
The Illini were desperate to start a Big Ten winning streak at Purdue and keep their momentum going. Unfortunately for the fans and the players, it was a cold, windy and, especially, rainy day at Ross-Ade Stadium. Attendance was listed at 58,735. Not even close.The conditions impacted the pass-happy Boilermakers much more than the ground-bound Illini.
61. Deal with the elements
Despite the driving rain, junior kicker James McCourt nailed a 38-yard field goal to give the Illini a 3-0 lead late in the first quarter against Purdue.
62. Return to the end zone
A week after making a monster interception against Wisconsin, St. Louis product Tony Adams was at it again.This time, he stepped in front of Jack Plummer's second-down pass, picked it off and sprinted 13 yards for the score. It was Adams' first touchdown since high school. It gave the Illini a 10-0 lead they would not relinquish against the Boilermakers.
63. Game of his life
DeKalb native Dre Brown showed he has no problem running in the rain, gaining a career-best 131 yards on 18 carries against the Boilermakers.
64. The right stuff
Big defensive lineman Jamal Milan made four tackles at Purdue. All behind the line of scrimmage. Including one sack.
Thanks to Milan and friends, the Boilermakers were behind the chains the entire game.
Illinois just missed a shutout, allowing a late score in a dominant 24-6 victory.
65. Trophy time
By beating the Boilermakers, the Illini regained the Cannon Trophy for the first time since 2015. Of the school's three trophy games, it's the only one currently in Illinois' possession. The Illibuck remains at Ohio State (next game is Nov. 21 in Champaign) and Northwestern owns the Land of Lincoln.
66. Keep his composure
Taking a two-game win streak into a home game against Rutgers, the Illini looked sluggish in the first half.
The Illini grabbed a 10-0 lead before the Scarlet Knights tied it 10-10 at the break.
Did Lovie Smith go on a tirade at halftime? Punch the wall? Hardly. Reportedly, he was calm and cool. Good idea.
His team dominated the second half, scoring two defensive touchdowns in a 38-10 victory.
The school had its first three-game Big Ten winning streak in the same season since 2007.
67. Never giving up
The Michigan State Spartans took a 28-3 lead in the first half on Nov. 9.
Many past Illinois teams would have caved. And started thinking about dinner on their ride home. The Illini decided to keep playing. And produced the greatest comeback win in program history.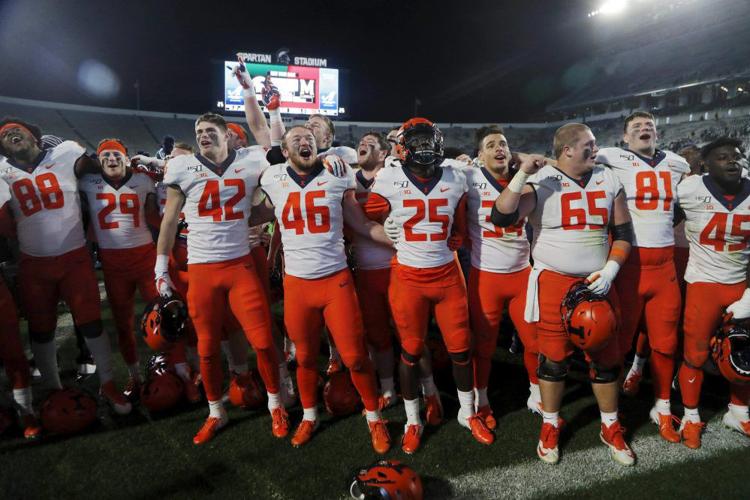 68. Spartans fall asleep
On the final play of the first half, Brandon Peters dropped back and fired a long pass toward Josh Imatorbhebhe. He came down with it in the end zone, cutting Michigan State's advantage to 18. Still a lot of points to make up. But doable.
69. Safeties first
On its opening drive in the third quarter, Michigan State drove deep into Illinois territory. Already leading by 18, a Spartans touchdown would have put the game out of reach.
Michigan State got close, but Illinois safeties Stanley Green and Sydney Brown made touchdown-saving tackles.
The Spartans had four cracks at the end zone inside the Illini 5, but had to settle for Matt Coghlin's 23-yard field goal and a 31-10 lead.
70. Long way home
Josh Imatorbhebhe went for 83 yards early in the fourth quarter at Michigan State and cut the Spartans' lead to 14.
The Illinois receiver pulled away from the defenders, showing the breakaway speed he always knew he had.
71. Key grab
Senior tight end Caleb Reams went 17 yards on a pass from Brandon Peters with 12 minutes left against the Spartans.
Two plays later, the Illini were at the Michigan State 24.
72. Hands team
The Illini don't throw the ball to their senior tailback Reggie Corbin very often. He has three catches this season.
But he showed off late against Michigan State, catching a Brandon Peters pass for a 23-yard gain to the Spartans 6. He ran in for the score on the next play, cutting Michigan State's lead to seven.
73. Precious pick-six
Michigan State faced third and 10 when quarterback Brian Lewerke dropped back to pass. Illini safety Sydney Brown looked like the intended receiver, grabbing the wayward throw and racing 54 yards for what figured to be the tying touchdown. Until James McCourt missed the extra points. It happens.
74. Just what they needed
The Illini faced fourth down and 17 at their own 44. Brandon Peters threw the ball toward Josh Imatorbhebhe, hoping to keep the game-winning drive alive.
Imatorbhebhe hauled it in for a 37-yard gain to the Michigan State 19.
Doubtful anyone else on the team could have made the play. Imatorbhebhe won the moment with his want-to.
75. Make or break
The Illini were down to their last play. At the Spartans' 5. Brandon Peters avoided the Michigan State defenders long enough for Daniel Barker to get open. He caught the ball for the victory.
76. The bowling ball
Lovie Smith picked up one from the alleys in the new Smith Center and brought it to East Lansing. The coach pulled out the ball in a wild postgame celebration after the clincher at Michigan State.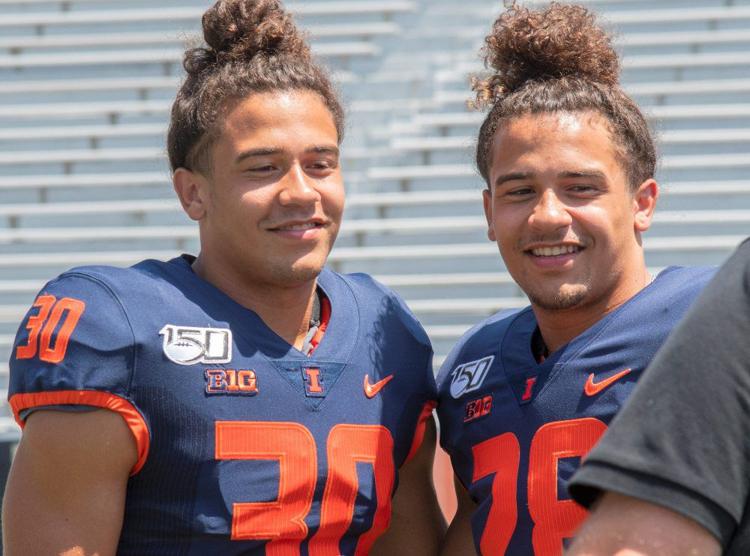 77. What can Brown do for you?
At Illinois, a lot. The team has four Browns on the current roster: runnings back Dre and Chase, safety Sydney and offensive lineman Verdis.
And don't forget sports information director Kent Brown.
78. The captains
Dele Harding, Jake Hansen, Doug Kramer, Alex Palczewski and Blake Hayes did a stellar job leading the team this season.
79. Born to run
Quarterback Brandon Peters surprised many with his abilty to pick up yards with his legs. So far, he has run for 330 yards and lost 185 for a net 145.
He has three rushing touchdowns.
80. Steady backup
When the Illini need tough yards, they can turn to reserve Ra'Von Bonner. The junior from Cincinnati has 208 yards and three touchdowns.
81. Casey at the bat
Casey Washington, a freshman from Round Rock, Texas, enters the bowl with 10 grabs this season. He is just getting started.
82. On the mend
Junior running back Mike Epstein from Florida suffered a torn ACL in the opener against Akron.
He had surgery done by James Andrews and is well on his way to return to the team in 2020. With Reggie Corbin and Dre Brown both moving on, he will be expected to get the bulk of the work at tailback.
83. Ready, willing
Justice Williams, a senior from Frisco, Texas, came to Illinois as a linebacker before converting to receiver.
He enters the Redbox Bowl with a career-best 13 catches for 114 yards and a touchdown.
84. Domestic bliss
Proud papa Vederian Lowe got engaged this year. He is one of the team's top offensive linemen in a group that returned four starters from 2018.
If he continues to make progress, Lowe will have a chance to follow former teammate Nick Allegretti into the NFL.
85. Always be prepared
Linebacker Khalan Tolson came up big against Michigan State.
Starter Milo Eifler got ejected early in the game for punching offensive lineman Blake Bueter, so Tolson had to step up.
He finished with nine tackles.
86. Mr. Consistency
Tymir Oliver, the defensive tackle from Philadelphia, had the best year of his career.
Slugging it out against the Big Ten's monstrous offensive linemen, he enters the bowl with 27 tackles, including four for losses.
87. Solid snapper
Barrington native Ethan Tabel went on scholarship. Positive sign for a long snapper is when you don't hear his name mentioned. So far, so good.
88. Sharp scheduling
Senior associate athletic director Jason Lener was largely responsible for the three nonconference games. The team went 2-1, beating Akron and UConn and losing to Eastern Michigan. Lose to the Zips or the Huskies and the team would have been home for the holidays.
Next year, the Illini have Illinois State, UConn and Bowling Green.
89. In focus
Try scouting the opponent without them. Alex Benizzi and the video crew put in long hours and manage tight deadlines.
90. Academic diligence
Brian Russell and his staff make sure the Illini stay on top of their schoolwork.
Illinois had 26 players named to the Academic All-Big Ten team.
91. Hometown hospitality
The team spends Friday nights before home games at the Hyatt Place in downtown Champaign. They also have dinner at the Champaign Country Club. Comfortable beds and comfort food.
92. Fake news
In a preseason poll of Big Ten reporters conducted by Cleveland.com, Illinois was picked to finish last in the Big Ten West by all 34 voters. With a 4-5 conference record, the team actually ended up fourth, ahead of preseason choice Nebraska, Purdue and Northwestern.
93. Super seniors
Eighteen players suited up at home for the last time on Nov. 30. For the first time as Illini, all of them will go to the postseason.
94. Afternoon delight
Too bad the Illini couldn't play more often at 2:30 p.m. They went 3-1 in those games, with the lone loss coming at Minnesota. They beat UConn, Rutgers and Michigan State.
Seven of the Illini games were at 11 a.m. They went 3-4. The other was a 7 p.m. loss to Nebraska.
The bowl kicks off at 3 p.m.
95. Filling gaps
Junior receiver Ricky Smalling was lost for the season with a knee injury suffered against Wisconsin.The team won three more games with their No. 2 option on the sidelines.
96. Gulp, gulp
For the first time, the school made beer available to the general public this season.
The plan brought in more money than expected and the win total went up by two.
Coincidence?
97. New boss
Lovie Smith took over as defensive coordinator full time this season for departed Hardy Nickerson. And the defense got better. A lot better.
The unit went from 127th in yards allowed to 78th. The per-game average dropped by 99 yards.
98. Honoring Red Grange
The Illini paid homage to their legend by wearing the special Grey Ghost uniforms against Wisconsin. They should probably wear them every week.
99. The band is out on the field
Smart move by Illinois to bring the Marching Illini to Michigan State. There wasn't enough space in the stands for the musicians, so they were placed right next to the turf.
Just where they wanted to be when the Illini pulled off a last-second stunner. The band members celebrated with the team as if it was a home game.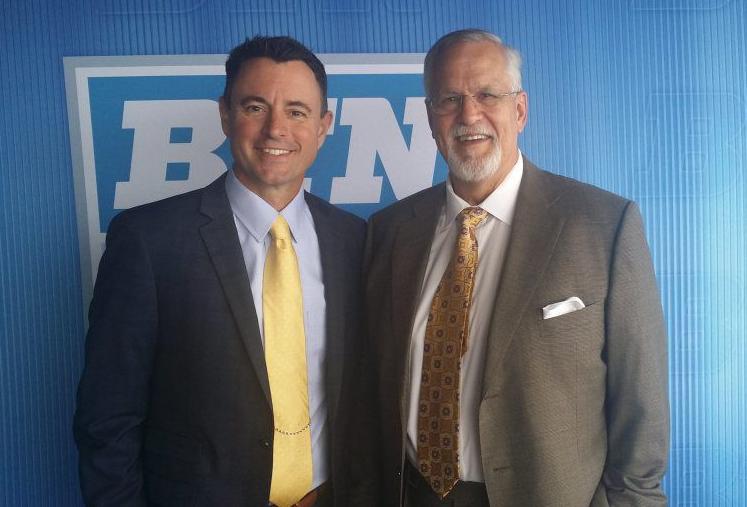 100. Good luck charm
BTN analyst and recent recipient of a new heart Matt Millen seemed to work every Illinois win this season.
He said at halftime of the Wisconsin game that the Illini linemen were more than holding their own. He was right.
Millen called so many games that he joked with Lovie Smith that he deserves a letter.