Illinois football
Roundtree leading Illini from afar: 'He's a brother for life'
CHAMPAIGN — Bobby Roundtree isn't anywhere near campus. But he is everywhere on campus.
Talking on Illinois' monster video screen. In a Memorial Stadium stairwell. On helmets. At the Smith Center locker room. On iPhones and Androids. All over Twitter and Instagram.
#97STRONG.
During the summer, the Illini talked about playing for their fallen friend, who suffered severe spinal trauma in a May 18 swimming accident.
They have followed through. Bigger than most imagined.
When Illinois stunned No. 6 Wisconsin on Oct. 19, Roundtree was in on the celebration. As his buddies bounced around the locker room, Roundtree saw it via phone.
Incredible to see the support from the #Illini Family A special Thank You message from @BobbyRoundtr97 pic.twitter.com/VxS9YiypKq

— Illinois Football (@IlliniFootball) November 2, 2019
At halftime of last Saturday's game against Rutgers — with the sluggish Illini tied 10-10 — a message from Roundtree played on the Daktronics board in the south end zone.
"Hello, Illini Nation," Roundtree said. "I've been seeing all the love and tweets. Thank you. The recovery's going well. I love seeing my boys out there ballin' out. Let's do it. Let's have a great end of the season. I-L-L."
It worked. Illinois outscored the Scarlet Knights 28-0 in the second half of a blowout win.
Lifting up the Illini
Illinois, which hasn't been to a bowl since 2014, is becoming a feel-good story. The ode to Roundtree is an important part of it.
He motivates and inspires 138 miles from Memorial Stadium at the Shirley Ryan AbilityLab in Chicago. Give him plenty of credit for the three-game winning streak the Illini (5-4, 3-3 Big Ten) carry into Saturday's 2:30 p.m. kickoff at Michigan State (4-4, 2-3).
"He's been in team meetings," Illini linebacker Dele Harding said. "We talked to him after the last three games. Every time in the locker room, we FaceTime him and tell him we did it for him."
Roundtree offers advice.
"He tries to be as positive as he can," Illini linebacker Jake Hansen said. "That's always the best thing for us."
No matter how hard it is... keep fighting. Gotta complete the MISSION ‼️

— Bobby Roundtree (@BobbyRoundtr97) November 8, 2019
The Illini want to honor him. They are trying to return the inspiration.
"He's a brother for life," Illini tailback Reggie Corbin said. "It's definitely sad to see what he's going through, but it's good to see that he's fighting and he's doing well. He keeps doing better and better."
There is interest in Roundtree beyond Champaign County. The school is hearing from media across the country.
"We've been contacted by major national media wanting to tell Bobby's story," Illinois sports information director Kent Brown said. "As I have told everybody, in due time, Bobby will be ready to tell his story. Until that time, we're just politely declining that opportunity."
Being sensitive to Roundtree and his family's thoughts and feelings is the top priority for Illinois. Nothing will be done without the player giving his OK. As it should be.
Helping hands
The GoFundMe account is at $109,372. And counting.
Illini fans have responded to #97Strong: Fight for Bobby Roundtree. Just like Lovie Smith knew they would.
"It's something that we expected," the Illinois coach said. "Illinois people are loyal. When one of our own needs help, it doesn't surprise me that we would rally around him that way,
"Bobby's got a long road to recovery. Expenses add up. This is not short term. It's long term we're thinking about."
Roundtree appreciates the support.
"He'd like to say thanks to everybody," Smith said. "It means so much to he and his family."
Within the Illinois athletic department, there are meetings to come up with different fundraising ideas.
Illinois football trainer Jeremy Busch has been the primary contact with Roundtree.
"He and members of his staff stepped in on Day 1 to help communicate and with all the planning and logistics," Brown said. "Jeremy has been an invaluable resource for Bobby and his family."
The plan is for Roundtree to return to Champaign in January to resume classes.
"Bobby's going to get multiple degrees from the University of Illinois," Smith said.
Roundtree is known for both his spirit and tireless work ethic. His coaches and teammates can't wait to be around him full time.
"That would be tremendous," Harding said. "It's been a while since a lot of guys actually got to see him. It will bring great energy into the room."
The Illini have three games left in the regular season, starting Saturday at Michigan State.
After that, there is Nov. 23 game at Iowa and the regular-season finale against Northwestern on Nov. 30 at Memorial Stadium.
Roundtree will be involved. He continues to impact the team.
"For me, he was like a figure in the D-line room," junior defensive end Ayo Shogbonyo said. "He was like that guy. Everyone knew that Bobby's going to have 100 percent energy, 100 percent passion. He'll go out on the field and give you everything he has until he can't go anymore. You have to drag him off the field.
For you, 97 ✊@BobbyRoundtr97 🧡 #97Strong pic.twitter.com/bVFYTsjcMQ

— Illinois Football (@IlliniFootball) November 3, 2019
"Seeing that, I took that upon myself to work harder, put it all out there on the field."
The players miss Roundtree on the field. Of course. Even more so during practice.
"He was always that high-energy guy," Shogbonyo said. "Bobby was the one yelling, screaming, going crazy at practice like he was going to chirp you during practice if you don't do something right. He's going to get on your butt and be like, 'Yo, you've got to go harder. You've got to do this.' Then, we'd do better. Now that he's not here, we have to take it upon ourselves."
Shogbonyo looks forward to Roundtree's return next semester.
"It's going to bring back a piece of us we haven't had," he said. "Everybody on this football team matters. When we don't have one guy with us, everyone knows that there's something missing. So bringing him back is going to be like putting us back together."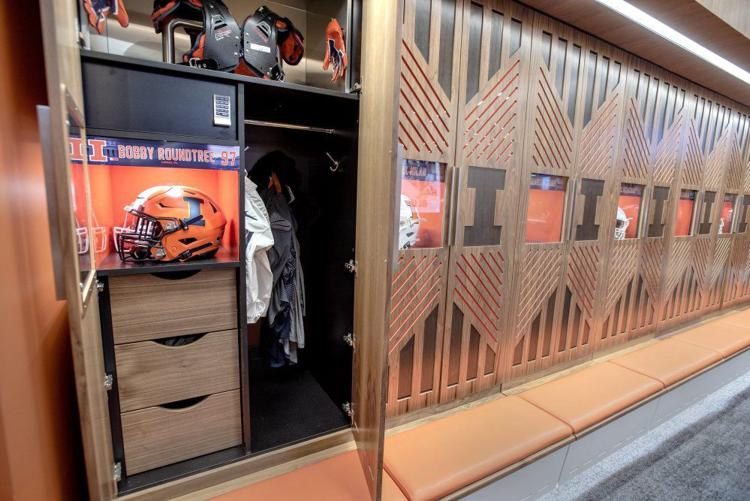 Home away from home
Roundtree is from Florida, so he might not want to commit to a long stay up North.
WDWS announcer Steve Kelly came up with an idea for Roundtree when he is done with school: work at the University of Illinois. Helping with football would be the most logical stop.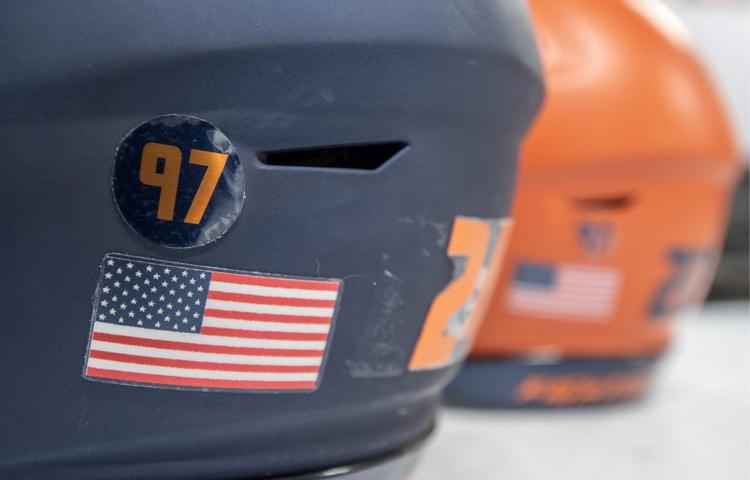 "All options are open for Bobby," Smith said. "I don't want to limit exactly what he'll be doing for us. But again, Bobby is a part of our group. He is helping the team win right now and in the future, there are a lot of different things we have in mind that he can possibly do."
Roundtree's accident hit Smith hard. Yes, he cares about the welfare of all his players. But he has developed an advanced relationship with Roundtree.
"Long before Bobby had this injury, he's been special to me and my family," Smith said "Bobby was part of the first recruiting class and probably the biggest name in that recruiting class that kind of bought into what we were doing. It's a lot deeper than player-coach with Bobby and I."