CHAMPAIGN — Bobby Roundtree propelled his wheelchair through the door of the Illinois locker room at the Smith Football Performance Center before Illini coach Lovie Smith took over to push him the rest of the way.
Roundtree's presence before Saturday's regular season finale against Northwestern was a surprise. The look on his teammates' faces and the roar when they saw him backed that up.
"I was speechless," senior linebacker Dele Harding said. "Nobody had no idea. We thought we were bringing it up to say our prayer before the game. I looked around because it was kind of early to bring it up."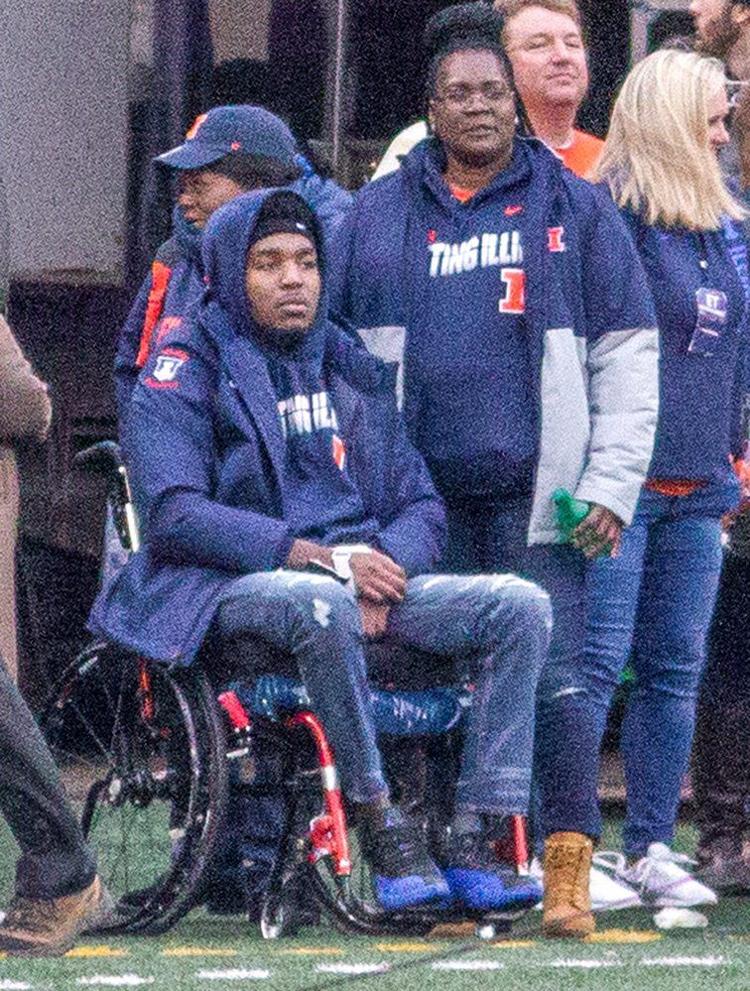 Saturday was Roundtree's first time on the Illinois campus since he suffered a severe spinal cord injury after a swimming accident this past May in Florida. He's spent the past several months at the Shirley Ryan Ability Lab in Chicago with the goal to return to Illinois as a full-time student in January.
The Illini have kept Roundtree a part of their bowl season.
His locker is waiting for him. His teammates have FaceTime'd him in for postgame celebrations. Seeing him in person, albeit unexpected, was emotional.
"Unbelievable, you know?" junior offensive tackle Alex Palczewski said. "I've FaceTime'd him and I saw him at (Big Ten) media days, but to be able to see him actually here meant the world to me. It was unreal to be able to see him."
"We dedicated this season to him, so seeing him in person was definitely emotional," Harding added.
Nothing will top this moment with @BobbyRoundtr97 #97strong 🔶🔷 pic.twitter.com/DfYEQqdWqu

— Illinois Football (@IlliniFootball) November 30, 2019
Roundtree delivered a brief pregame pep talk to his teammates.
"Let's turn up today, for real," he said. "Let's do it. Where the juice at? Ya'll boys ain't turned up. Where the juice?"
That got his teammates going.
It also wasn't anything different from the role Roundtree served before his injury.
"They were the same words he'd say when he was healthy," redshirt senior running back Dre Brown said. "Even last year when we'd be on offense in the huddle he'd be getting us hyped up. He probably just came off a 10-play drive. That's just Bobby."Brown called Roundtree's return to campus "bigger than football."
"It's truly a miracle just the condition he was in to look where he's at now and just talking and smiling," Brown said. "It's so inspirational, honestly. It kind of fits with this team. Just a bunch of fighters."
Smith has been by Roundtree's side since the injury. The Illini coach flew immediately to Florida and stayed with Roundtree in the hospital in May. He also helped establish an irrevocable trust to help Roundtree and his family with the costs associated with his long-term care. An initial goal was set to raise $97,000. A total of $119,161 has been raised since Oct. 25.
"He's made so much progress getting his strength back up, working daily," Smith said after the Illini's 29-10 loss to Northwestern in the regular season finale. "If you saw what he does on a daily basis to get himself back on campus here at the University of Illinois, you just have to be pumped up about it. He's been working to get back here with his teammates.
"Bobby, and all of us, are going to figure out how to take the next step. Of course, the goal for Bobby is to walk again. We see the progress that he's making. Part of that progress is to get back here on campus. An awful lot went into that. So many people up there have done such a great job with him."