Illinois men's basketball
Asmussen | Hutcherson doing his part for Illini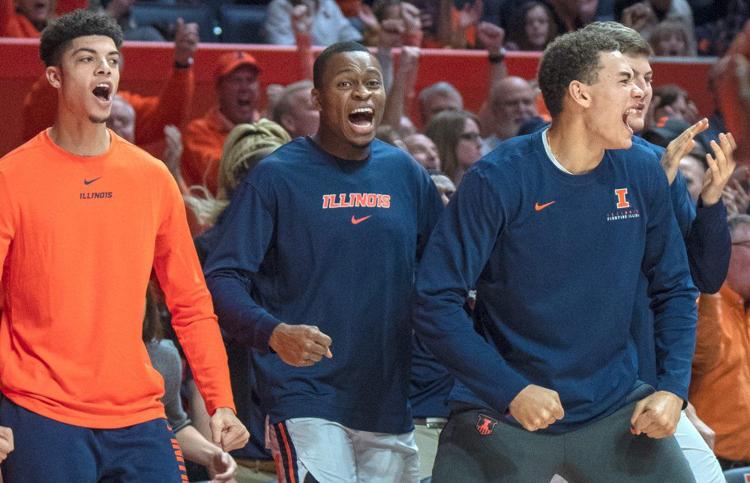 CHAMPAIGN — Monday morning at State Farm Center, Illinois junior Austin Hutcherson wasn't himself on the court.
He was Michigan State's Gabe Brown.
Working with the Illini scout team, Hutcherson portrayed the Spartans forward during practice ahead of Tuesday night's 8 p.m. showdown between the 22nd-ranked Illini and Michigan State at State Farm Center.
"We learn the other team's plays," Hutcherson said. "We try to be as close to them as possible. If they are a nonshooter, we won't shoot jump shots. We really get into the mind of that player and we try to be as authentic as possible."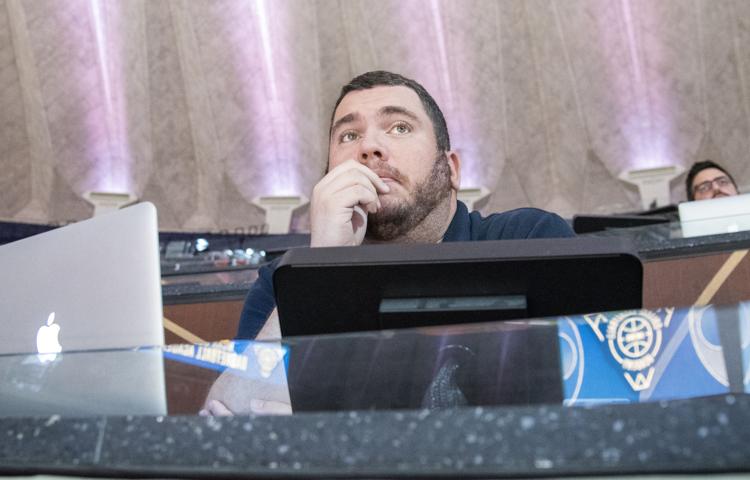 Brown is a shooter, who crashes the glass. Hutcherson is supposed to provide that look for his team.
"They try to pick on us a little bit. They're trying to beat us," Hutcherson said. "We do our best and try to prepare them for the game."
How'd it go Monday?
"I felt I did pretty well," the 6-foot-6, 175-pound Hutcherson said of impersonating the 6-7, 210-pound Brown. "I think I made the guys better. I made a couple threes."
Hutcherson transferred to Illinois this season after two years at Division III Wesleyan University in Connecticut. He won't be eligible until the start of the 2020-21 season.
Meaning he can't play in games. For the first time since he started competing in organized basketball at age 6.
"It's a little different," Hutcherson said. "You've got to adjust your mindset. Get used to just practicing, putting in the hours. Not necessarily being seen on the court, but having the mindset of getting better all the time."
In workouts, Hutcherson leads the scout team.
"Austin is invaluable," Illinois coach Brad Underwood said. "When we face an elite perimeter player, he's always that guy in practice."
What about Hutcherson appealed to Underwood?
"He's our best athlete," Underwood said. "And the one thing that translates is shooting. He's a guy that's been a 40-plus percent three-point shooter and has a great stroke. Those two things were enough to say, 'Hey, this kid's game is going to travel to the Big Ten.' And he's got great size (6-foot-6) in doing that."
Keeping busy
Hutcherson follows his own gameday routine. He has a morning lift, followed by an hourlong workout.
He participates in the team's shootaround.
"I get a full 2, 2 1 / 2 hours in every gameday," Hutcherson said. "It's like I'm doing the game, but I obviously miss being out there, playing with my guys."
During Tuesday's game, Hutcherson will sit on the bench, offering support.
"Just being the best teammate I can, cheering the guys on," Hutcherson said. "Trying to help kind of be a coach at the end of the bench, telling guys where to be, what to improve, stuff like that."
When the team travels, Hutcherson and fellow transfer Jacob Grandison take turns making the trips. Grandison, a junior from Holy Cross, is going to Rutgers this weekend. Hutcherson will be on next week's trip to Penn State.
"I wish I could see every game, but it's just the rules," Hutcherson said.
When he doesn't make the trip, Hutcherson still pays attention. He watches the games at his apartment near campus.
And there's homework.
"I've got to do postgame reports," Hutcherson said. "I send a text message to one of our assistant coaches, what we did well, what we need to improve on, stuff like that."
Hutcherson isn't screaming at the TV during the road games. But he is talking.
"I'm definitely into it," Hutcherson said.
He understands what is going on. He knows the Illini plan and how well it is being executed.
"I've started watching basketball differently now," Hutcherson said. "I'm learning more the coaching side and the schemes."
Long-term goals
Priority one for Hutcherson this season: Getting stronger.
He has added size and strength, bumping his weight 15 pounds with the help of Illinois strength and conditioning coach Adam Fletcher.
Hutcherson is getting used the physicality of the Big Ten. While working on his jump shot.
"And just my all-around game so I can help next year," Hutcherson said. "My jump shot is a lot quicker. I feel a lot stronger. That's really thanks to all the coaches and coach Fletcher in the weight room."
Next year for Hutcherson is eight months away. He is looking forward to it.
"I can't even put into words," Hutcherson said. "I just want to get out there."
Underwood doesn't know what role Hutcherson will play next season. Too early to tell.
"I think he's a guy that can play multiple spots on the court for us," Underwood said.
Moving up
Hutcherson was a top scorer in Division III. Who thought he could play at the Division I level.
"It was just a matter of not being seen when I was coming out of high school," Hutcherson said. "A bunch of high-major D-I schools recruited me this past summer and that was verification."
Other players in Division III have the ability to make the jump.
"There are 3,000-point scorers. There are guys that can knock down 50 percent of threes," Hutcherson said. "That stuff translates to any level."
Though focused on the moment, Hutcherson wants to see how his game translates.
"Sometimes, when I'm watching the games, I'll see like, 'I could fit in there. I can see my role working here and there,'" Hutcherson said.
Hutcherson grew up in Boston and lived in New York. His time at Wesleyan in Middletown, Conn., (population 47,749) made for a smooth transition to Champaign-Urbana.
"Everyone is really nice," Hutcherson said. "They support us. It's really cool. You feel lucky and special to be part of a good program and a fan base that really comes out and supports."
Bob Asmussen is a college football reporter and columnist for The News-Gazette. He can be reached at 217-351-5233 or by email at asmussen@news-gazette.com. You can follow him on Twitter (@BobAsmussen).