Bob Asmussen | It feels like '04 all over again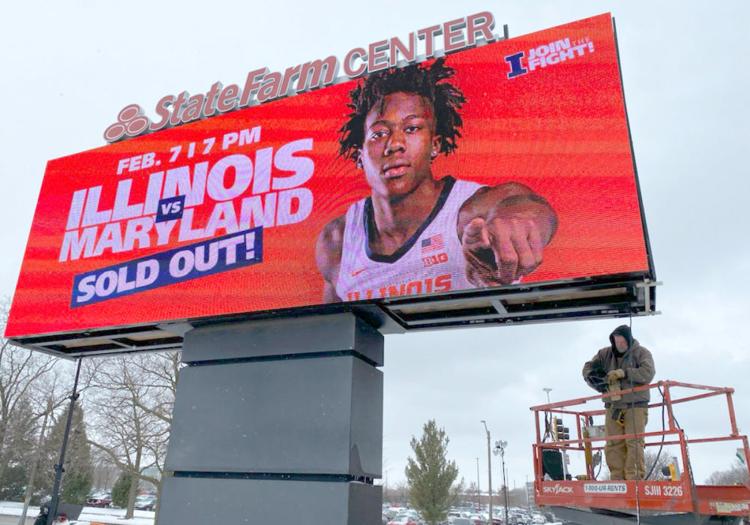 Can you feel it? Can you sense it? Can you taste it?
There is a definite buzz in the air about Illinois basketball.
No. 9 Maryland visits sold-out State Farm Center tonight to play No. 20 Illinois in the most-anticipated game in the building since Dec. 1, 2004. That's when Dee Brown, Deron Williams and friends took out No. 1 Wake Forest and superstar Chris Paul. The Illini soon moved to the top and stayed there all season.
The current team isn't battling for No. 1 in the nation. But it has a chance to take control in the Big Ten. The winner will be in first all by itself.
"The student body, they really want this. They want to win this game," Orange Krush leader Kyle Barry said. "People have finally gotten to the point where they don't think it's a fluke. They really think this team has potential. Great potential."
Brian Barnhart has seen it happen before.
The Voice of the Illini called the Illinois-Wake Forest game in 2004 and every other game as Illinois marched to the 2005 title match against North Carolina.
Barnhart was also at the microphone when the 2013 Illini upset No. 1 Indiana on Tyler Griffey's last-second layup — exactly seven years ago.
"With the way the team has played the last month, I think it's more like '04-05," Barnhart said. "I think the anticipation level of Illini fans is about where it was right before that Wake Forest game. I sense that in town."
There is another similarity: the way the fans talk about the teams.
"Everybody referred to Dee, Deron and Luther. They didn't use their last names." Barnhart said. "Now, when you go around town, I hear people talking Kofi, Giorgi, Ayo. Like they know them on a first-name basis."
That would be Cockburn, Bezhanishvili and Dosunmu.
C-U cares. Like it hasn't since 2005.
"There's a connection between the team and the community," Barnhart said. "When you're having the kind of success Illinois is having right now, it grows day by day and game by game."
Good timing
Mac McFadden moved to C-U in 1968. He used to have Illinois season tickets for years. But the retired Parkland College math instructor has cut back to select games.
McFadden and his wife, Donna Kay, will be in the stands Friday night.
He is thrilled to join the party.
"I think there is a lot of interest in Illinois basketball, which is good again," McFadden said. "I think everybody feels like every game is a very important game. We're seeing the result of that in the attendance going up."
Among McFadden's friends, Illinois basketball is the talk of the town. That hadn't been the case in recent seasons.
"Most people think it's been too long," McFadden said. "People are really excited to see Illinois get back here."
Making adjustments
No surprise, the Orange Krush is fired up about Friday's game. Anticipating a rush for the 690 coveted lower-bowl seats, the student booster group has come up with a new entry system.
"We've had to completely change the way we line up to get into the building." Barry said.
In the past, the Krush waited inside State Farm Center.
"That's not going to work anymore because there are so many kids that want to get into Krush," Barry said. "It's a good problem to have."
Instead, they will line up outside the building: "Like they do at Duke."
Doors open at 5:45 p.m. Barry doesn't know exactly when the line will start to form. His guess is about 3 p.m.
Barry wants Illinois basketball to reach a point where "you've got to be there."
The students use the northwest entrance to SFC. After the lower-bowl seats are filled, remaining students sit in the 200 level.
"Believe me, people really want the floor seats," Barry said.
The Krush isn't alone in altering its schedule. Illinois men's tennis moved its match against No. 3 Florida up an hour to 4 p.m. Fans who want to go to both Atkins and State Farm Center should have plenty of time.