Bob's buzzer-beaters: Illini feeling a tad better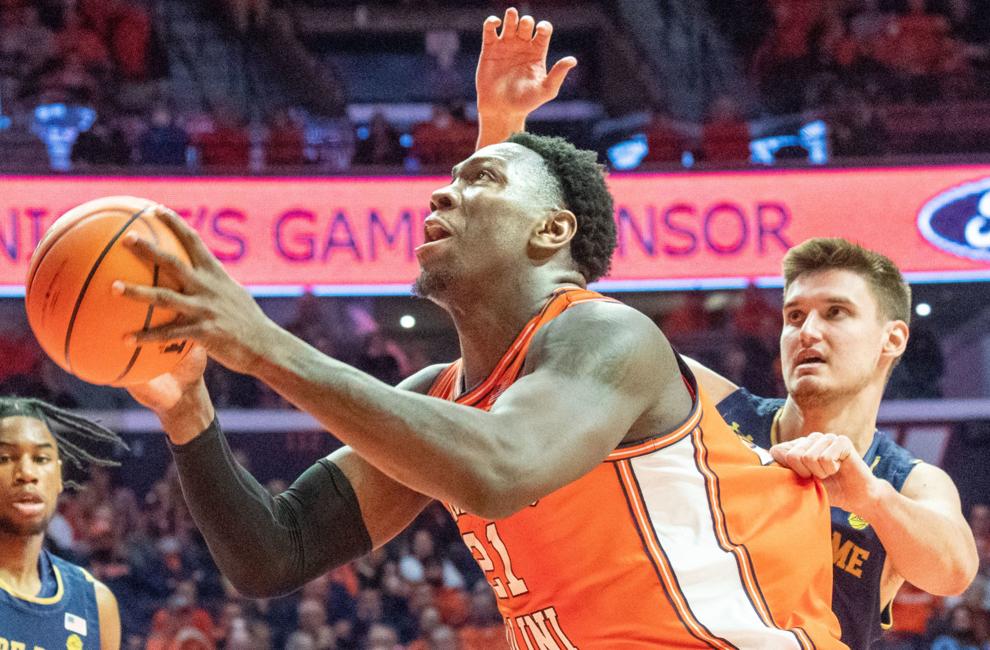 After Illinois basketball games this season, News-Gazette columnist Bob Asmussen weighs in with instant reaction.
Here are his thoughts after the Illini captured a hard-fought 82-72 victory against Notre Dame:
1
Big game + late start should mean the stands were full 30 minutes before opening tip, right?
Not so much.
This will be the last time I mention it this season (that's a lie). The players feed off the crowd. When the fans are in their seats early, it is a good thing for the home team.
Maybe it is too easy to get into the building so the fans don't worry about arriving ahead of time. Nearby parking is appreciated on a cold night. But it impacts the atmosphere. Just saying.
2
The biggest question for Illinois going in: Which players were available. Rumors were swirling all day that illness had swept through the team.
P.A. announcer Greg Gardner gave a partial answer just before the jump ball when starters Da'Monte Williams, Alfonso Plummer, RJ Melendez, Coleman Hawkins and Kofi Cockburn were introduced.
Point guard Andre Curbelo wore street clothes. Super senior Trent Frazier was in uniform and entered the game after the initial timeout in the first half. He got on the board almost immediately.
3
I won the lottery when it came to seating Monday night, watching right next to longtime Big Ten official Ed Hightower. He retired his whistle a few seasons back after working 33 years in the conference (and 36 overall).
The youngish-looking 70-year-old, Hightower in his first season as senior advisor to the commissioner for officiating.
Hightower plans to attend about 35 games in person, observing the officials and the overall game.
Hightower splits his time between Edwardsville, where he was school superintendent, and Fort Myers, Fla.
There aren't many officials with a better reputation or a higher level of accomplishment. He worked 12 Final Fours and six title games. He was lead official for the 1993 Michigan-North Carolina game that featured Chris Webber's ill-fated timeout call.
4
Monday was the first time Hightower had been in State Farm Center since it was renovated and he was impressed. He worked hundreds of games over the years at the Assembly Hall.
Illini legend Lou Henson played a role in Hightower coming to the Big Ten as an official. Henson recommended Hightower to conference leaders after seeing the official work a high school game.
Hightower didn't hear about Henson's involvment until he had been in the league for years. Humble Henson never mentioned it to Hightower, either.
5
The Big Ten/ACC Challenge will always have value because they are usually the two best basketball conferences in the country. Great to see how your favorite league matches up.
Is it fair to include Notre Dame? Of course. The school, a proud Indy during football season, is a legit basketball-playing member of the ACC.
If left to me, Illinois and Notre Dame would play every season. At their home arenas.
There was a time when Chicago was a regular neutral-site venue for the series. That will work too.
6
Kofi Cockburn got off to a slow start. His first basket didn't come until 9:37 left in the first half.
But he finished strong, leading the team in the first 20 minutes with 10 points and five rebounds. He didn't miss a shot from the field.
Once the man/mountain got rolling, there wasn't much Notre Dame could do about him.
Of course he led the team in scoring again with 28 points.
The fact that Cockburn has added shooting range makes him an even bigger pain.
I like that he didn't force shots early in the game. Quality over quantity.
If Cockburn doesn't lead the Big Ten in shooting percentage, then somebody put lids on the baskets at SFC.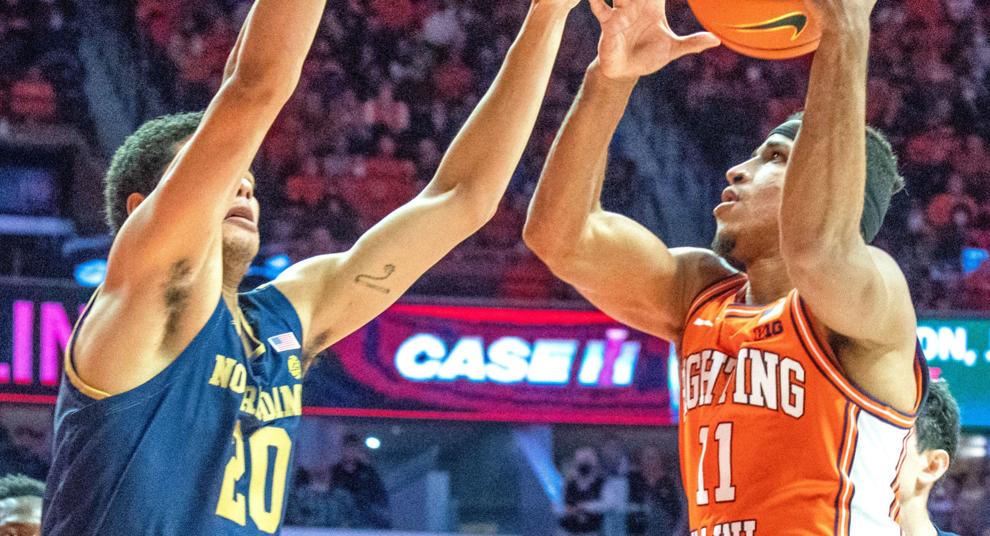 7
Utah transfer Alfonso Plummer didn't score 30 like his last time out. But he was still plenty impactful.
Plummer had eight points in the first half and finished with 21, hitting all eight of his free throws.
Because Curbelo is on the sidelines for who knows how long, Plummer needs to contribute in a big way. He saved the team with his 30-point effort.
Don't be surprised if he is the No. 2 scorer most times this season.
8
Rough night for Notre Dame. Not only did the basketball team lose to Illinois, but the football team is apparently losing coach Brian Kelly to LSU. Weird move for Kelly, the all-time wins leader in South Bend.
Late in the game, the crowd started chanting "LSU." Wonder if the Irish knew what that was about.
Speaking of football coaches for nearby teams, Chicago Bears leader Matt Nagy's name came up during the second half Monday. With about 10 minutes left, the crowd started chanting "Fire Nagy." He probaby wasn't watching.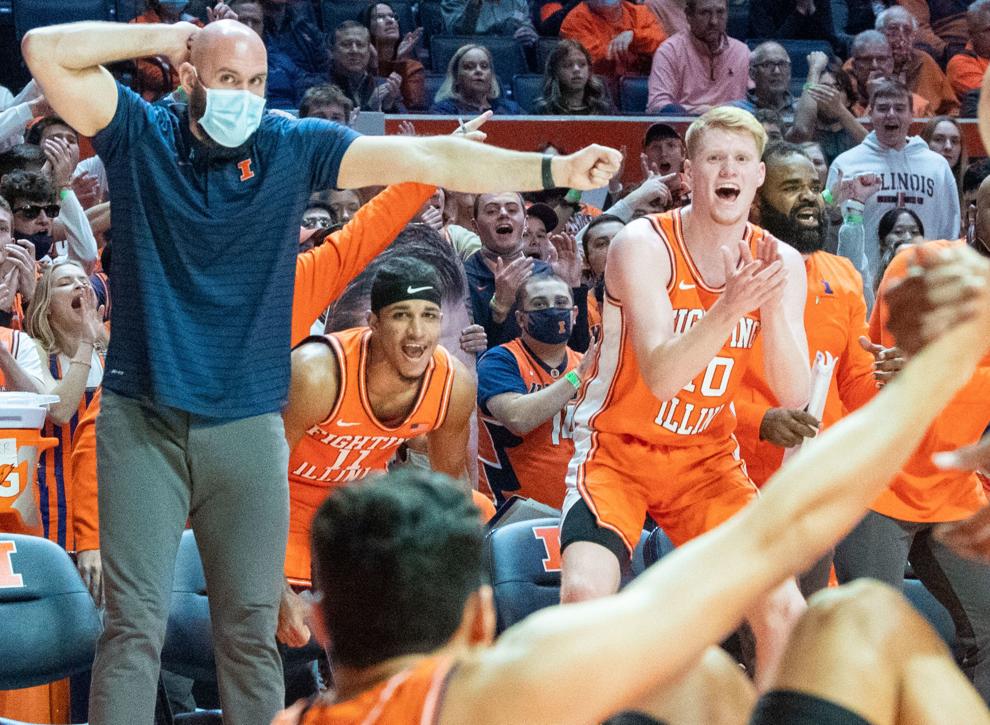 9
It's the continuation of my "Freshman of the Game" and the winner is Melendez. In the first start of his college career, he finished with six points, hitting two three-pointers. He chipped in a rebound and an assist.
Pretty cool that the coaching staff felt good enough about Melendez's progress to give him a start so soon in his career.
UI Men's Basketball vs. Notre Dame 2021
Out of the Top 25 and slowed by injury and illness, the Illini still held off Notre Dame 82-72 at  State Farm Center in Champaign on Monday, Nov. 29, 2021.
10
Illinois coach Brad Underwood joined Brian Barnhart and Deon Thomas after the game on WDWS. Yes, he wishes his bench included more available players.
"This flu bug is nasty. It's kicked our tail. I'm really proud of guys fighting through it." Underwood said.