Good Morning, Illini Nation: Why I didn't vote for Illinois on my Top 25 ballot

College/Prep Sports Reporter
Scott Richey is a reporter covering college basketball at The News-Gazette. His email is srichey@news-gazette.com, and you can follow him on Twitter (@srrichey).
Listen to this article
Welcome to "Good Morning, Illini Nation," your daily dose of college basketball news from Illini beat writer and AP Top 25 voter Scott Richey. He'll offer up insights every morning on Brad Underwood's team.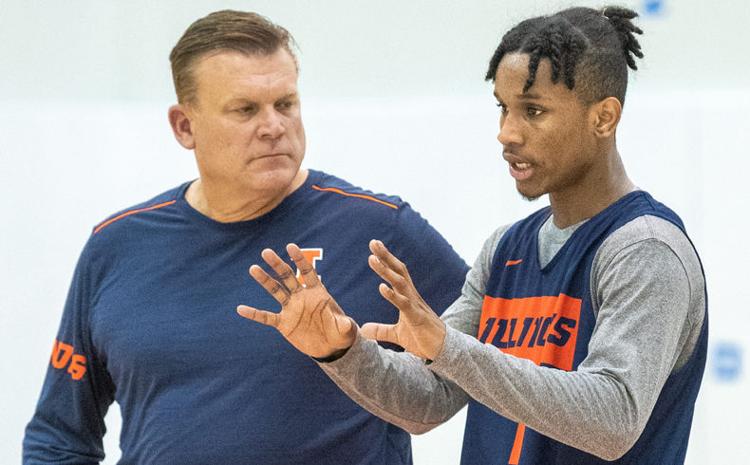 Preseason ballots for the Associated Press men's basketball poll were due Tuesday morning. I had mine submitted Monday night just in case I'd forget and not vote early Tuesday. The "surprise" is that Kentucky, not Michigan State, topped my ballot. Picking the Wildcats will put me in a distinct minority given the Spartans are seen as a heavy presumed favorite for the No. 1 spot. (See below for my full ballot)
I didn't vote for Illinois. The directions we receive as voters warn to "avoid regional bias" and that "'homerism' will be challenged." That's not why the Illini didn't make my preseason top 25. Yes, this team looks better on paper. Other teams also look good on paper, didn't go 12-21 last year and return players, too.
Still, there's a real chance Illinois winds up at least receiving some votes when the preseason poll is released Oct. 21. Dick Vitale is an AP voter, and he just released a top 40 that had the Illini at No. 21. The Lansing (Mich.) State Journal's Graham Couch is also a voter. He has the Illini as the No. 2 team in the Big Ten behind Michigan State.
There's been a not insignificant buzz around the Illini as the 2019-20 season draws closer. Expectations are skyrocketing, and Illinois coach Brad Underwood addressed that unprompted last Friday during the team's media day.
"I'm excited about one thing in particular, and I know I'll get it asked it so I'll just address it," Underwood said. "I love that we've got expectations, and Illinois basketball is deserving of that. Our players are deserving of that. It's time for us to grow into those. It's not easy. Winning is not an easy thing — especially in the Big Ten.
"I'm excited about an early-season road trip where we're going to get tested against two really good basketball teams (Grand Canyon and Arizona in early November). Then an opportunity to come home and play some great teams at home. As we continue to build, we've got two very good Big Ten opponents (Maryland and Michigan in early December) both picked ahead of us. I'm excited for the fact this team gets met with some challenges early and some different opportunity. We're working every day to prepare for those now."
My preseason AP Top 25 ballot
1. Kentucky
2. Michigan State
3. Kansas
4. Louisville
5. Duke
6. Florida
7. Gonzaga
8. Maryland
9. North Carolina
10. Seton Hall
11. Memphis
12. Texas Tech
13. Virginia
14. Utah State
15. Villanova
16. Baylor
17. Oregon
18. Arizona
19. Xavier
20. LSU
21. Ohio State
22. Saint Mary's
23. VCU
24. Colorado
25. Auburn