College/Prep Sports Reporter
Scott Richey is a reporter covering college basketball at The News-Gazette. His email is srichey@news-gazette.com, and you can follow him on Twitter (@srrichey).
Listen to this article
Welcome to "Good Morning, Illini Nation," your daily dose of college basketball news from Illini beat writer and AP Top 25 voter Scott Richey. He'll offer up insights every morning on Brad Underwood's team.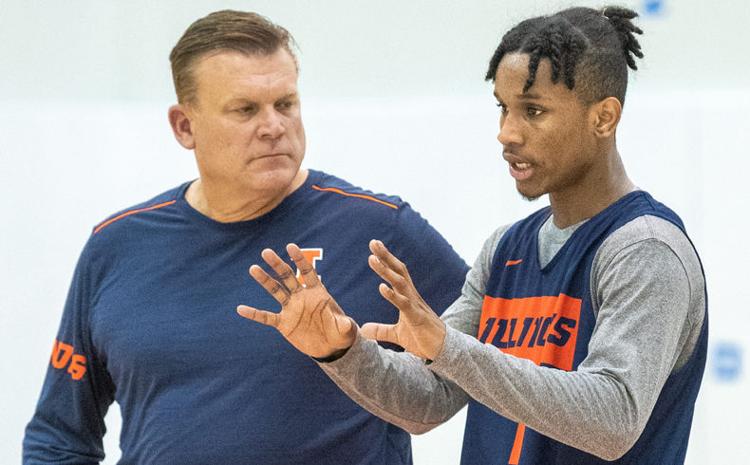 Brad Underwood broached the idea of elevated expectations — and how much the Illini are leaning into them — at Illinois' media day last week. It was a week prior, though, at Big Ten media day in Rosemont that he went into detail on why he feels this particular team can both embrace and reach those expectations.
"There's a reason we've recruited guys from winning programs," Underwood said. "When you're trying to change that culture, the first step is expectations. You have to have them. It's nice to have them, and we're excited to have them. But those guys also have an understanding of how to win. That's where we need their internal drive and what they do every single day to help parlay that. To help us nurture winning and develop that toughness and develop that kind of grit, you have to have to do that.
"It's not easy in this league. There's no doubt. Winning's hard, and there's going to be adverse moments. Our messages never stop. We're talking to them all the time that it's a different level. It's good, but it doesn't mean you let off the gas. You keep your foot on the pedal."
The list of titles won at other levels is a fairly extensive one for the players on the Illinois roster:
— Senior forward Kipper Nichols was named Most Outstanding Player as he helped lead St. Edward (Ohio) to a state championship as a junior before guiding them back to the semifinals a year later.
— Junior guard Trent Frazier hit the game-winning free throw to clinch a state title for Wellington (Fla.) as a sophomore and got the Wolverines back to the state semifinals as a senior.
— Junior guard Jacob Grandison helped lead Phillips Exeter Academy (N.H.) to the 2017 New England Preparatory School Athletic Council Class A championship.
— Sophomore guard Ayo Dosunmu won consecutive state championships at Morgan Park in his final two seasons with the Mustangs and then helped Team USA win a gold medal at the FIBA Americas U18 Championship before starting his freshman year at Illinois.
— Sophomore guard Alan Griffin won a league title, city title and state federation title as at Archbishop Stepinac (N.Y.) as a senior.
Those experiences can help.
"I was blessed to win two state championships back to back," Dosunmu said. "After my junior year we won state, and we came back with similar hype as this team now being one of the best teams in the league, being expected to do a lot of things. The main key is staying focused and staying together. Keeping an eye on the prize and not focusing on anything else. It's a marathon and not a sprint. If we stay together, we'll be good."