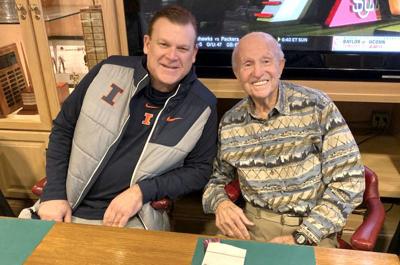 Lou Henson will celebrate his 88th birthday on Friday by playing bridge with his closest friends.
On Thursday, he joined a group of friends — include UI basketball coach Brad Underwood and fellow Illini Hall of Famer Dave Downey — at a birthday lunch at Champaign Country Club.
Living at home in Champaign, the winningest coach in Illini hoops history is in good spirits these days. The hope is that he is able to attend an Illinois game this season at State Farm Center, where the court is named after him.
If you'd like to pass along birthday wishes to Coach, email jrossow@news-gazette.com and we'll make sure he sees them on his big day.