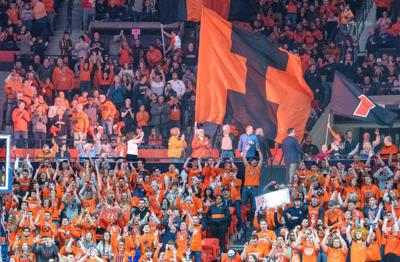 Plenty of Illinois basketball coverage still to come right here at IlliniHQ.com. Stick around during the game — and after — with beat writer Scott Richey courtside at State Farm Center providing near constant updates.
***
Here's some more from Ayo Dosunmu going into tonight's game ...
On Maryland
They're No. 9 in the country, so you could pick a lot. They shoot threes. They're just a good team. I wouldn't say they just do one thing well. They're just a good team. They play fast. They can play slow. They really want to get back to that pick-and-roll or pick-and-pop with (Jalen) Smith up top.
On Andres Feliz
He has been playing relentless getting to the rack and playing his game. His confidence is there. I'm proud of him. I always like to see people excel in doing what they do. He's been doing a great job of that. He's not one of the biggest guys on the court, so he has to bring that toughness and grit to help him perform out there. He does a great job of that.
On another State Farm Center sellout
It's great. We're winning, and they want to see winners. Fans deserve it. We just want to keep winning and be the best team we can be for them.
***
The Illinois players know what's at stake tonight against Maryland. Not allowing the importance of the game affect how they play, though, is something the Illini are guarded against.
"There's going to be a lot of people here yelling and screaming, but at the end of the day we're going to tip the ball up and then play two 20-minute halves," sophomore guard Ayo Dosunmu said. "We have to break it down into that and not make it too big of a game where people are off their squares and too excited and then they start doing things they aren't accustomed to doing. It's pretty much just coming out and playing your game. That's what I'm going to try to do and will do and what I've been preaching to the team."
Ready for round 2️⃣ vs the Terps. 🔒#Illini x #JointheFight pic.twitter.com/NMl1MLWjPN

— Illinois Basketball (@IlliniMBB) February 8, 2020
The approach doesn't change simply because first place in the Big Ten is on the line against the Terrapins.
"The same way we looked at it last time," freshman center Kofi Cockburn said. "Just coming out here executing and making sure we lock in on defense. It's always about defense for us. We've spent a lot of time going over stuff and watching what they do best. We're dedicated to coming out and playing harder and getting the win."
***
Illinois opened February like it did January. With a road loss. Last month, the Illini turned that 20-point defeat at Michigan State into a seven-game winning streak. What will they do having lost Sunday at Iowa? 
Tonight's game against Maryland will at least determine the start of whatever's next in the final month-plus of the regular season.
"Coming off a game we didn't play real well in," Illinois coach Brad Underwood said. "I don't want to take anything away from Iowa. They out-fought us. They out-hustled us. They got every loose ball. We didn't win many 50-50 balls in that game. That allowed them to play with a lot of confidence, and they got going.
"I think (Luka) Garza established himself and showed everybody why he's a player of the year candidate. They made the plays when they had to. I think we've rectified that here in the last couple days. As with any opponent when they come in, they're all hard. You get another great opponent in Maryland."
***
Scott Van Pelt is in the house at State Farm Center. Decked out in Maryland gear, of course. The ESPN host could have just showed up at tip and taken his seat behind the Terps' bench. Instead, he arrived more than 30 minutes before game time and took selfies with anybody that wanted one. 
***
The Orange Krush sections are nearly full since they opened the doors about 15 minutes go. This was the scene outside, as the line was already long more than two hours ago.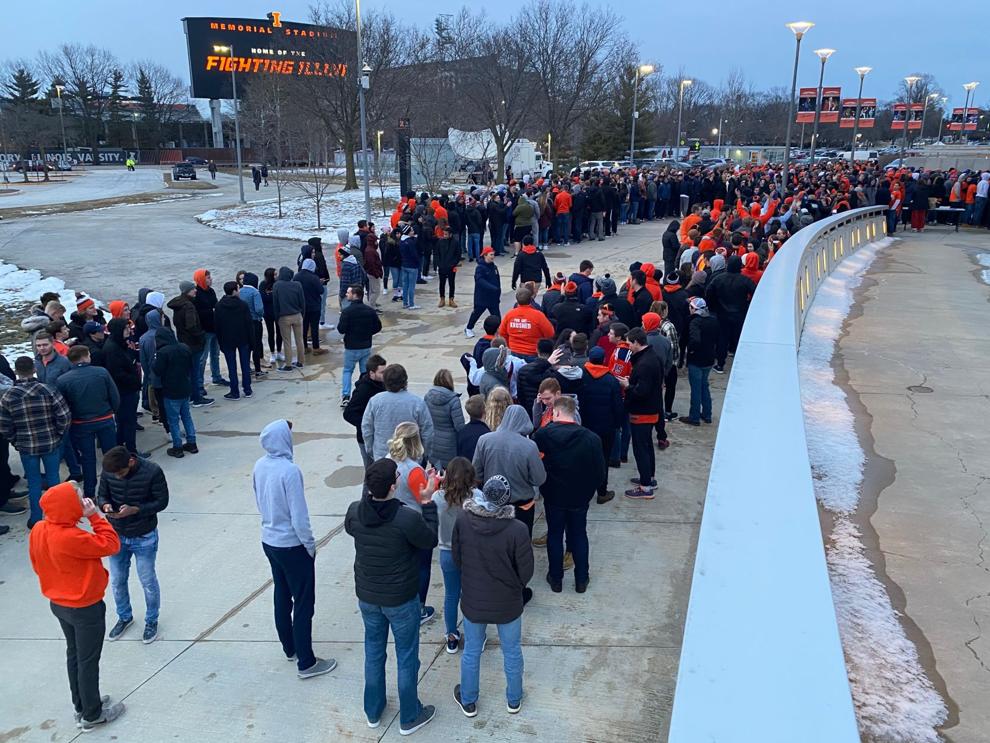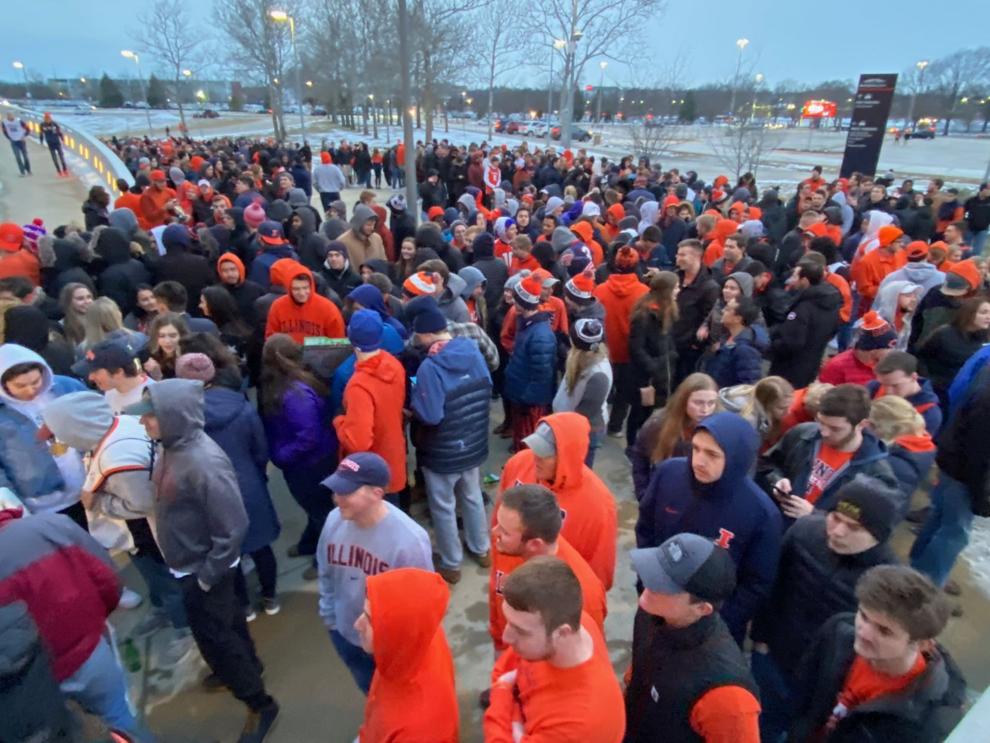 ***
So ... anybody excited for tonight's Illinois basketball game?
Survey says ... yes.
That's not exactly a scientific survey, but based on the line of Orange Krush members that beat even our beat writer to State Farm Center (he's always super early), there's more than a bit of hype for tonight's Illinois-Maryland game. That it comes on the seven-year anniversary of the Illini taking down No. 1 Indiana is just the cherry on the sellout cake.
We're with @TheOrangeKrush, already lined up outside @StateFarmCenter to root on @IlliniMBB: https://t.co/Kpdf3wNt91 pic.twitter.com/uXClTwVcYw

— The News-Gazette (@news_gazette) February 7, 2020
Illinois basketball hasn't had this type of following since the 2004-05 season. There hasn't been a home game this hyped since Chris Paul brought Wake Forest to Assembly Hall and headed back to North Carolina with a loss. 
Illini basketball is ... back?
Sure seems like it. The fact that Sunday's loss at Iowa didn't dampen any expectations or excitement is kind of telling, too. Fans don't see the seven-game winning streak in January as a fluke. They might have hardened their hearts as Illinois wandered in the college basketball wilderness the better part of the last decade, but they're solidly on board this season being the one.
The one where Illinois contends for a Big Ten championship. The one where Illinois gets back in the NCAA tournament. The one where Illinois becomes nationally relevant again.
Beating Maryland in the first Top 25 matchup in Champaign since the 2012-13 season would go a long way in further cementing those feelings. Now the Illini just have to go out there and do it. 
We'll see if the results live up to the hype.