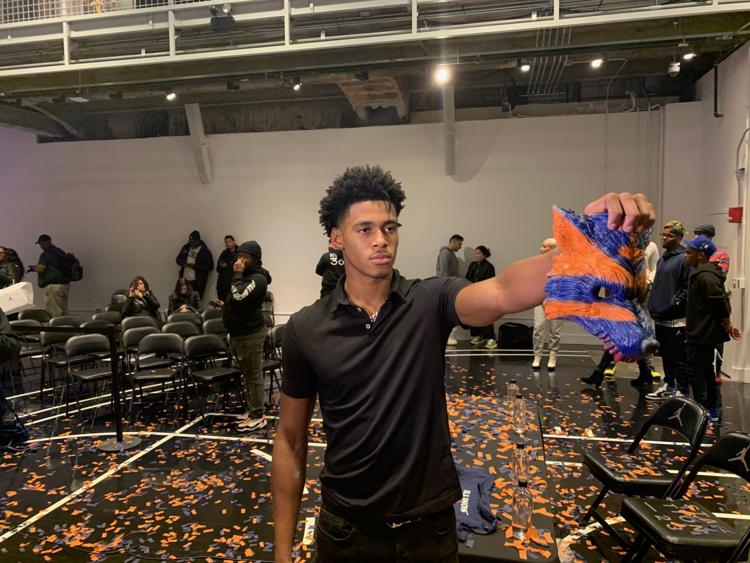 CHICAGO — Illinois put significant time into recruiting Adam Miller. Two Illini coaching staffs actually. The four-star guard got his initial offer following his freshman year at Peoria Manual from former Illinois coach John Groce. That offer was quickly reaffirmed when Brad Underwood got the Illini job in March 2017.
#Illini pic.twitter.com/oyvM4scm0I

— Scott Richey (@srrichey) November 22, 2019
That long-term recruitment and relationship building paid off Thursday night when Miller announced his commitment to Illinois at the Jordan Brand Store in downtown Chicago. The 6-foot-3, 170-pound combo guard out of Morgan Park picked the Illini from a trio of finalists that also included Arizona and Louisville.
Miller's commitment gives Illinois the top 2020 recruiting class in the Big Ten and ranks the Illini 11th nationally per 247Sports. Miller joins a class that also includes fellow four-star guard Andre Curbelo and three-star forward Coleman Hawkins.
Landing both Miller and Curbelo was basically the ideal outcome for Illinois in its 2020 class. Andres Feliz exhausting his eligibility after this season and Ayo Dosunmu projected to be a first round pick in the 2020 NBA draft meant two openings in the Illini backcourt for next season. Miller and Curbelo slide into those spots.
It's a strong pairing. Curbelo is more of a pure point guard and can step in immediately to run the Illinois offense. Miller can run the point, but he's at his best playing off the ball as a scorer. Playing with Curbelo allows that.
Miller flashed his scoring chops last season at Morgan Park playing alongside one-time Illini target Marcus Watson Jr. Watson was the primary point guard, and Miller averaged 28.4 points, 7.8 rebounds, 5.7 assists and 3.1 steals for the Mustangs. They had the same dynamic this past EYBL season for Mac Irvin Fire, where Miller put up 20.5 points, 4.1 rebounds and 2.7 assists per game.
***
Still about 30 minutes until Class of 2020 guard Adam Miller announces his college commitment. The four-star recruit is down to Illinois, Arizona and Louisville with all 12 Crystal Ball picks on 247Sports trending the Illini's way.
No sign of the man of the hour just yet, but a couple media members (including yours truly) and what looks like some family were early arrivals. The stage is set, though, for his announcement. The Jordan Brand Store in downtown Chicago looks about the same as when Ayo Dosunmu committed to Illinois here two years ago.
A few blown up photos of Miller are the main decoration. A giant sign of his name with his AceWolf44 tag emblazoned on it. But it's a simple setup. Clean lines in all black and white.
In Chicago for Adam Miller's commitment announcement. Four-star 2020 guard down to a top three of #Illini, Arizona and Louisville. pic.twitter.com/PNWQOopXy5

— Scott Richey (@srrichey) November 22, 2019
***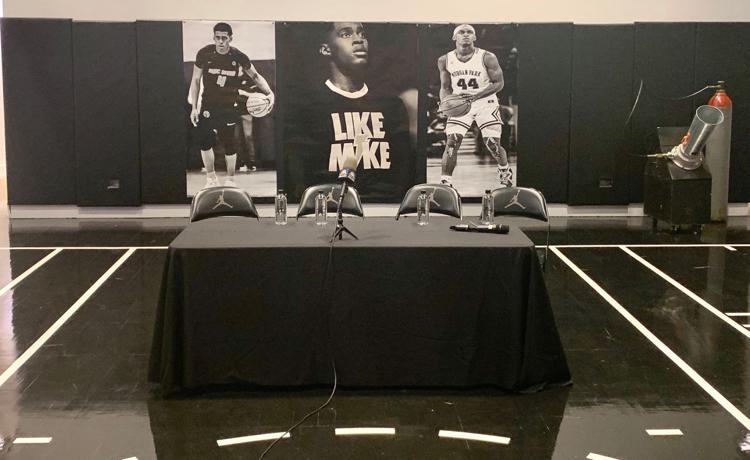 Beat writer Scott Richey is in Chicago at the Jordan Brand Store, where Adam  Miller is expected to make his college decision around 7 p.m. today.
It's the site where Ayo Dosunmu picked Illinois in 2017.
Richey will have updates all night:
***
The chance to add another dynamic guard out of Chicago Morgan Park is hours away for Illinois.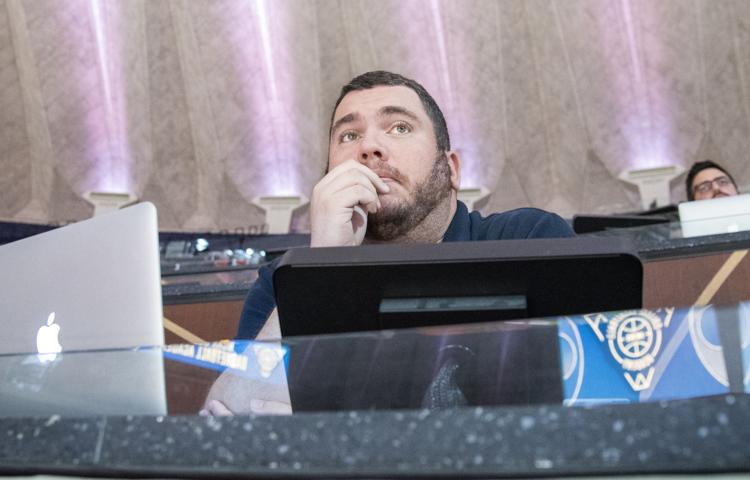 Two years ago, it worked out well for the Illini when Ayo Dosunmu picked Brad Underwood's program over Wake Forest, announcing so at the Jordan Brand Store in downtown Chicago.
The venue is the same for Adam Miller's college decision, with the Class of 2020 four-star guard slated to pick his school at 7 tonight in downtown Chicago.
Illinois has long been in on Miller, a dynamic 6-foot-3 combo guard who is one of the best scorers in the country in his class. The Illini offered him when he was just a freshman at Peoria Manual, where he first made a name for himself before transferring to Morgan Park prior to his sophomore season.
He was teammates with Dosunmu for one season at Morgan Park, with the duo helping lead the Mustangs to a Class 3A state title in March 2018.
Now, he could possibly go to the same college as his former high school teammate, but Illinois will have to beat out Arizona, Louisville and Michigan for his services.
Richey breaks down what this night could mean for the Illini. 
How he'd fit at Illinois
Two guards in the 2020 class has long been the plan for the Illini. Brad Underwood officially locked down his first last week when four-star point guard Andre Curbelo signed his National Letter of Intent. Miller's potential fit at Illinois, then, starts with how his game works next to Curbelo's. In short, quite well. Miller's time at Morgan Park has always meant being paired with another guard that can run the offense. That has allowed him to moonlight as a facilitator at times while fulfilling his primary role as a scorer. Which he does well, having averaged 28.4 points last season.
Who else is in the mix?
Michigan swooped in with an offer after Miller had cut his list to Illinois, Arizona and Louisville. New coach Juwan Howard, of course, has all the Chicago ties, and his son, Jace, played with Miller on the Mac Irvin Fire this past EYBL season. But the Wolverines are probably on the outside looking in. The challenger, it seems, is Arizona, with The Athletic's C.J. Holmes reporting Tuesday night that he's hearing the Wildcats "might be the favorite." Sean Miller will need a backcourt infusion after losing at least Nico Mannion and Dylan Smith. Louisville appears to be in third place of the original final three.
Best in class
A potential Illinois commitment from Miller pushes the Illini's 2020 recruiting class to No. 1 in the Big Ten and No. 11 nationally, per 247Sports. Miller's addition would be the big push given he's basically just shy of five-star status. Staying ranked that high is dependent on how other teams fill out their classes — and if the Illini wind up with anymore additions — but Underwood's third class could finish as his best. That mark is the 2018 class that ranked 25th and was built around Ayo Dosunmu. The best Illini class before that was 2015's that ranked 15th with a trio of four-star recruits.
An eye on the future
Adding Miller would likely put the finishing touch on Illinois' 2020 class. It also gives the Illini its backcourt of the future and could dictate how Underwood and Co. approach 2021 recruiting moving forward. Potential roster turnover between transfers and players turning pro is an unknown variable, so 2021 needs can only be based on what the Illini roster could look like. They should be good on the wing, but there's an opening for a third lead guard as Trent Frazier's replacement and frontcourt depth remains key. So a guard and a big with two projected open scholarships.