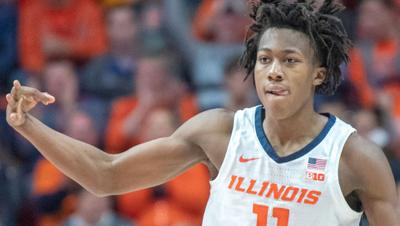 As always, IlliniHQ.com is the place to be for updates throughout today's game (with plenty of coverage also coming in Sunday's N-G). Follow along all day.
***
Here's something to consider. A win today against Rutgers would put Illinois in second place in the Big Ten behind Michigan State with a 4-2 record. Second place. More than a quarter of the way through the conference season.
That's ... kind of a big deal.
It's notable because Illinois started last season 0-5 in the Big Ten, didn't get its first conference win until Jan. 16, 2019 and didn't reach the three-win mark (where the current team is) until Feb. 2.
And how about Brad Underwood's first season in 2017-18? That team lost its first eight Big Ten games, didn't win its first until Jan. 24, 2018, and finished with four victories. 
This team is certainly operating at a different level. At least so far. Again, maintaining the level of play from the past couple games is important. It wasn't all that long ago the Illini lost by 20 to the Spartans.
***
Some pregame thoughts and observations before the Illini and Scarlet Knights tip off ...
— Illinois is wearing its new home white jerseys today. Not the script "Illinois" throwbacks, however, so that's a bummer. The new home whites are kind of underwhelming. Clean, but still kind of a boring look.
— Rutgers "guard" Ron Harper Jr. could be a matchup problem for the Illini. Think about what Kobe King did to them on Wednesday and replace him for a more physical (if a touch less athletic) version.
As much as the Scarlet Knights like to get downhill and attack the basket, you can't tell me they didn't see what King was able to accomplish posting up Da'Monte Williams. Harper's presence makes Kipper Nichols an X-factor for Illinois. 
Rutgers big man Myles Johnson is rocking some "Civil War era general" chops, and I approve of that facial hair choice.Tip between the #Illini and #ScarletKnights at 11 a.m. at SFC.

— Scott Richey (@srrichey) January 11, 2020
— Here's a thought. Will Tevian Jones actually play today? The sophomore guard didn't at Wisconsin, and Illinois coach Brad Underwood seems to have settled on basically an eight-man rotation with freshman big man Jermaine Hamlin playing spot minutes if Giorgi Bezhanishvili or Kofi Cockburn get in foul trouble. Jones just doesn't seem to factor into things at the moment.
***
How about some morning hoops?! After Wednesday's 8 p.m. tip at Wisconsin, an 11 a.m. start today against Rutgers is, honestly, spectacular. At least for us media types. Not sure what fans think about an early game on a Saturday when the weather is crummy and the students are still on break.
That didn't seem to be an issue for the Purdue game, though. Solid crowd for that Illinois win, and the Illini can use all the home court advantage they can get.
Rise and shine, #Illini! pic.twitter.com/VSSqslFSIh

— Illinois Basketball (@IlliniMBB) January 11, 2020
Winning at home? Kind of a big deal in the Big Ten this season with everybody doing it. And Rutgers, as maligned as the Scarlet Knights have been since they joined the conference, are actually pretty darn good this season.
Illinois is in position to put together quite the streak in conference play. Winners of two straight, home games today against Rutgers and next Saturday against Northwestern make four in a row a legitimate possibility. Next week more so, of course, considering the Wildcats (even if they gave Indiana a scare this week in Bloomington) have lost to Merrimack, Radford and Hartford this season. At Welsh-Ryan, no less.
Four might not be the end of this potential Illini winning streak either? Road games at Purdue and Michigan follow, but Illinois has already beaten both teams and absolutely walloped the Boilermakers. Of course, winning at Mackey Arena and the Crisler Center isn't a cake walk.
But a streak like that is a possibility made possible by Wednesday's win at Wisconsin and the blowout against Purdue. Playing like that over a longer period of time is what will put Illinois over the top.