Want to purchase today's print edition? Here's a map of single-copy locations.
Sign up for our daily newsletter here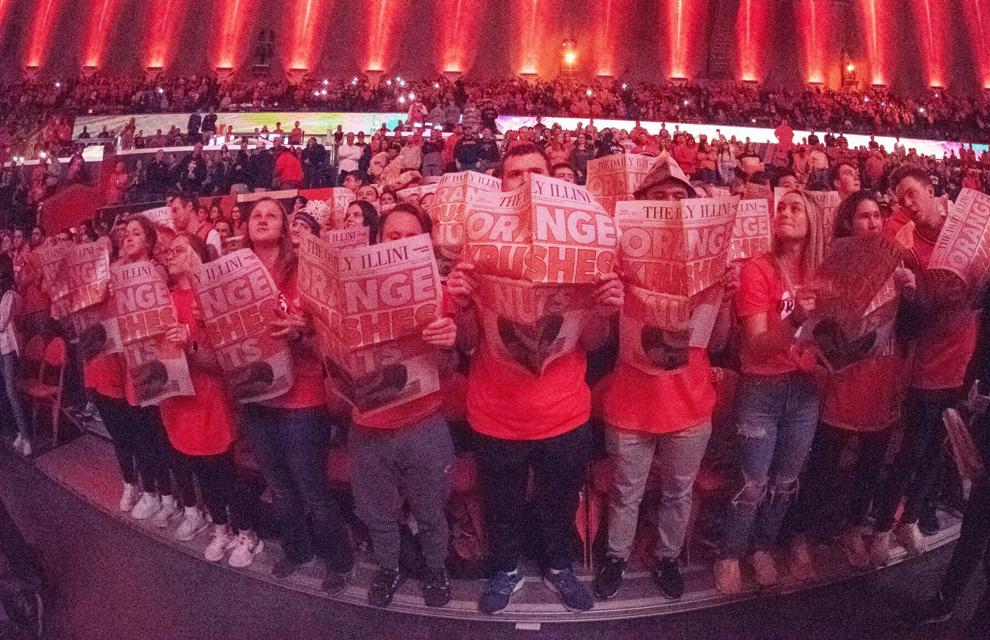 UPDATE: 4 p.m.
The Orange Krush issued a formal apology Friday for using the name of the local Boys and Girls Club chapter to purchase a block of now-voided tickets to the Illinois vs. Iowa basketball match on Saturday.
"In planning the Orange Krush road trip, we misrepresented ourselves as another active charitable organization, which exercised poor judgment. This was our mistake and for that we are truly sorry," the Krush tweeted from their official account. 
"We also should have never placed blame on the Iowa ticket office and Director of Athletics Gary Barta or called them out for cancelling the tickets. Protection of their home court is, and should be, their priority." 
ORIGINAL STORY
CHAMPAIGN — Some 200 members of the Illini basketball student cheering section won't be traveling incognito to Iowa for Saturday's game at Carver-Hawkeye Arena. Instead, the Orange Krush will be paying a visit to Kams — "Home of the drinking Illini" — and recouping their losses from the canceled trip.
The co-owners of the Campustown institution agreed to donate $6,000 to the group on Saturday to cover the non-refundable travel costs incurred for the foiled road-trip surprise attack.
"When the (owners) saw the news last night, they said, 'We need to do something,'" General Manager Michael Baker said. "We'll be bringing them in and having a watch party for them — if Iowa doesn't want them, we do."
A national spotlight descended on the student fan group in the wake of the canceled visit to a rival school's arena.
The annual secret road trip — where members reveal their Illini gear midway through the game — is a well-steeped tradition — and its cover was probably bound to be blown eventually, said the group's current leader.
"It's been going on for so long that every year, it seems schools catch on more and more," University of Illinois senior Kilton Rauman said. "I think our athletic department would decline to sell to the Paint Crew from Purdue. It was bound to happen at some point — that eventually it wouldn't work and we would get caught."
The UI's Department of Intercollegiate Athletics "does not plan to intervene in this situation," spokesman Kent Brown said Thursday.
The surprise trips, which began in 2002, haven't failed until now. In 2005, the group bought tickets to a Michigan game under the auspices of a fake group from Chicago they called Youth Action. Last season, they got tickets to a Purdue game by posing as a Boy Scouts troop.
"We waited for a follow-up and didn't get it," Rauman said. On gameday, "Purdue was a really great sport about it, their fans and their athletic department."
Did the group perhaps fly too close to sun this year by buying 200 tickets under the guise of the Don Moyer Boys & Girls Club? Rauman agreed in retrospect.
"I would've changed the organization, just because I don't want people to think there was any malice," he said. "We have a great relationship with the Don Moyer Boys & Girls Club, they're a huge asset to the Champaign community — I don't like how that came off."
Shortly after the Krush announced that the tickets had been refunded, Iowa's athletic department had a savvy response: They would instead be donated to the Boys & Girls Club of Cedar Rapids, Iowa, preserving the sellout for the game.
Rauman said he bought the 200 tickets in October while posing as a representative of the Don Moyer Boys and Girls Club using the Iowa ticket office's group discount for parties of 20 or more.
There was no word from Iowa until Wednesday morning, he said, when he got a call that the order had been refunded and the tickets, which had long ago been mailed to Champaign, wouldn't work at Carver-Hawkeye Arena.
After posting the group's official statement Wednesday night on the Orange Krush's Twitter account, Rauman conducted interviews for his successor, returning to an onslaught of notifications. By Thursday evening, the statement, which criticized Iowa officials' decision to wait so long to notify the group that it could not get full refunds for the buses it had chartered, had been seen 5.3 million times.
"I think this is a negative for a few of us, but it has the opportunity to become a massive positive for a lot more people and a lot more important organizations," Rauman said. "This puts the Orange Krush's name out there, and hopefully it inspires people to donate to our foundation so we can continue to give that money to people in our communities."
Illini Pride, the umbrella organization for student fan sections, including Orange Krush for basketball, Block I for football and Spike Squad for volleyball, has donated over $2 million to charity in the last 20 years, Rauman said. A portal for local nonprofits to apply for the 501(c)(3) organization's funds opened Thursday.
As for future Orange Krush road trips, Rauman is "positive the organization will continue to try and do it."
"I think the people coming after me are going to have to be pretty creative and really learn from this experience," he said. "What's it say on Alma Mater? 'To thy happy children of the future, those of the past send greetings.' I send my well wishes to future road trips."