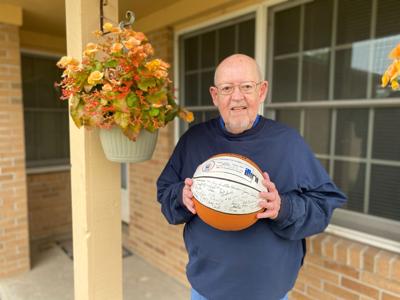 After 51 years of working the scorer's table for Illinois basketball games, Champaign's Jay Cox is calling it quits.
His decision was made more difficult by all the praise being heaped on this season's Illini.
"They're going to be really good, but it's time," the 80-year-old said. "Now, once the season starts, and the games get going, I might think differently. But I have no regrets now."
Former Illini, close friend and fellow employee at Collegiate Cap & Gown (now Herff Jones) TED BEACH helped Cox land a courtside seat at the Assembly Hall in 1969. He filled a variety of roles, eventually taking over for Beach as gameday host for the referees.
Early on, he kept track of fouls on the small, squarish scoreboard hanging over center court. "I dialed the number of the player and the number of his fouls — 1 ... 2 ... 3 ... 4 ... 5 — on what looked like a telephone," Cox said. "As the scoreboard got more high-tech, the job did, too."
The job's rewards included a parking pass, tickets to home games and lasting friendships with a crew he'll miss dearly on Opening Night — whenever that is.
"I really loved it," said Cox, whose two favorite teams reached the Final Four (1989, 2005). "What we got for doing it wasn't the reason we were down there. We were there because we enjoyed it."