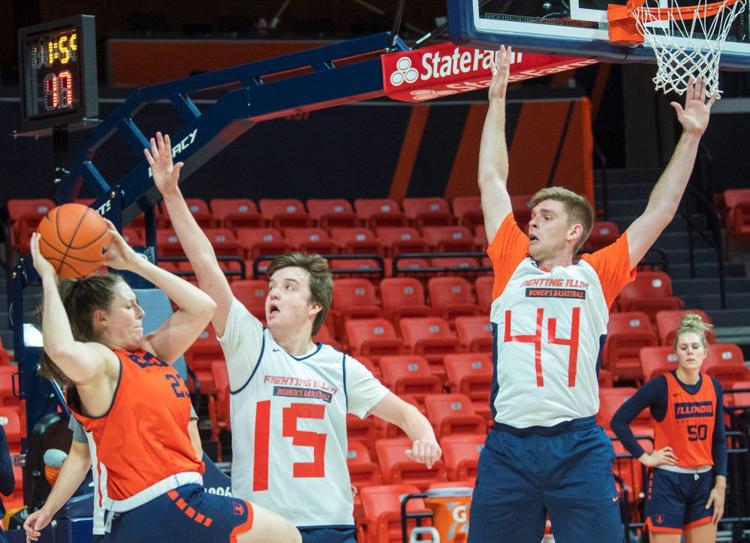 CHAMPAIGN — Nick Griffith has been accepted into medical school.
Matthew Pawlowski is studying econometrics.
Viktor Balchunas is a business major studying accounting.
Despite all three University of Illinois students having different academic pursuits in college, they do have one item in common: All three are male practice players the Illini women's basketball team uses.
Like many of the other 350 Division I women's basketball programs across the country, Illinois utilizes male practice players on its team. In the case of the Illini, these male players are members of the scout team, replicating the upcoming opponent's offensive and defensive schemes.
"(Being on the scout team) is the most important part of what we do," said Griffith, an Illinois senior from Fisher High School and the older brother of Zach Griffith, a junior forward on the Illini men's basketball team. "They have scouting reports that we can look at, and so for me to understand who I am for the other team, that's important. Because if I don't do what they do, it's not an accurate representation. That's something I take the most serious and put a lot of pride in doing well."
'Really helpful to our team'
It's around 4 p.m. on a Tuesday afternoon at State Farm Center and Illinois is preparing for a road game at Rutgers two days later, a game the Illini will lose 72-41 on Jan. 30 in Piscataway, N.J.
During an 18-game Big Ten season that starts in late December and ends in late February, the Illini do two-day preps for most of their conference opponents.
That places responsibility on Illinois associate head coach LaKale Malone, assistant coach John Patterson and program intern Jenn Dynis to put together a scouting report on each of the Illini's opponents.
When the scouting report is finished up, Dynis hands out the scout-team assignments for each male practice player. In other words, who on the opposing team they will be asked to emulate in the upcoming practices.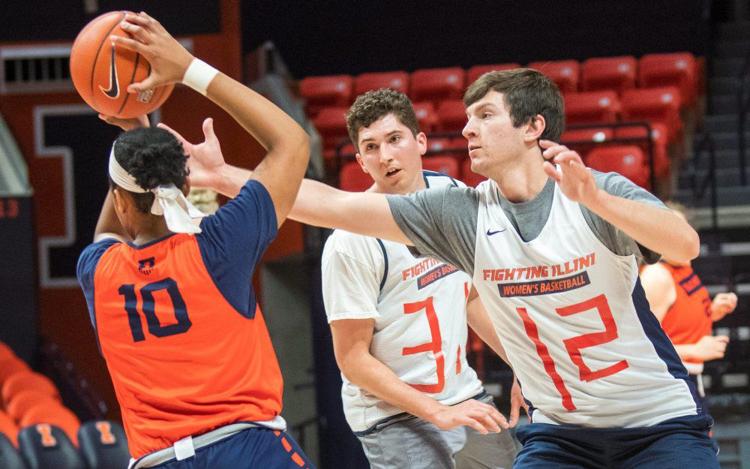 The practice players wear the jersey number of the player they have been assigned. At the Tuesday practice before the game against the Scarlet Knights, that meant wearing white sleeveless jerseys with red tape on them to display the numbers of all five of Rutgers' starters — No. 12 (Khadaizha Sanders), No. 13 (Mael Gilles), No. 24 (Arella Guirantes), No. 31 (Tekia Mack) and No. 44 (Jordan Wallace).
Dynis said she's trying to best match the skills of each practice player to that of the opponent they are mimicking. So, in the case of Nick Griffith — who is 6-foot-5 — he was asked to play the role of one of Rutgers' post players, like 6-foot-3 center Wallace.
"Sometimes we write under the number what the tendencies of that (opposing) player are ... shooter, rebounder, that kind of information," Illinois third-year coach Nancy Fahey explained further. "It allows (our players) to focus in on defending against that and not having to do two different things, learn something and teach it back.
"I just appreciate their help because the ability to not wear your players down during the course of the season is important. The fact (the practice players) can take reps is really key and helpful to our team."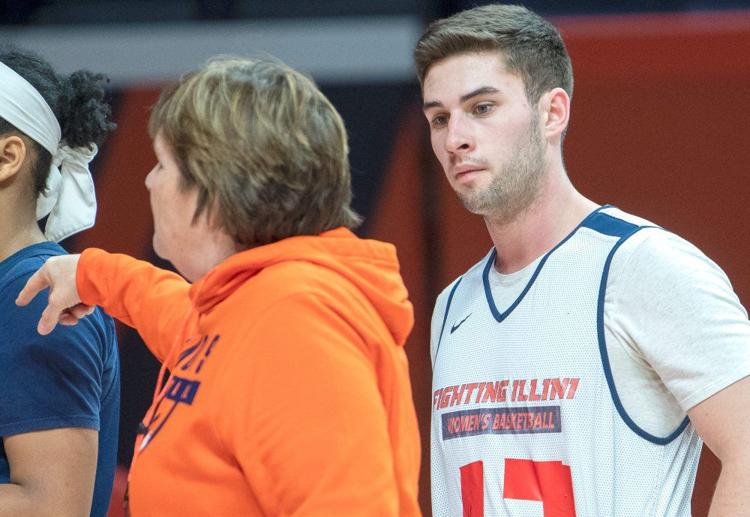 'They'll never let me forget it'
Dynis' role is a vital one when it comes to finding male practice players.
Dynis played two seasons for Fahey at Division III Washington University and followed the former Bears' coach to Champaign when Fahey landed the Illinois job in March 2017.
During the summer and early fall months, Dynis goes out to the Activities and Recreation Center (ARC) on the UI campus to watch pick-up basketball games there.
"That's a pretty decent tryout," Dynis said of games at the ARC. "Competition is not bad. You can usually tell who has an idea of what they're doing and who's just kind of hooping. Most of these guys have a pretty high IQ."
Dynis will also play in a few pick-up games herself to "asses the skills" of these male players. That even means hearing some smack talk when one of those players makes a few shots against her in a game.
"Oh yeah, for sure," Dynis said "They give me trouble a lot because I'll miss a shot. They'll never let me forget it. I make one and they'll hype me up."
Balchunas and Pawlowski, like Griffith, have prep basketball backgrounds. Both hail from the suburbs of Chicago, with Balchunas playing at Amos Alonzo Stagg in Palos Hills and Pawlowski suiting up with the Glenbrook North boys' basketball team.
Balchunas, a current Illinois senior who's been a practice player for two seasons, and Pawlowski, a junior now in his first season on the practice team squad, joined up after impressing Dynis at the ARC.
"One of the days, Jen was there and she was just like, 'Hey, you guys come over here. You guys could play on the practice team. Come out, and if you're good enough to play, we'd love to have you,'" Pawlowski said.
Griffith actually reached out to Illinois director of basketball operations Dianna Pasley via e-mail to see if the team needed any male practice players more than a year ago. He's been a practice player ever since.
According to Dynis, the Illini aim to carry 10 male practice players on the roster each season, with at least five of them on the scout team for each practice. They participate only in certain aspects of practice, not traveling with the team for road games, but these male players — beyond their scout-team duties — will also act as rebounders during shooting drills.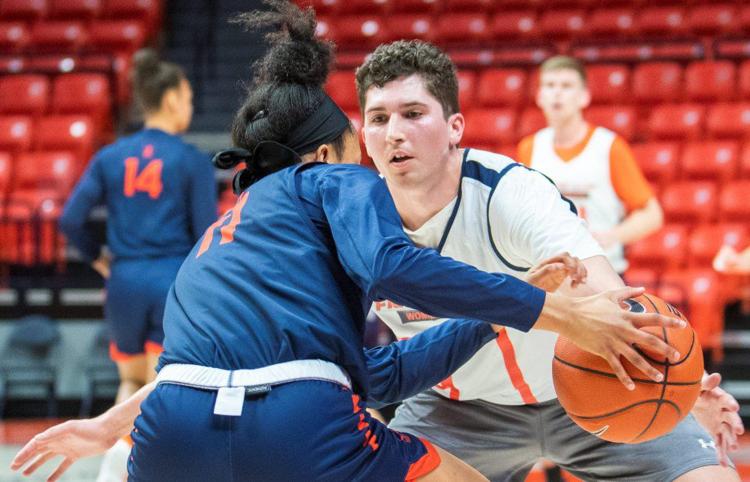 'These guys are invaluable'
Although having male practice players on women's college basketball teams has been around for the past three-plus decades, there was a serious push in 2006 to no longer have them.
At that time, the NCAA Committee on Women's Athletics recommended the use of male practice players be banned, arguing that it violated the spirit of Title IX — the 1972 law that prohibits sex discrimination in education. The committee's main issue with male practice players was it took away opportunities for women by limiting female players' practice time.
The backlash within the sport toward the committee's recommendation — particularly from the Women's Basketball Coaches Association — was swift.
Back in 2006, then-Michigan State women's basketball coach Joanne McCallie — now the head coach of the women's team at Duke — said the push to eliminate male practice players was "political correctness gone awry."
Debbie Antonelli, who played four seasons from 1982-86 at North Carolina State for the late Kay Yow, remembers male practice players — then called managers — being a part of women's college basketball during her playing days.
Antonelli said the continued existence of these male players is a good thing for the women's game.
"I love it. I think it's wonderful," said Antonelli, now a color analyst for ESPN and CBS among other networks, who also became the first woman to call men's NCAA Tournament games since 1995 when she was on the air for first-round games in 2017. "I've said practices should be harder than the game. The guys's athleticism and length they bring helps the women's game.
"I've seen how the games are played at a faster pace. A key reason for the women's game getting better is the result of having male practice players. I think these guys are invaluable."
Antonelli viewed the theory back in 2006 that male practice players cut into women's time on court as unfounded since it was built on the faulty premise that practice only involved the male scout team going against the women's starting five.
Antonelli, who grew up in Cary, N.C., as title IX became law, said her first forays into basketball came not in the gym but on the playground — and against boys.
"I never was denied any opportunity to play," Antonelli said. "Most of the basketball you played was outside. You went down to the park. We knew where the games were. I would always play outside with the guys. You have to hold you own. You have to win to stay. I don't remember thinking anything of it. And none of the guys were like, 'You can't play here.'"
In Antonelli's estimation, a healthy respect exists between players in the men's and women's games — and has for a long time. She also pointed to Kobe Bryant supporting the cause of women's basketball as key.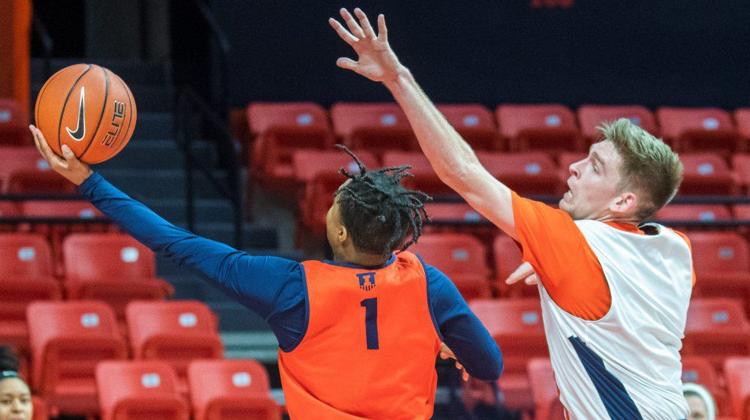 What has changed, Antonelli said, since her playing days is how much commitment there has been on the women's side to using male practice players as scout-team members. These male practice players also have to go through the NCAA Clearinghouse.
Antonelli watched a scrimmage last Sunday in Louisville, Ky., where the U.S. women's national team faced the male practice players from Louisville's women's team. The Cardinals' women's basketball team later played the U.S. squad in an exhibition home game on Monday, a game the national team won 97-54 in front of 12,008 fans in the KFC Yum Center in Louisville.
Fahey, a relative newcomer to the world of Division I athletics, said male practice players were available to her women's teams at Washington University, but not in same capacity as what she sees now at Illinois.
"When you get to this level, I don't know of very many programs that don't utilize their practice players," said Fahey, who coached the Bears' program for 31 seasons prior to making the jump to Division I before the 2017-18 season. "It's something that has been in Division I for a long time, and I don't foresee that changing anytime soon."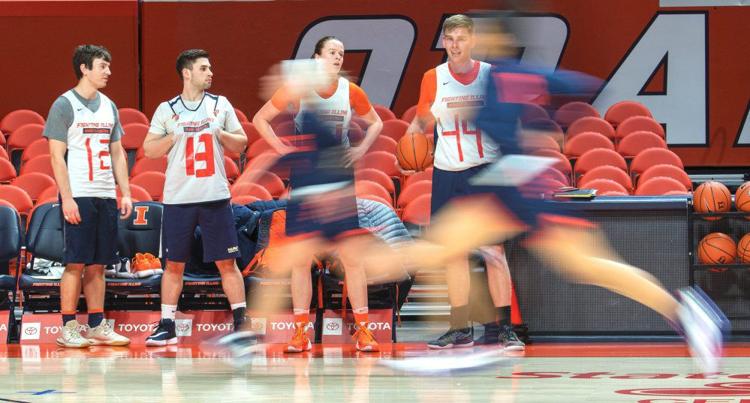 'It's a great group of guys'
For Balchunas, he enjoys his role as a male practice player because it gives him an opportunity to "learn more about the game."
The thought of becoming a coach has crossed Balchunas' mind. He's also helped coach the Illinois women's club basketball team.
Pawlowski, on the other hand, said coaching isn't one of his interests.
Unless ...
"Well, maybe coaching my kids one day," he said with a laugh. "That's about it."
Griffith already has his future post-undergraduate plans set, although he's currently in the process on deciding where he's going to attend medical school.
Among Griffith's options are three Big Ten schools — Iowa, Ohio State and Northwestern.
"Trying to feel that out," he said, "and see what school will fit me the best."
While success on the court has been hard to come by for the Illini women's program — Illinois (10-12, 1-10 Big Ten) entered Sunday's 1 p.m. game against Penn State (7-16, 1-11) at the Bryce Jordan Center in State College, Pa., on a six-game losing streak after an 78-58 home loss by the Illini to Ohio State this past Thursday night — those on-court struggles haven't seemed to affect how the male practice players on the Illini view their role with the team.
Balchunas, Griffith and Pawlowski all had a positive opinion of their experiences. Balchunas said it's "cool." Pawlowski used the word "fun." Griffith offered the adjective "awesome."
What these male practice have brought to the Illinois program, especially in terms of a time commitment, isn't lost on Fahey, either.
"First of all, it's a great group of guys that really work hard," the Illinois coach said. "They're dedicated. They don't get a lot of benefits."