Want to purchase today's print edition? Here's a map of single-copy locations.
Sign up for our daily newsletter here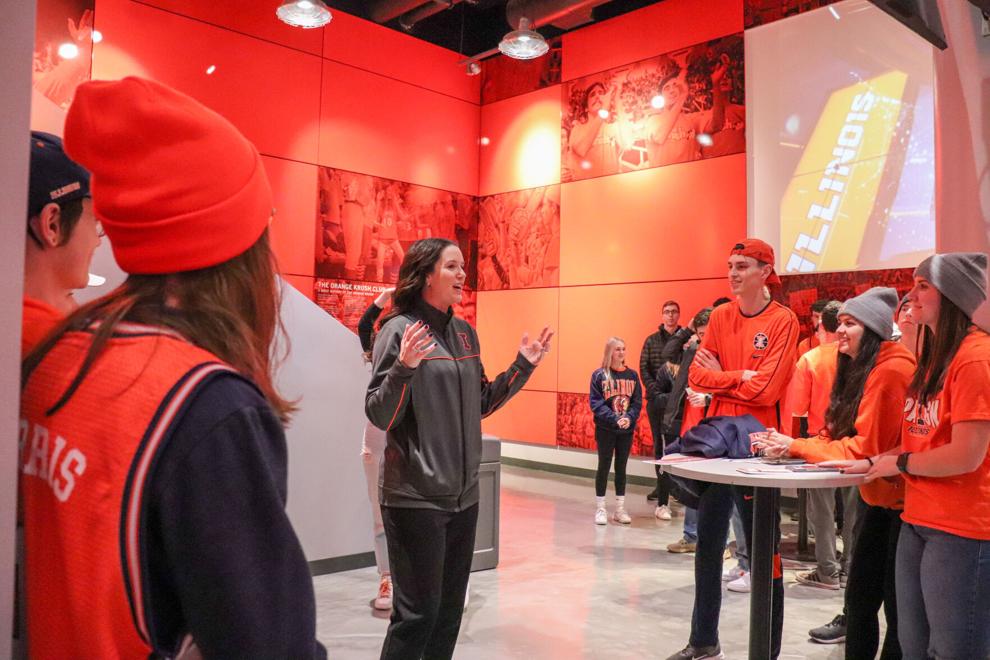 CHAMPAIGN — Around 80 minutes before the tipoff of one of the biggest games of the season Wednesday, first-year Illinois women's basketball coach Shauna Green made her way out to the concourse of State Farm Center and down a set of stairs into the Orange Krush Club, where she was greeted by the members of the student section who showed up early.
Green thanked the members of the student section, which would balloon to over 1,000 strong by the time the upstart No. 21 Illini tipped off against No. 6 Indiana. She told the story of her decision last offseason to leave a consistent winning program in Dayton for the hapless Illini, which hadn't made the NCAA tournament in decades.
Then, she stuck around.
"She said she saw the fan base on the men's side, so she knew there was potential on the women's side," Orange Krush leader Kilton Rauman said. "Then, she signed stuff, which, an hour and 10 minutes before the game, is crazy. It was super nice."
For a coach who's quickly ingratiated herself with the local community while leading her team to a 15-4 start and its first national ranking in decades, that interaction wasn't out of the ordinary.
Green has gone out of her way to interact with people outside her program, which is on course to make its first NCAA tournament appearance since 2003.
Sometimes, that means emailing high school coaches around the state to invite them to come to practice any time they'd like or giving talks at statewide basketball conferences.
On Wednesday, it meant talking to members of the Orange Krush for 20 minutes and grabbing the microphone after a disappointing loss to thank the fans for coming, which she does every game.
After wins, the team goes into the stands to sign autographs and speak with fans, another Green idea.
Long before Wednesday's game, Green has been building strong ties with the Krush, which for the first time this year encompasses both the men's and women's student sections. Rauman said he has some sort of interaction with Green at least once a week, whether that's in-person or over email. The two have discussed the idea of holding an open practice for students to attend.
"It has to be about family, it has to be about relationships, and I don't mean any disrespect, but men's basketball, they're going to show up, 16,000 will show up because it's just what you do," Green said. "Women's basketball, I've always believed ... you've got to interact. Our fans have to feel connected to our team."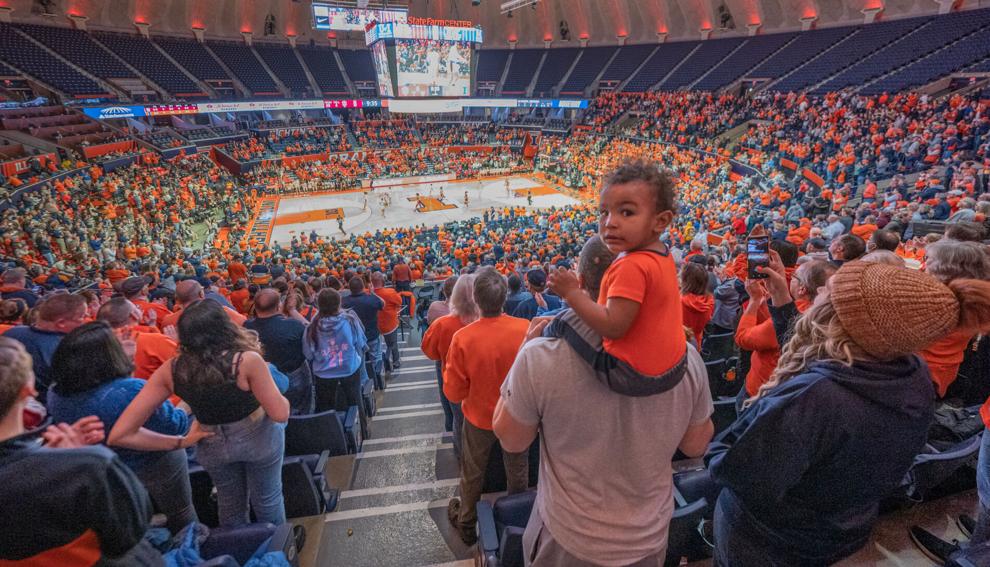 ❖ ❖ ❖
When Sullivan girls' basketball coach Sheri McCain opened her email one day before the season started, she was surprised to see a message from Green.
"We never had a U of I coach reach out to us," McCain said. "But this year before our season started, we got an email from her saying, basically, that if at any time we wanted to bring our high school teams to the games, to basically let them know and they would make sure we got in. She also sent an invite (for coaches) to come out to practice."
McCain didn't know how serious the offer was, but at the end of December, she reached out to ask if she and her assistant coach would be able to come to a practice. Last week, they made the trip to Champaign.
After practice, every player approached them to shake their hands and to thank them for attending practice.
"We felt like VIPs," said McCain, who took the 23 members of her program to Wednesday's game. "It was such a great experience to see Coach Green and what she brings to that program."
Green didn't only reach out to coaches before the season.
In October, IHSA official Leroy Schluter met her at the Illinois Basketball Officials Association preseason conference, where she was the keynote speaker. This year, Schluter began attending women's games with his five daughters, including 6-year-old Reagan, who has decided that sophomore guard Adalia McKenzie is her favorite player.
"Adalia's taken a liking to her," Schluter said, "and they really communicate."
With several thousand fans expected Wednesday night, the Illini's marketing department got to work thinking of ways to improve the in-game experience.
Before the game, students and children were invited into the tunnel outside the Illinois locker room to cheer for the players before they ran out onto the court. They invited fans to download an app to their phones to participate in a pregame light show. They brought out pyrotechnics used at men's games to fire off during the announcement of the Illini's starting lineup. The Krush received exclusive access to the section directly behind one of the baskets.
"Some of the things that you do are about enticing people," said Cassie Arner, an associate athletic director who oversees marketing and fan engagement. "Now, the winning is enticing people, so you want to make it such a good time that they want to come back. Regardless of whether you win or lose, you want them to say, 'That was a really exciting evening. Let's come back as many times as we can.'"
Despite Wednesday's loss, the in-game experience made an impression on 8-year-old Payton Hancock.
She and her mother, Brooke, normally watch Illinois men's and women's basketball games on TV, but they made the trip Wednesday after Payton was surprised with tickets as a birthday gift.
"She's more into the men's basketball, but she took a liking to this tonight," Brooke said. "She asked to come to the next game next week."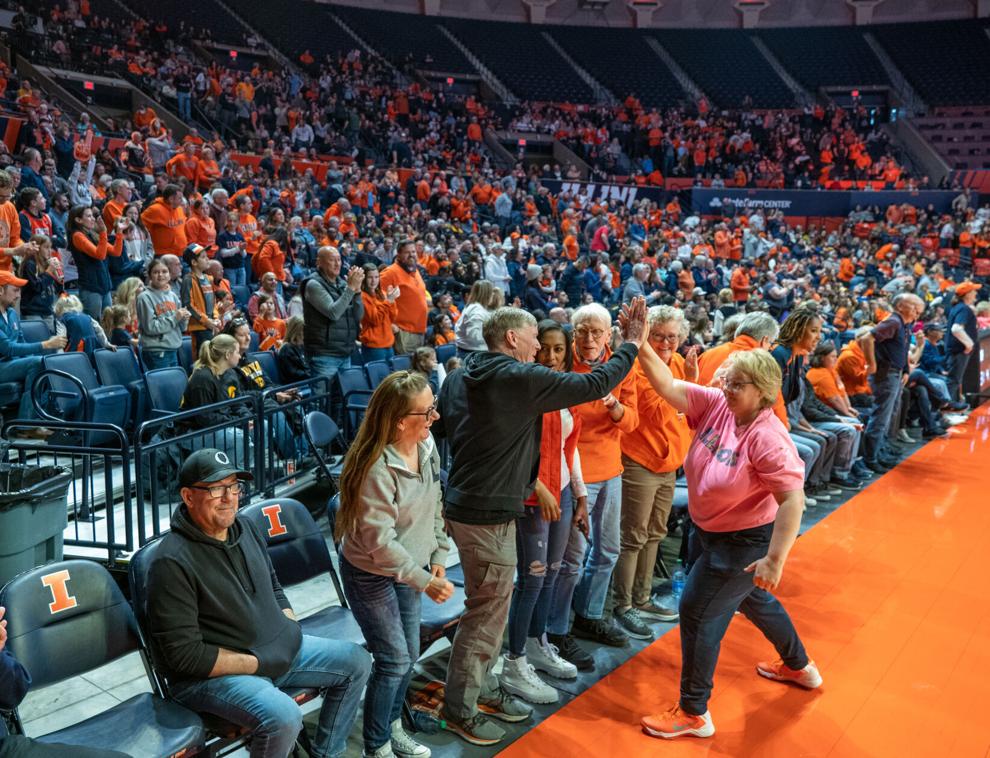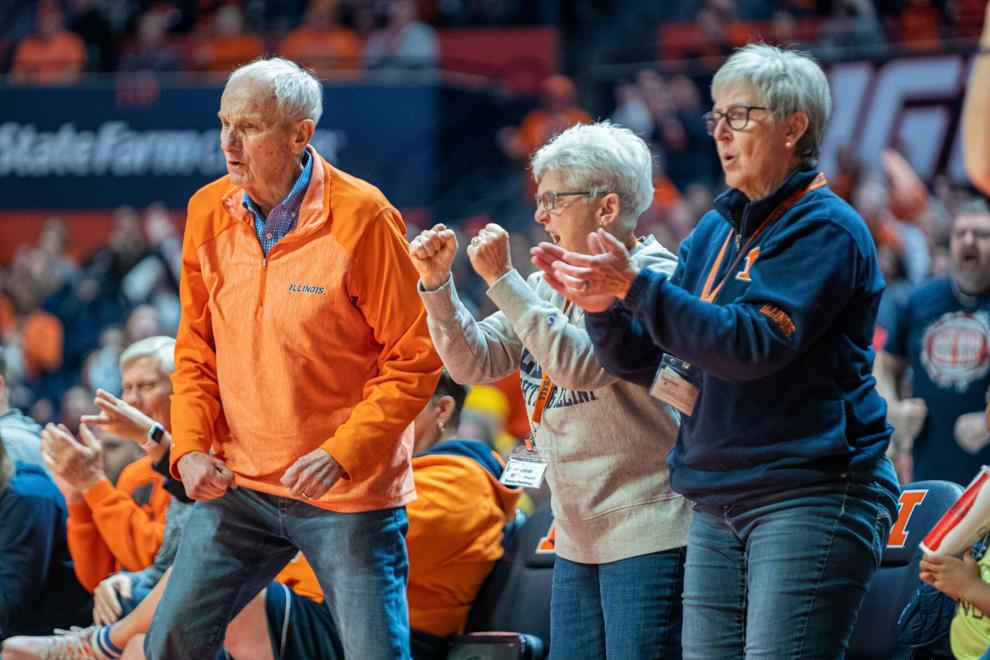 ❖ ❖ ❖
Indiana coach Teri Moren knows well the trajectory Green's program is taking.
When she took over the Indiana program in 2014, the Hoosiers had made just one NCAA tournament appearance since 1995. Her first season, the Hoosiers went 15-16 and averaged averaged 2,617 fans. By her fourth season, in which the Hoosiers won the NIT, they were averaging 4,102 fans.
"What a boost in the arm it does for your kids, the energy in the building," Moren said after Wednesday's game. "Also, it helped in recruiting. Kids want to play in front of fans, so that's going to help as well. I take my hat off to Shauna and the fans of Illinois tonight, because they showed up and watched two Top 25 teams square off.
"This will become a place like (Indiana's) Assembly Hall, where people don't want to play there because the fans are so great. It's only a matter of time, I think, for this program."
As the lower bowl filled before the game, Moren expressed her amazement to Green. Illinois hasn't averaged more than 1,511 fans over the last eight seasons. This year, they're averaging 3,024 with five games left.
"She was like, 'This is unbelievable. This is not how it was,'" Green said. "That's probably been the best thing about the whole journey we've been on, is to see the excitement. I guess (athletic director) Josh (Whitman) gets credit for getting me to come here, because if I would've really looked at the numbers in terms of attendance and some of these things, I don't know."
Now, strengthening those connections is the key to getting crowds like that on Wednesday to come out every game. For Green, that's all part of the job.
"I will do what I need to do," she said. That means "an hour and 10 minutes before we're playing in the biggest game of the season, I'm going to talk to Orange Krush, because we need those kids to be there every game in order for us to build a legit program and for us to build a consistent, Top 25 program. No Top 25 team in the country is running out to 1,000 people and no kids. It's just not happening. I will do whatever I need to do."