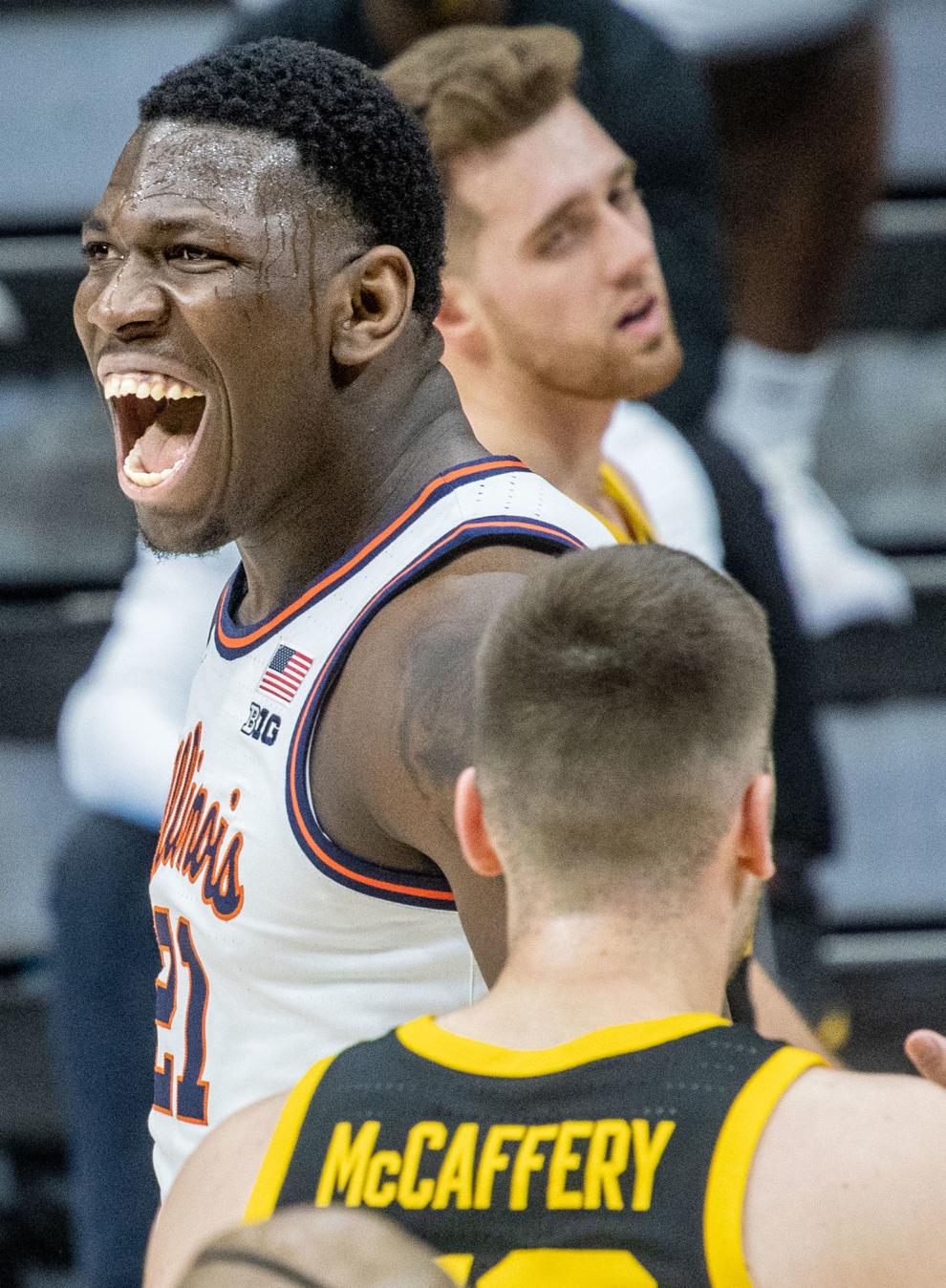 Big Ten tournament champs. In multiple sports. Compelling All-Americans. Coaching milestones. All done in front of hardly any fans. But the games — and moments, like Giorgi Bezhanishvili, Trent Frazier and Andre Curbelo celebrating above — carried on even amid the COVID-19 pandemic. The News-Gazette sports staff recaps a school year unlike any other for the Illini
Top male athletes
➜ 1. Ayo Dosunmu, basketball. There's a reason Dosunmu's No. 11 jersey will soon grace the rafters of State Farm Center. His junior season was one of the best individual performances in program history.
➜ 2. Ian Skirkey, gymnastics. The lone NCAA championship for the Illini in 2020-21 came from the junior out of Pepprell, Mass., who went from Big Ten runner-up to national-title winner in the pommel horse.
➜ 3. Jonathan Wells, track and field. Only five other Big Ten athletes have won both the long jump and high jump in a single conference championship. Wells became the sixth this spring.
➜ 4. Kofi Cockburn, basketball. Cockburn's No. 21 jersey will be hoisted to the rafters — just like Dosunmu's — after the 7-foot center's breakout sophomore season saw him earn consensus Second Team All-American honors.
➜ 5. Aleks Kovacevic, tennis. Kovacevic went undefeated in conference singles play to earn his second straight All-Big Ten First-Team honor and added an All-American honor after reaching the NCAA individual quarterfinals.
➜ 6. Adrien Dumont de Chassart, golf. The junior out of Belgium snapped a two-year program drought when he was named Big Ten Co-Golfer of the Year along with Iowa's Alex Schaake. Dumont de Chassart's award makes an even dozen for the Illini.
➜ 7. Michael Feagles, golf. Feagles made the most of his "super-senior" season and earned an unprecedented fifth All-Big Ten First-Team honor to go with his Les Bolstad Award as the Big Ten leader in stroke average.
➜ 8. Jon Davis, cross-country/track and field. Davis was an All-American in cross-country and a Big Ten champion in track, proving he can cover 1,500 meters just as effectively as 10,000.
➜ 9. Manning Plater, track and field. The grad transfer from Michigan made a splash in his lone season with the Illini with a Big Ten indoor title in weight throw and All-American titles in weight throw (indoor) and hammer throw (outdoor).
➜ 10. Lucas Byrd, wrestling. No Illinois wrestler posted more dual points than Byrd's 19, as the Cincinnati native went 17-4 as a starter and finished fifth at 133 pounds at the NCAA Championships.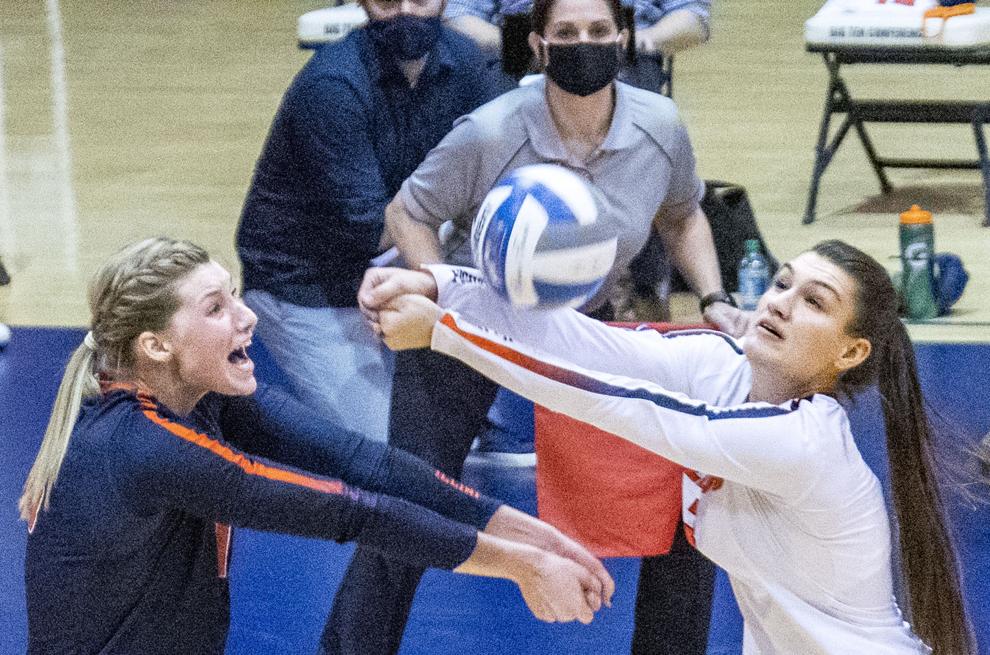 Top female athletes
➜ 1. Olivia Howell, cross-country/track and field. Howell went 2 for 2 on Big Ten titles in her first full track season, winning the indoor mile and taking home first in the 1,500-meter run outdoors.
➜ 2. Taylor Kuper, volleyball. The Lenexa, Kan., native became the first Illinois libero in program history to earn First Team All-Big Ten honors after ranking third in digs per set during her first season at the position.
➜ 3. Kailee Powell, softball. The Illini junior first baseman was both an All-Big Ten First Team and All-Defensive team selection after she hit .328 with a team-high 17 extra-base hits while committing just a single error.
➜ 4. Megan Cooney, volleyball. Cooney remained a steady presence in the Illinois rotation this season and earned All-Big Ten Second-Team honors after finishing her first senior year with 205 kills, 109 digs and 37 blocks.
➜ 5. Nicole Biondi, gymnastics. Biondi posted career-highs in vault, bars and all-around this season to earn the second All-Big Ten Second-Team honor of her career to go with one from 2019.
➜ 6. Rebecca Craddock, cross-country. Craddock was named an All-Big Ten Second-Team selection after finishing ninth at the Big Ten championship with a time of 20 minutes, 45.5 seconds.
➜ 7. Tristyn Nowlin, golf. Nowlin picked up fourth All-Big Ten Second-Team honor this spring (to go with one First-Team pick), and the Richmond, Ky., native led the Illini with a 73.10 stroke average.
➜ 8. Kendra Pasquale, soccer. Pasquale started all 12 matches at midfielder for Illinois this season and led the team in goals scored (five), shot percentage (.238) and total points (12) to earn All-Big Ten Third-Team honors.
➜ 9. Makena Silber, soccer. Silber was also an All-Big Ten Third-Team selection, and the junior forward was the Illini's go-to player in the clutch with a team-high three game-winning goals.
➜ 10. Abby Cabush, swimming and diving. The junior from Sussex, Wis., continues to establish her legacy in the pool. She broke the school record in the 200-yard freestyle at Wisconsin on Feb. 6 with a time of 1 minute, 47.90 seconds only to break it again (1:47.80) at the Big Ten Championships later in February.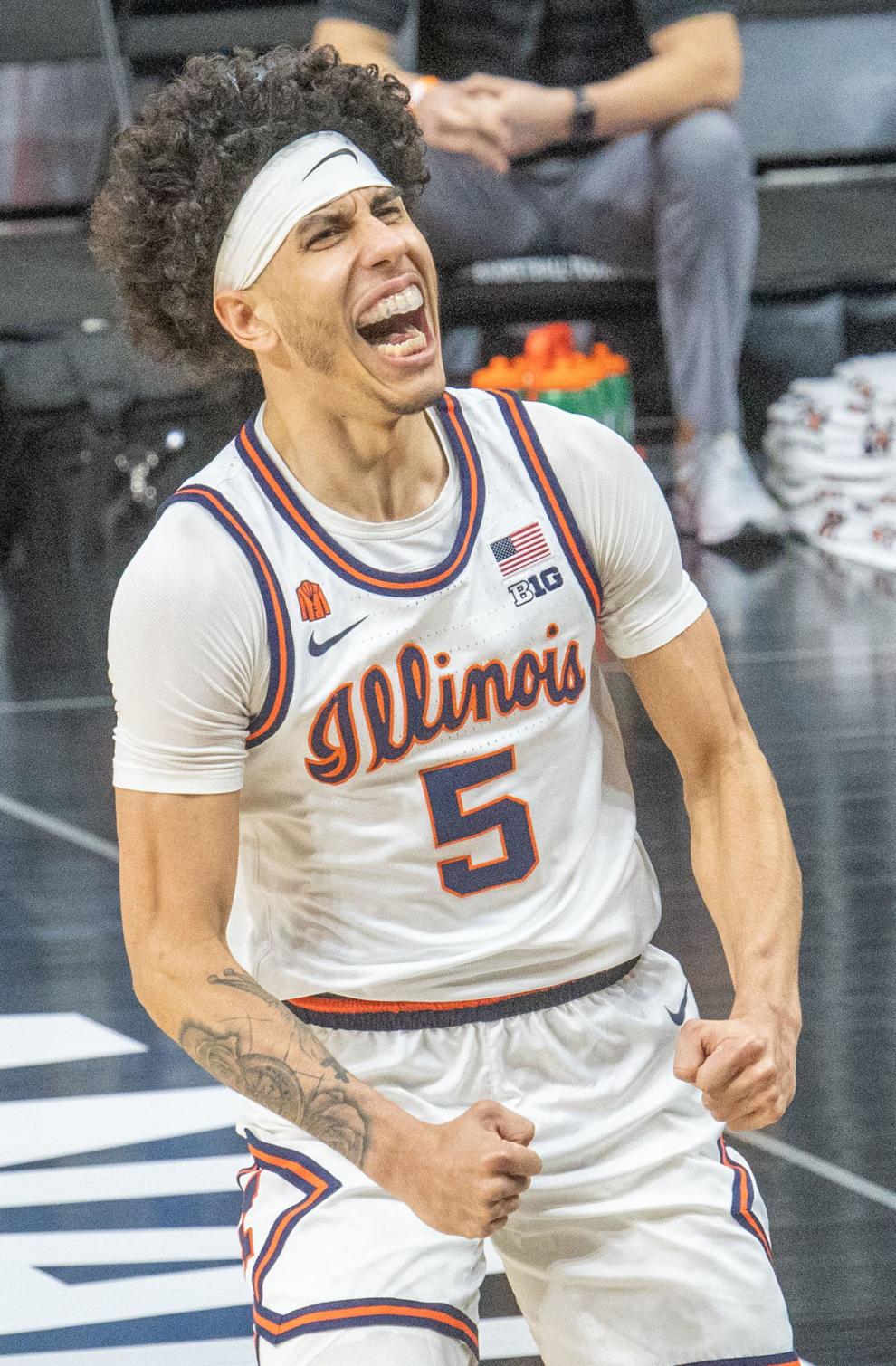 Top freshmen
➜ 1. Andre Curbelo, men's basketball. Curbelo, the Big Ten's Sixth Man of the Year, would have dazzled crowds with his abilities to get to the basket and find open teammates if there'd been any crowds.
➜ 2. Justin Janas, baseball. The All-Big Ten First-Team selection led Illinois with 54 hits and reached safely in 40 of 42 appearances while serving primarily as the Illini's designated hitter this spring.
➜ 3. Jaelyn Vickery, softball. Vickery, who started all 44 games in center field for the Illini, earned All-Big Ten Second-Team honors after batting .306 with 27 runs scored and a team-high 11 stolen bases.
➜ 4. Hunter Heck, men's tennis. Heck was in the Illinois lineup all season, finished with a 14-5 singles record and helped the Illini clinch their Big Ten championship with a key victory against Ohio State.
➜ 5. Raina Terry, volleyball. Terry got thrown in the fire a bit during her debut season, as the 6-foot-3 outside hitter played six rotations and led team with 210 kills to go with 122 digs and 27 blocks.
➜ 6. Isaiah Williams, football. Williams switched to wide receiver this spring after earning four starts at quarterback in 2020, where he put up 782 total yards — nearly a perfect split between rushing and passing — and five touchdowns.
➜ 7. Kate Duong, women's tennis. The Cupertino, Calif., native had a winning record in both singles (14-8) and doubles (13-9) action during her debut season, with the latter being the second-best on the team.
➜ 8. Aaliyah Nye, women's basketball. Nye came on strong late, starting the final 10 games and averaged 8.1 points while leading the team in three-point shooting (35.1 percent) and assist-to-turnover ratio.
➜ 9. Joanna Verzosa-Dolezal, soccer. The All-Big Ten Freshman Team defender started all 12 matches and played all 1,103 minutes for Illinois during her first season and helped the Illini put together four shutouts.
➜ 10. Cara Bognar, swimming and diving. Bognar got herself in the Illinois record books with top-five marks in the 400 individual medley and 200 butterfly to go with five event wins during her debut season.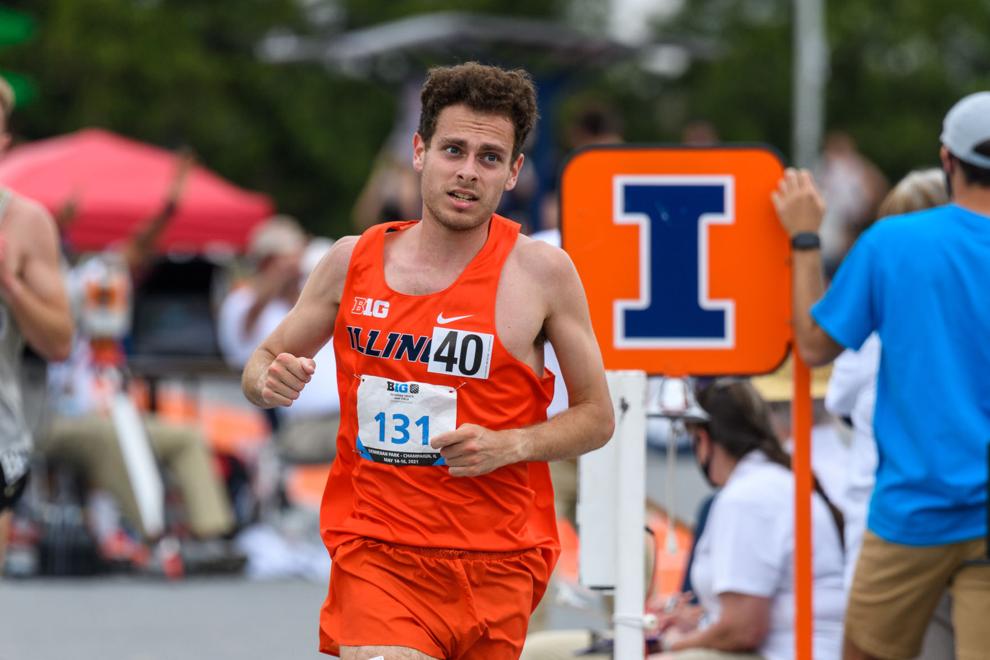 Top area athletes
➜ 1. Jon Davis, cross-country/track and field. Injuries have marred the Oakwood native's Illinois career, but he was healthy again this year and proved it both in cross-country and on the track.
➜ 2. Kellen Sarver, baseball. The Centennial graduate put together the best season during his time with the Illini with career bests in about every single-game statistical category possible.
➜ 3. Luke Luffman, wrestling. Luffman wasn't able to quite match his breakout freshman season, but the Urbana graduate and Illinois heavyweight still qualified for the NCAA Championships for a second straight year.
➜ 4. Phillip Hall, men's track and field. The Danville native was part of Illinois' distance medley relay team that finished second at the Big Ten indoor championship, where he also PR'd in the 800 meter.
➜ 5. Jessica Franklin, women's track and field. Franklin's Illinois debut included a pair of Big Ten medals, as the Mahomet native and Illinois Wesleyan transfer placed eighth in the heptathlon and 400-meter hurdles at the Big Ten outdoor championship.
➜ 6. Rylee Hinton, volleyball. The former Champaign Central standout saw her role grow as a sophomore, and she led the Illini with 75 blocks to go with 80 kills as her playing time essentially doubled.
➜ 7. Julian Pearl, football. An injury to starting tackle Alex Palczewski opened the door for the Danville native to get his first three career starts, and he enters the 2021 season as the top backup tackle.
➜ 8. Bryce Barnes, football. A position switch from tight end to defensive tackle before the 2020 season saw the Gibson City-Melvin-Sibley graduate and Illini walk-on get his first two career starts.
➜ 9. Lucy Lux-Rulon, women's track and field. The St. Thomas More graduate won her first collegiate title with a high-jump victory at the Badger Icebreaker during the indoor season.
➜ 10. Katie Witte, women's track and field. The former Salt Fork star set new PRs in both the hammer throw (152 feet, 3 inches) and discus (135-11) on consecutive Saturdays in April.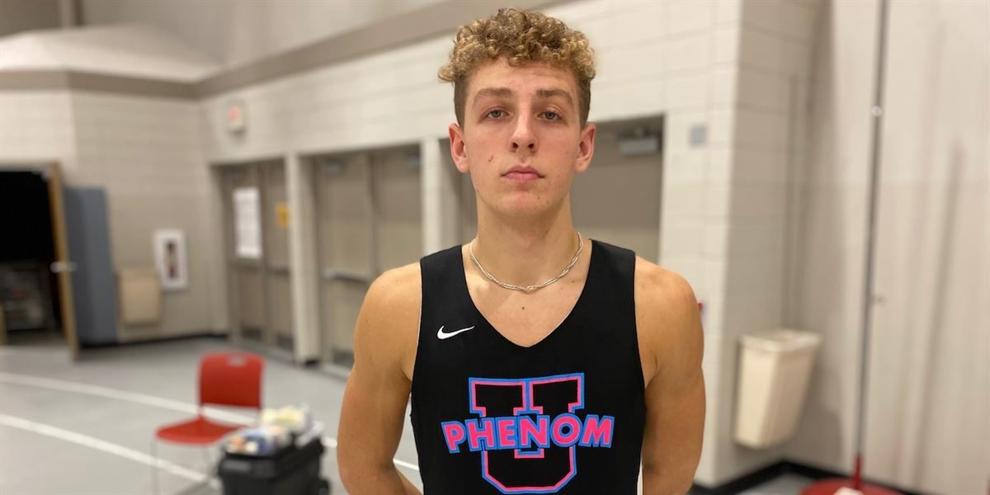 Top recruits
➜ 1. Maximo Renteria, wrestling. Renteria, who wrestled for former Illini Troy Tirapelle at Clovis (Calif.) Buchanan, won three state titles and ranks fifth nationally at 132 pounds.
➜ 2. Gabrielius Guzauskas, men's tennis. The Lithuanian born is a blue chip, five-star recruit in the Class of 2021 and currently ranks 20th nationally in his class after peaking at No. 5 earlier this year.
➜ 3. Jackson Buchanan, men's golf. Illini coach Mike Small raided the state of Georgia to land Buchanan, who ranks 24th among Class of 2021 recruits and 65th overall in the Rolex AJGA rankings.
➜ 4. Kasia Treiber, women's tennis. Treiber is the headliner in Illinois' top-25 recruiting class, and the five-star recruit out of Hinsdale Central currently ranks No. 28 nationally.
➜ 5. Brooke Mosher, volleyball. Mosher is the No. 36 prospect in the Class of 2021, and the future Illini setter helped lead Waterloo (Wis.) to a state runner-up finish after putting up 463 kills, 384 assists, 254 digs, 67 aces and 51 blocks.
➜ 6. Dylan Keating, men's golf. International recruiting has served Illinois well in the last decade-plus, and Keating will head to Champaign from Drogheda, Ireland, after ranking No. 24 in the U18 European Golf Rankings and now No. 201 in the U21 rankings.
➜ 7. Megan Heuser, women's tennis. Heuser is also a five-star recruit, and the Lakes grad is still the reigning IHSA Class 1A singles champ after not being able to defend her 2019 title last fall.
➜ 8. Brandin Podziemski, men's basketball. A monster senior season garnered Podziemski every possible player of the year award in Wisconsin, and the 6-foot-5 guard emerged as a four-star, top-70 recruit in the process.
➜ 9. Kida Ferrari, women's tennis. Rounding out another notable class for Illini coach Evan Clark is Ferrari, who is a four-star recruit that ranks No. 69 nationally and is the No. 1 player out of Alabama.
➜ 10. Lauren Wiles, softball. The Grimstead, N.C., native and top-100 recruit by FloSoftball and Extra Innings will give Illinois a much-needed boost in the circle alongside Sidney Sickels and Addy Jarvis.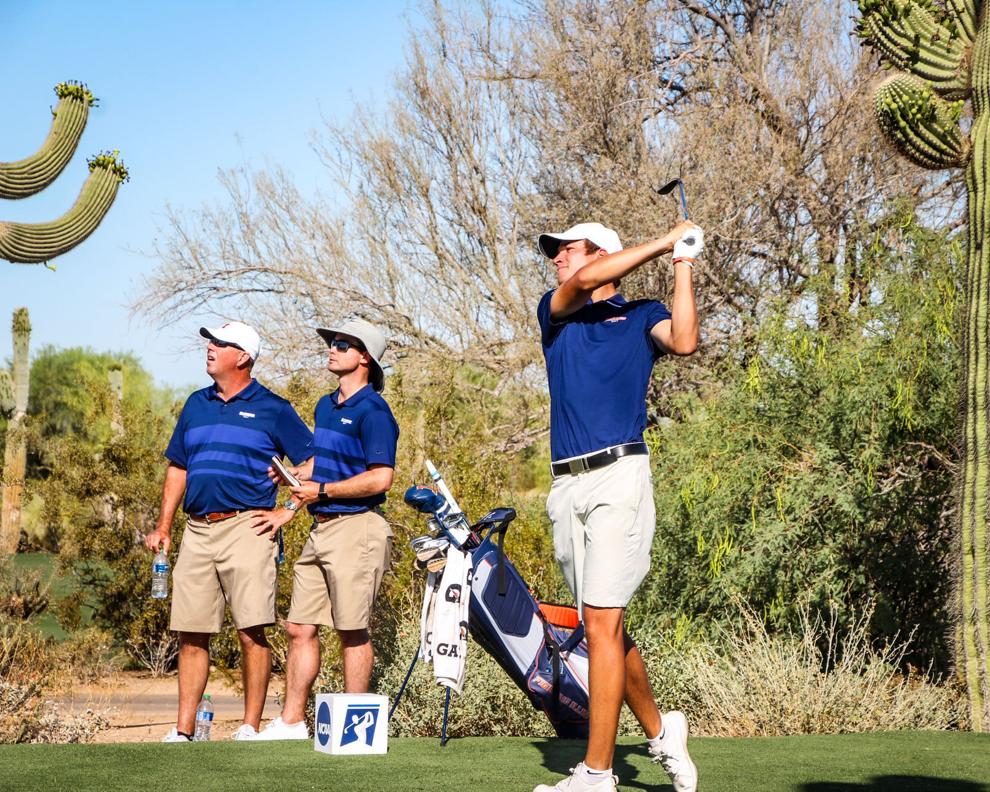 Top coaches
➜ 1. Brad Underwood, men's basketball. Michigan's Juwan Howard earned Big Ten Coach of the Year honors, but there was an argument for Underwood after Illinois went 16-4 (and beat the Wolverines).
➜ 2. Mike Small, men's golf. Small helped guide Illinois back to its normal place with a seventh appearance in match play in the past 11 NCAA Championships, which trails only Oklahoma State since the format was adopted in 2009.
➜ 3. Brad Dancer, men's tennis. The pandemic created a new Big Ten West division title for the Illini to win for Dancer before they added another Big Ten tournament championship to his rather notable coaching résumé.
➜ 4. Sarah Haveman, cross-country. The growth for the cross-country program as a whole — but particularly the women's squad — continued this year as Haveman has elevated both teams since taking over in 2018.
➜ 5. Justin Spring, men's gymnastics. Spring's ability to put a patchwork lineup together because of injuries and the pandemic this season saw Illinois able to maintain its spot as one of the top teams in the country.
➜ 6. Janet Rayfield, soccer. Rayfield helped the Illini navigate a Big Ten-only schedule this spring and managed to right the ship — at least against conference opponents — after a rough 2019.
➜ 7. Nadalie Walsh, women's gymnastics. Illinois is knocking on the door of more for its women's gymnastics teams, but, for now, this year's NCAA regional appearance marks a third for Walsh in three opportunities.
➜ 8. Jim Heffernan, wrestling. Heffernan ended his lengthy Illinois coaching career by sending five wrestlers to the NCAA Championships and adding two more All-Americans to the now 73 total he coached.
➜ 9. Tyra Perry, softball. Perry managed to keep her streak of .500 or better teams going with a 24-20 record, and if this past season was a full one, she might have gotten another 30-win squad.
➜ 10. Dan Hartleb, baseball. The Illini had the bats to compete this spring, but inconsistency on the mound outside starter Andrew Hoffmann and reliever Alex Vera played into a 22-22 overall record.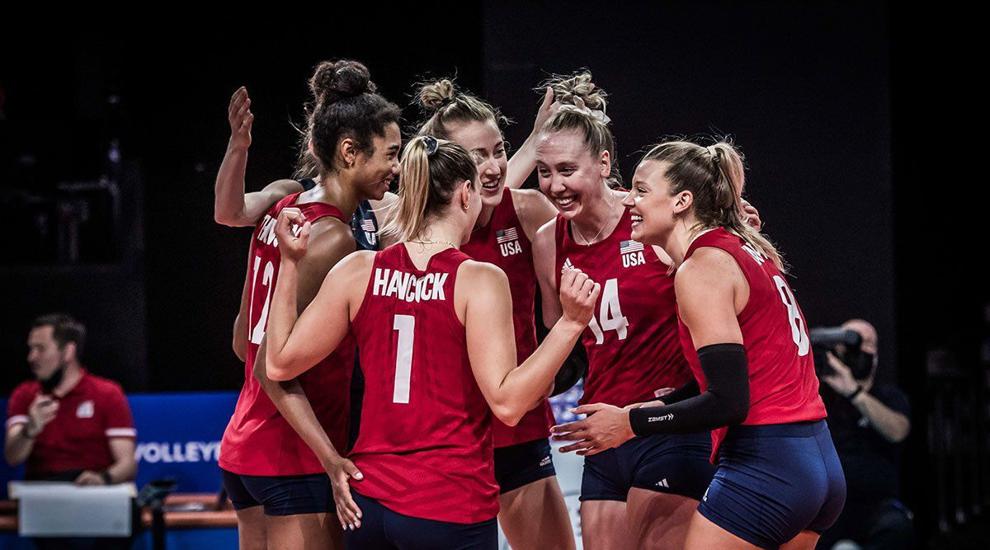 Top ex-Illini
➜ 1. Michelle Bartsch-Hackley. The former three-time All-American had to wait a year for her Olympic debut, but look for Bartsch-Hackley to play a key role in a potential gold medal chase for USA Volleyball in Tokyo next month.
➜ 2. Jordyn Poulter. Another former three-time All-American, Poulter will be there right alongside Bartsch-Hackley as the likely starting setter and youngest member of Team USA.
➜ 3. Steve Stricker. Stricker has four top-10 finishes and a win on the Champions Tour, two more top 10s on the PGA Tour and will finally get to captain the U.S. in the postponed Ryder Cup in September.
➜ 4. Nick Allegretti. The 25-year-old has turned into a productive contributor for one of the NFL's best teams. The former seventh-round pick started 12 games this past season blocking for Patrick Mahomes for the AFC champion Kansas City Chiefs and started at left guard in Super Bowl LV.
➜ 5. Kendrick Nunn. Nunn just wrapped up his second season with the Miami Heat, starting 44 games during the condensed 2020-21 season. He averaged 14.6 points this past season, and last October, he played in all six games of the NBA Finals in the bubble, averaging 10.5 points.
➜ 6. Vanessa DiBernardo. The Illinois Hall of Famer remains a consistent presence in the midfield for the Chicago Red Stars, who are currently sixth in the NWSL standings for the 2021 season.
➜ 7. Thomas Detry. Detry has three top-10 finishes this year on the European Tour, including second place at the European Open in Germany, which netted him €70,733.85 (just shy of $100,000).
➜ 8. Thomas Pieters. Illinois' other former Belgian in the pros has one top 10-finish each this season on the PGA Tour and European Tour, with his best in 2021 a tie for eighth in late April at the Zurich Classic of New Orleans.
➜ 9. Nick Hardy. Hardy keeps grinding on the Korn Ferry Tour and is on a run of three consecutive top-five finishes, which has him in line to snag a PGA Tour card.
➜ 10. Alex Diab. The four-time Big Ten and two-time NCAA champion won his second straight U.S. title on still rings, was named to the senior national team and qualified for the Olympic trials.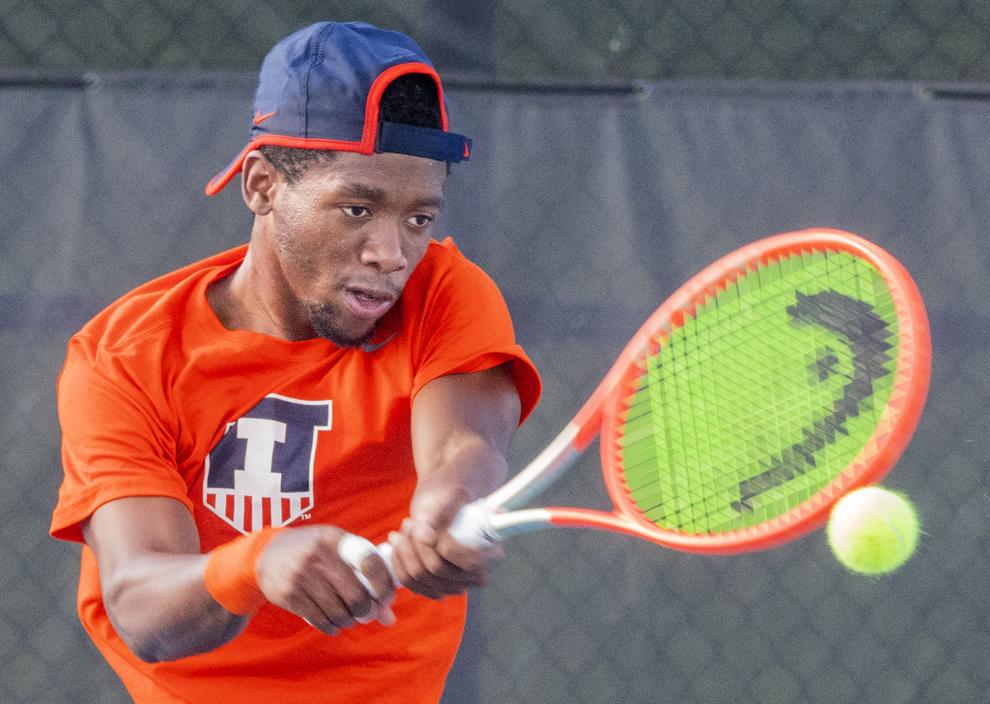 Most improved
➜ 1. Siphosothando Montsi, men's tennis. Montsi's rise to unanimous All-Big Ten First-Team level with a 16-3 singles record and 14-6 overall doubles mark was key in Illinois winning a Big Ten title and making a run to the Sweet 16.
➜ 2. Da'Monte Williams, men's basketball. Williams wasn't a volume three-point shooter, but he sure was accurate as he shot 54.7 percent from deep and put up a career high 5.5 points per game.
➜ 3. Sami Sample, soccer. Sample waited her turn before taking over in goal for the Illini, and she earned team co-defensive MVP honors after starting all 12 matches and recording 56 saves and four shutouts.
➜ 4. Chase Brown, football. Brown got a taste of the Big Ten in 2019 before redshirting after four games and then emerged as a go-to running back last fall en route to earning All-Big Ten Third-Team honors after rushing for 540 yards and three touchdowns.
➜ 5. Bruna Vrankovic, volleyball. First an eligibility quandary and then injuries slowed the Croatian outside hitter down, but she managed to finish fourth on the team with 127 kills this spring after playing sparingly in 2019.
➜ 6. Jada Peebles, women's basketball. The Raleigh, N.C., native emerged as Illinois' leading scorer in 2020-21 at 11.6 points per game, as she hit double digits in scoring in 14 of 18 Big Ten games.
➜ 7. Jacob Campbell, baseball. Campbell split his time among left field, catcher and designated hitter this spring, and the Janesville, Wis., had the best season of his career with a .299 average, six home runs and 28 RBI.
➜ 8. Mallory Mizuki, women's gymnastics. Mizuki didn't compete during 2019 or 2020, but broke through late in her junior year with impressive 9.900 and 9.925 scores on bars to earn the team's most-improved award.
➜ 9. Josie Frazier, women's tennis. Frazier went from playing more doubles than singles as a freshman to posting Illinois' top singles win percentage this spring with a 15-5 mark split between the Nos. 5 and 6 spots.
➜ 10. Kellen Sarver, baseball. It was career-highs almost across the board at the plate for the Illini first baseman, who set new benchmarks in average (.287), home runs (eight), RBI (33) and slugging percentage (.535).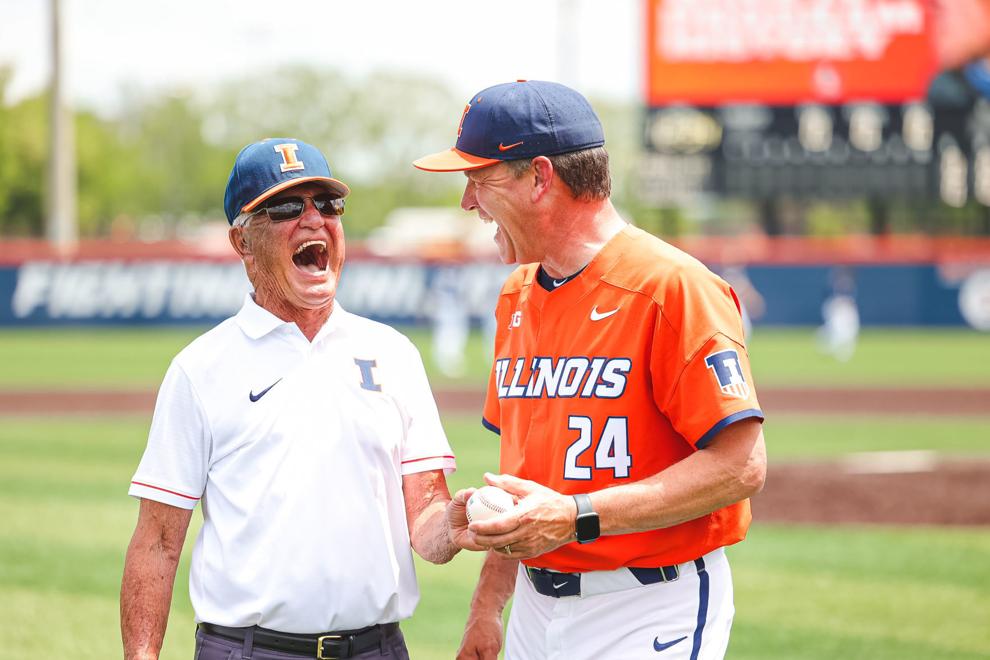 Milestones
➜ 1. Ayo Dosunmu earned First Team All-American honors from every possible source following his stellar junior season, making him the first Illini to be named an Associated Press First Team All-American.
➜ 2. Baseball coach Dan Hartleb moved into second place all-time for career wins at Illinois with 476, passing his predecessor Itch Jones in the process.
➜ 3. No other Illinois men's basketball team won as many regular-season Big Ten games as the 2020-21 squad's 16 victories — a feat aided, of course, by the expansion to a 20-game league schedule.
➜ 4. Isaiah Williams' first career start saw the redshirt freshman set an Illini record for rushing by a quarterback with 192 yards — topping AJ Bush Jr.'s mark of 187 — during a 23-20 road win at Rutgers.
➜ 5. All-American Olivia Howell continued to lower her personal best in the 1,500-meter run late in the spring and set the program record twice in two weeks, with her time of 4 minutes, 9.71 seconds in the NCAA prelims the new Illini best.
➜ 6. Manning Plater took down two program records in his first (and only) season at Illinois with marks of 230 feet, 2 inches in the hammer throw outdoors and 74-7 in the weight throw indoors.
➜ 7. Adam Miller knocked down 6 of 8 three-pointers and scored 28 points during Illinois' season-opening win against North Carolina A&T to break the Illini's freshman debut scoring record previously held by Brandon Paul at 22 points.
➜ 8. Redshirt freshman first baseman Justin Janas extended Illinois' streak of Big Ten batting champions in a full season to three, following Bren Spillane and Grant Van Scoy, with a conference-best .391 batting average.
➜ 9. Senior Day delivered in a big way for the Illinois women's gymnastics team, which beat No. 7 Minnesota and set a new program best all-around score of 197.575 in the process.
➜ 10. Veteran linebacker Jake Hansen moved into third all-time in program history with two more forced fumbles in 2020, giving him 10 for his career and within sight of Simeon Rice (13) and Whitney Mercilus (11).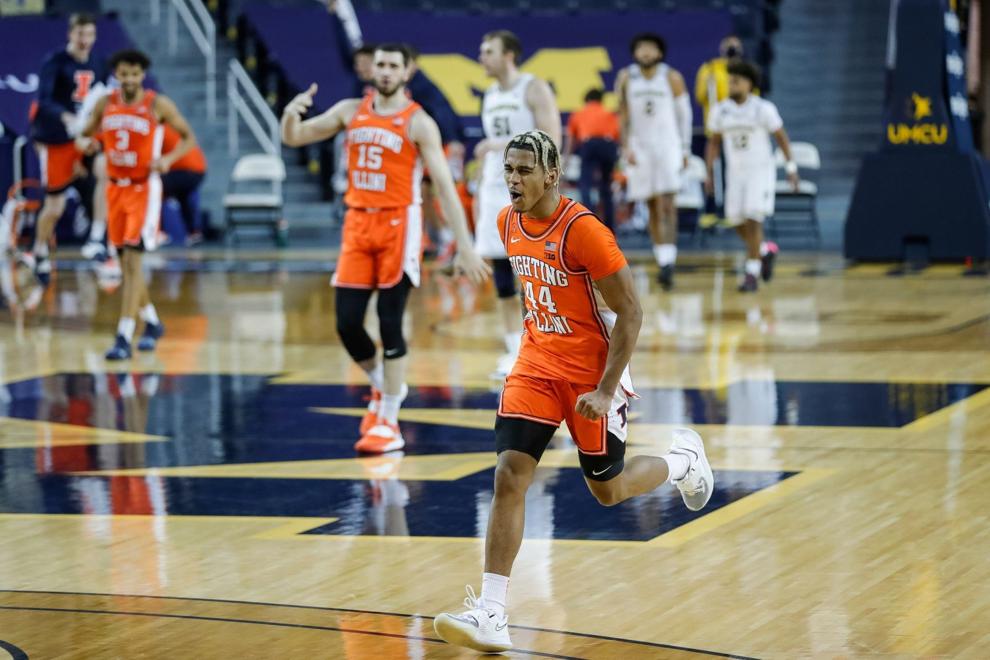 Best moments
➜ 1. Illinois basketball had just two triple-doubles in program history (Mark Smith in 1979 and Sergio McClain in 2001) before Ayo Dosunmu doubled that total with two in two weeks in February.
➜ 2. An absolute thrashing of Michigan — on the Wolverines' home court no less — and another Top-25 road win at Ohio State to end the regular season had Illinois, from Josh Whitman at the top on down, disputing its Big Ten runner-up status.
➜ 3. Fans missed out on almost the entire 2020-21 Illinois basketball season, but they flocked to Indianapolis for postseason action and outnumbered Ohio State fans at least five-to-one at the Big Ten tournament championship game.
➜ 4. Almost simultaneous Big Ten tournament titles for Illinois men's golf and men's tennis made May 2 one of the best days for the athletic department in the entirety of the 2020-21 school year.
➜ 5. Illinois men's gymnast Evan Manivong had a vault go viral this season after video was spread nationwide of the Kansas City, Mo., native whipping out his COVID-19 vaccination card after sticking the landing in a March 22 win against Minnesota.
➜ 6. Riley Gowens, Ryan O'Hara and Cole Kirschsieper's combined no-hitter at Purdue was both just the second combined no-hitter in program history and the third (of 11 total) to happen on April 25.
➜ 7. The goal all along when Illinois announced it would build a new facility for its track and soccer programs was to host the 2021 Big Ten outdoor track championship, and the Illini not only pulled it off but won five total Big Ten event titles in the process.
➜ 8. Construction on practice facilities for baseball, softball, men's and women's basketball and golf — the latter two being part renovation, part expansion — popped up almost simultaneously this spring as Illinois' athletic "campus" continued to get a makeover.
➜ 9. Simply competing in 2020-21 was the goal amid a global pandemic, and getting creative — like a virtual men's gymnastics meet against Northern Illinois to start the season — helped the Illini succeed in that goal.
➜ 10. Jackson Raper made a splash during his lone baseball season at Illinois, with the Division II Catawba College transfer becoming just the fourth Illini since 1990 to hit for the cycle during a May 2 win against Michigan.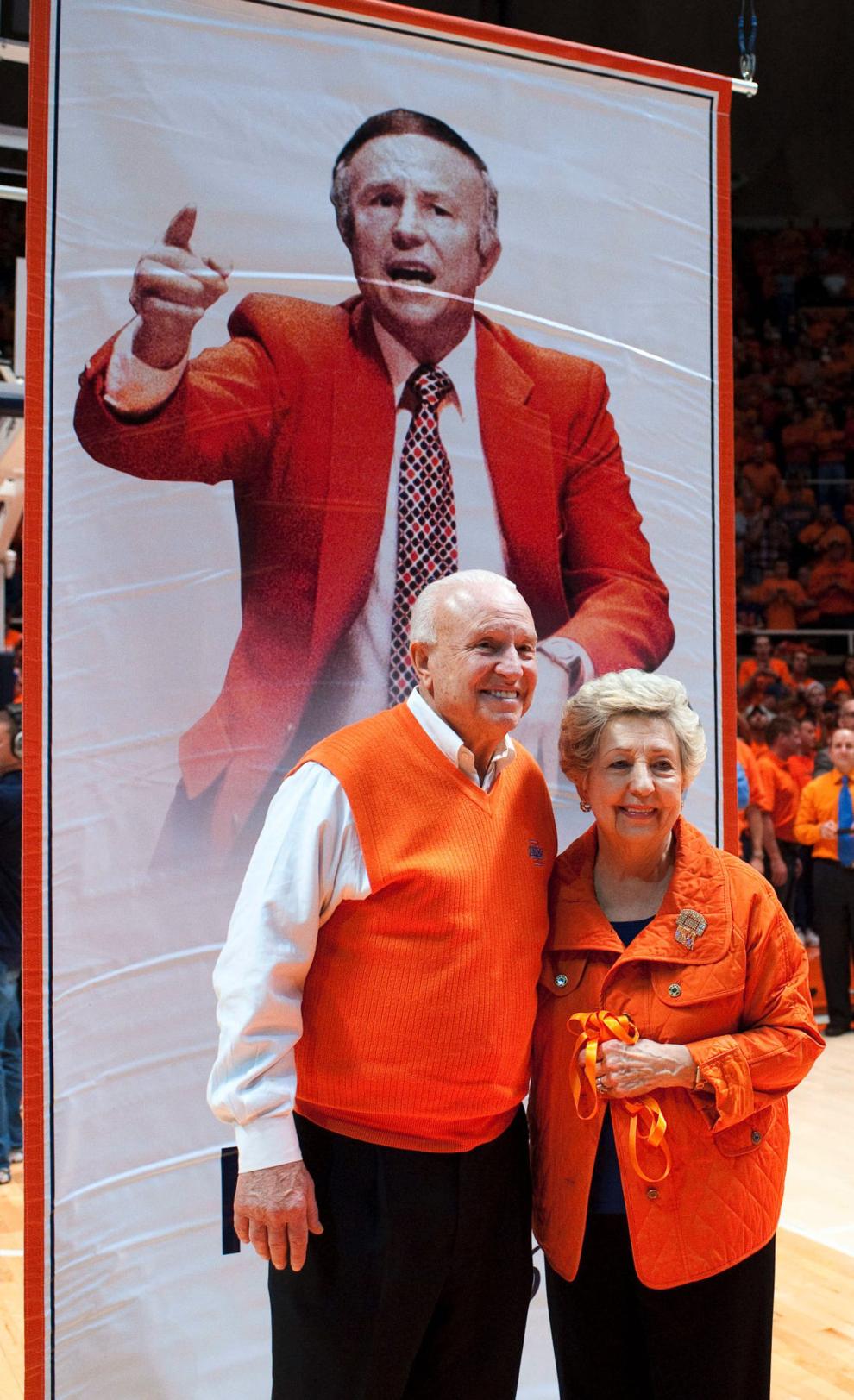 Worst moments
➜ 1. The Champaign-Urbana community, Illinois athletics and more nationwide mourned the late July death of Hall of Famer Lou Henson, who is still the winningest coach in Illini basketball history.
➜ 2. The back and forth "will they or won't they play" nature of how the Big Ten handled its fall sports last August created even more uncertainty for athletes, coaches and administrators in an already stressful time in the pandemic.
➜ 3. Outside of the few family members allowed in and postseason basketball play, the 2020-21 Illinois athletic year played out in empty stadiums, arenas and fields. The bummer of bummers.
➜ 4. Expectations were sky high for the Illinois men's basketball team all season long, and losing to Loyola Chicago in the second round of the NCAA tournament was a rough way to go out.
➜ 5. The Lovie Smith era for Illinois football ended with a thud in the form of another loss to Northwestern, which had Smith and the Illini's number in each of his five seasons leading the program.
➜ 6. Any COVID-19 related cancellation for Illinois in any sport was the result of issues elsewhere with the Illini reporting just 175 total positive cases — 122 athletes and 53 coaches and staff — from last summer on.
➜ 7. The Big Ten deciding not to host baseball or softball conference tournaments (and sticking with league-only schedules) hurt both sports when it came to competing on a national level.
➜ 8. He started every game for Illinois men's basketball this past season as a freshman, but Illini fans were left stunned — on April Fool's Day no less — when Adam Miller announced he was transferring, ultimately landing at LSU.
➜ 9. One loss among 18 for the Illinois women's basketball team this season might not seem like much, but losing to Valparaiso after getting waxed during the fourth quarter was notable for all the wrong reasons.
➜ 10. Two former Illinois basketball standouts — Bogie Redmon (who also an IHSA legend) and Bill Burwell — died during the 2020-21 season. Both starred for the Illini in the 1960s.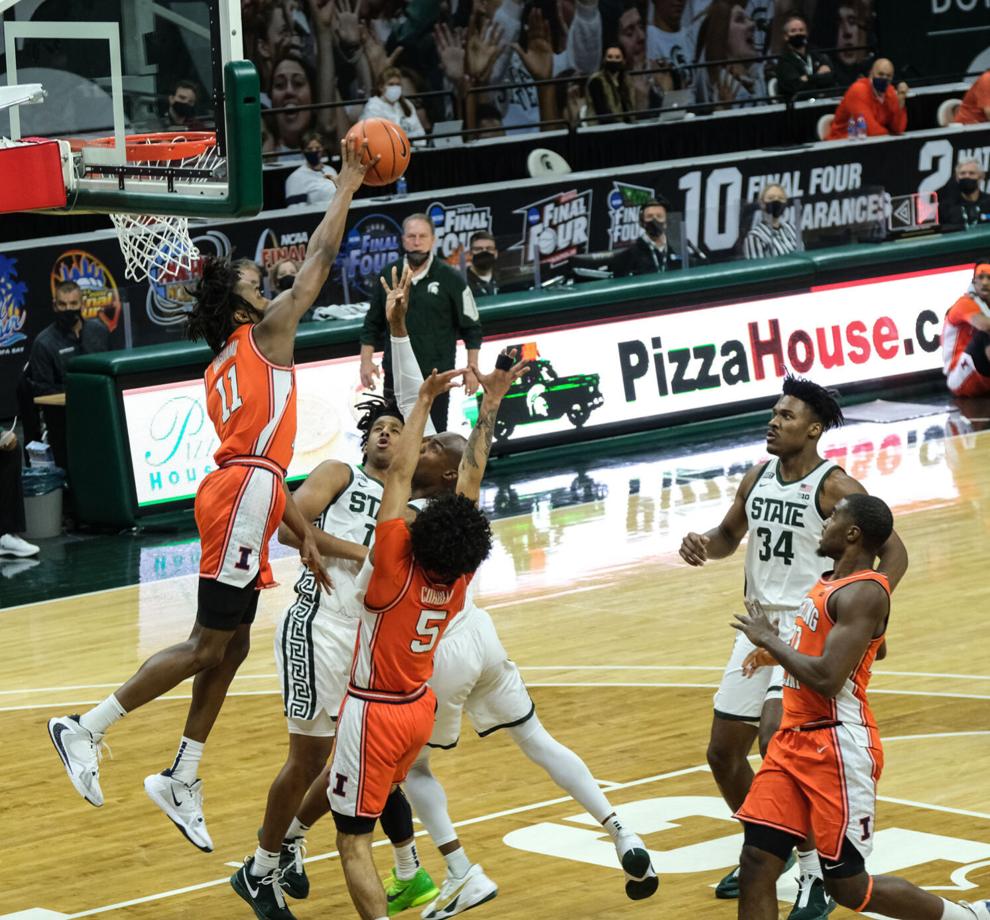 Key injuries
➜ 1. What is it about Ayo Dosunmu and Michigan State? His slip and fall against the Spartans in 2019-20 had fans worried about a serious injury, and a blow to the face by Mady Sissoko cost him three games in 2020-21.
➜ 2. Ellie Holzman returned from intramedullary nailing surgery that cost her the 2019 season only to tear her ACL in late January during the second weekend of the delayed "2020" season.
➜ 3. Alex Palczewski's streak of 40 consecutive starts was snapped in the middle of the 2020 season after he suffered a torn ACL that cost him the final four games of the year.
➜ 4. Austin Hutcherson was considered a potential X-factor for the Illinois men's basketball team heading into the 2020-21 season, but the former Division III transfer never played after suffering a season-ending back injury in the offseason.
➜ 5. Plenty of backup linebackers got a chance to put in work this spring, with Jake Hansen unavailable after a late return to the team and Tarique Barnes, Khalan Tolson and Shammond Cooper all coming off surgery following season-ending injuries in 2020.
➜ 6. It wasn't an injury, but Illinois quarterback Brandon Peters contracting COVID-19 cost him three games in an already-shortened season.
➜ 7. Aaliyah Nye emerged as a bright spot for the Illinois women's basketball team late in the 2020-21 season — a breakout that was perhaps delayed by missing five games earlier in the year with a broken toe.
➜ 8. Illinois men's gymnastics dealt with several injuries all season long, which was capped by Hamish Carter missing the Big Ten championship with a nerve injury in his neck.
➜ 9. Illinois' defensive tackle depth took a hit last fall with starters Roderick Perry II, an honorable mention All-Big Ten selection, and Jamal Woods missing six games combined because of injuries.
➜ 10. Maddie Whittington got a jump start on her Illinois volleyball career as an early entrant in January 2020 only for the pandemic to hit, and then she missed the "2020" season after appearing on crutches in the fall.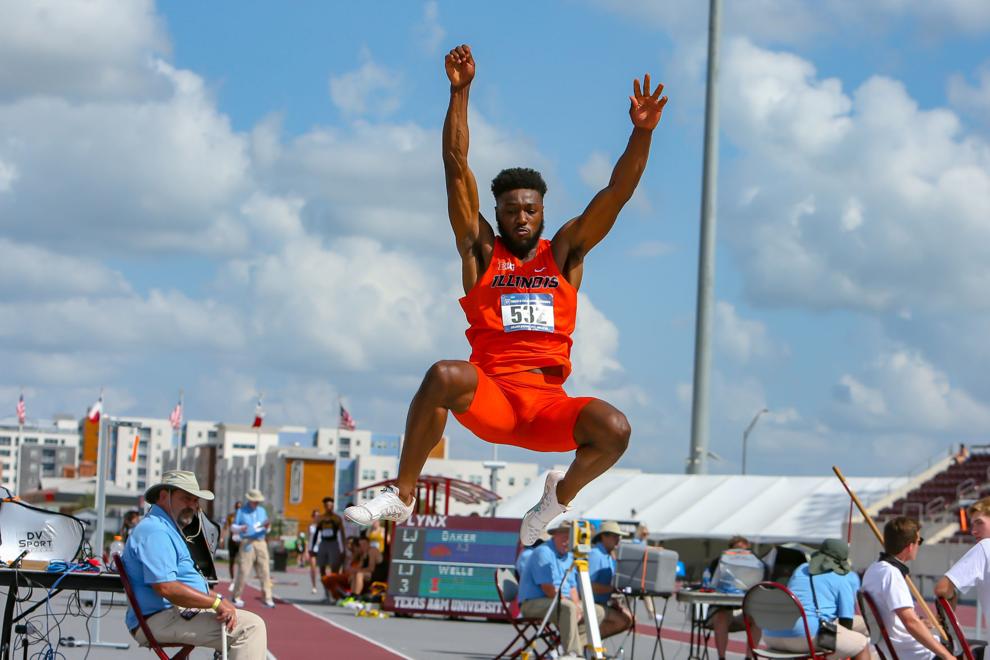 All-interview
➜ 1. Ayo Dosunmu, men's basketball. Interviews became old hat for Dosunmu given his "face of the program" status the past three seasons, and a national audience got to see his professional approach when he announced he was entering the NBA draft live on ESPN.
➜ 2. Andre Curbelo, men's basketball. The freshman guard, who gives detailed and in-depth answers to every question, wasn't made for the confines of a Zoom press conference world.
➜ 3. Mica Allison, volleyball. The former St. Thomas More star was candid in discussing how coming "home" to Illinois wasn't always easy, as she'll use her final eligibility to pursue beach volleyball somewhere else.
➜ 4. Jonathan Wells, men's track and field. It shouldn't be a surprise that Wells speaks with a profound sense of maturity about his athletic pursuits, given the amount of time the now seven-time All-American spent with the Illini.
➜ 5. Giorgi Bezhanishvili, men's basketball. Bezhanishvili might not have been "amazing" for reporters on a deadline, but his entire outlook on life — particularly through the pandemic — was a breath of fresh air.
➜ 6. Caleb Griffin, football. Griffin is still biding his time to contribute on the field, but the former four-sport Danville standout is more than willing to talk about his game, from place kicking to his new wide receiver responsibilities.
➜ 7. Rylee Hinton, volleyball. The former Champaign Central standout turned Illinois sophomore was just as open discussing social-justice issues as her developing skill set and game.
➜ 8. Luke Ford, football. It almost doesn't matter what you say when you show up on a Zoom interview wearing sunglasses and a Hawaiian shirt with several buttons undone, but Ford is still a go-to option for a good sound bite.
➜ 9. Hope Breslin, soccer. The excitement of actually getting a senior season was easy to read from Breslin — even if she and her Illini teammates had to wait six months for it to happen.
➜ 10. Chase Brown, football. Brown got a bit more time in front of Zoom media audiences than twin brother Sydney last fall after a breakout season, and he delivered earnest, thoughtful answers.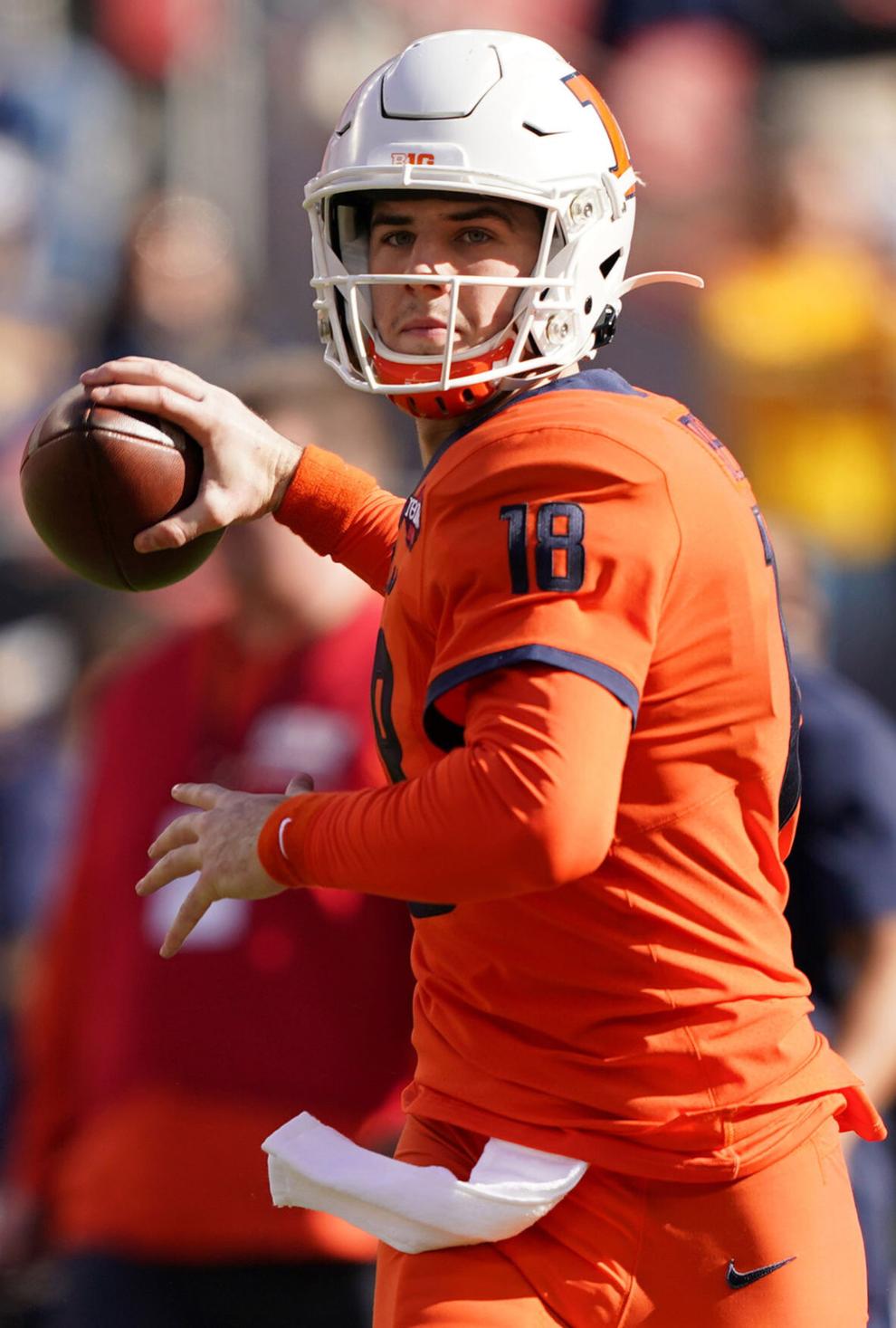 Headlines you'll see in 2021-22
➜ 1. Coach Calipari: I want Illini golf team, too
➜ 2. Goalposts dumped in Boneyard Creek after Week 0 win
➜ 3. New on Esquire menu: The Bielema Burger
➜ 4. Par 3 at challenging Stone Creek layout: 350 yards
➜ 5. Brandon Peters books Clark-Lindsey for birthday party
➜ 6. Fans complain after win
➜ 7. Fran McCaffery loses his %#@!$~#%
➜ 8. Zook on return: Nothing but fond memories for Illinoize
➜ 9. Asmussen: Illini bound for Rose Bowl
➜ 10. Jean Driscoll inducted into Illinois Hall of Fame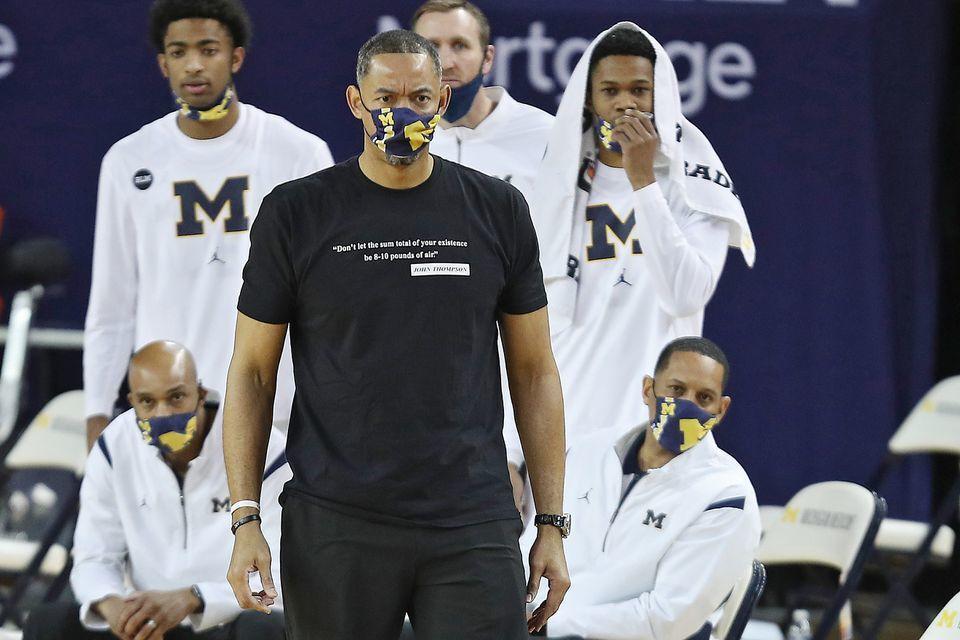 Headlines you won't see in 2021-22
➜ 1. Lovie enjoys reunion
➜ 2. Howard, Wolverines clap as Illini raise banner
➜ 3. Big Ten commish keynote speaker at Quarterback Club luncheon
➜ 4. Brad Underwood caught whispering
➜ 5. Best-selling Illini jersey: No. 44
➜ 6. Zamboni parts arrive
➜ 7. Whitman dumps Twitter account for TikTok
➜ 8. Alma otter wins Big Ten Mascot of the Year
➜ 9. Curbelo throws two-handed chest pass
➜ 10. New to Grange Grove: slot machines
Scott Richey is a reporter covering college basketball at The News-Gazette. His email is srichey@news-gazette.com, and you can follow him on Twitter (@srrichey).