TOP MALE ATHLETES
1. Devin Quinn, track and field. Fastest man in the Big Ten (ever) earned four All-American honors between the indoor and outdoor seasons.
2. Alex Diab, gymnastics. Illini senior successfully defended his NCAA rings title and became the first gymnast in program history with multiple titles on the event.
3. Aleks Kovacevic, tennis. Kovacevic became just the third Illini ever to reach the NCAA singles championship semifinals and the first since Kevin Anderson in 2007.
4. Reggie Corbin, football. Breakout redshirt junior season saw the speedy running back rush for a career-high 1,095 yards and nine touchdowns to earn All-Big Ten third-team honors.
5. Garrett Acton, baseball. Junior closer went 2-3 with a 2.18 ERA, striking out 34 in 33 innings pitched while setting Illinois' single-season saves record with 19.
6. Ayo Dosunmu, basketball. Big Ten All-Freshman Team pick was the first true freshman in program history to lead the Illini in scoring for the season, averaging 13.8 points.
7. Michael Feagles, golf. Steady junior led the team with a 70.97 stroke average and won his first tournament title at the NCAA Myrtle Beach regional with a career low 201.
8. Emery Parker, wrestling. A 24-5 record gave the Wadsworth native 86 career wins and also helped him earn All-American honors for the second straight season.
9. Michael Massey, baseball. Second baseman battled a back injury but still hit .317 with five home runs before being drafted by the Kansas City Royals in the fourth round.
10. Nick Allegretti, football. Three-year offensive line starter earned All-Big Ten second-team honors and was drafted in the seventh round by the Kansas City Chiefs.
TOP FEMALE ATHLETES
1. Jordyn Poulter, volleyball. Big Ten Co-Setter of the Year and AVCA First-Team All-American had 1,521 assists on the season — the second most in the nation.
2. Jacqueline Quade, volleyball. Breakout junior season saw Quade set career highs in kills (560) and digs (254) to also earn AVCA First-Team All-American honors.
3. Asuka Kawai, tennis. Kawai became the first Illini to reach the quarterfinals of the NCAA singles championship and just the second ITA All-American in program history.
4. Alex Wittinger, basketball. Senior led the Illini in scoring (14.7 ppg), rebounds (8.0 rpg), blocked shots (2.5 bpg), field-goal percentage (51.4 percent) and free-throw percentage (83.3 percent).
5. Ali Bastianelli, volleyball. Bastianelli's second straight AVCA Third-Team All-American honor came thanks to a senior season with 298 kills and team-leading 183 blocks.
6. Kornkamol Sukaree, golf. All Big-Ten first-team selection was Illinois' top finisher in six tournaments and led the team with a 72.62 season stroke average.
7. Mary Jane Otto, gymnastics. Team-leading 10 individual titles this season included a Big Ten bars championship at 9.975 points — the second-highest bars score in Illinois history.
8. Bella Loya, softball. Californian power hitter and third-team All-American led the team in home runs (12), RBI (48), on-base percentage (.450) and walks drawn (27).
9. Katie Murray, soccer. Two game-winning goals made up a quarter of the Illini senior's team-leading eight that went with her team-leading four assists.
10. Ling Kuhn, swimming and diving. Bloomington native became the first diver in school history to qualify for the NCAA championships on platform and placed 18th.
TOP AREA ATHLETES
1. Jon Davis, men's track and field. Oakwood grad just ran the indoor season and won a pair of 800-meter races and posted a second sub-4 minute mile for a third title in January.
2. Varun Chopra, men's golf. Former Uni High standout broke into the Illinois lineup this spring and had four top-25 finishes, including a tie for 11th at the Big Ten championship.
3. Kellen Sarver, baseball. After redshirting in 2018, the Centennial grad played in 57 games and made 55 starts (mostly at first base) and hit .269 with four home runs and 29 RBI.
4. Dominic Stampley, football. It took the Centennial grad a handful of games to get going, but he led the Illini in yards per catch and was fourth in receptions and receiving yards.
5. Arieal Scott, women's basketball. Danville grad (after stops at Schlarman and Urbana) played in 26 games (with two starts) as a true freshman and averaged 8.8 points.
6. Taylor Edwards, softball. Former Arcola multi-sport standout went 5-10 with a 4.30 ERA in the circle this spring and will play next season for the Illini women's basketball team.
7. Logan Hall, men's cross-country. Arthur-Lovington-Atwood-Hammond grad was Illini's top finisher in the first meet of the season and finished in the top four on the team in four others.
8. Emone' Davis, women's track and field. Danville grad finished second in the 100-meter dash and third in the 200 dash at the Illini Twilight meet in April.
9. Elizabeth Rumsey, swimming and diving. Centennial grad competed in six meets as a true freshman and set her 3-meter season-high diving total in the third meet of the season.
10. Justin Cardani, wrestling. Centennial grad was behind NCAA qualifier Travis Piotrowski at 125 pounds but still went 15-6 wrestling unattached.
TOP FRESHMEN
1. Ayo Dosunmu, men's basketball. Top recruit of the 2018 class made an immediate impact, leading the Illini in scoring and assists, while ranking second in steals.
2. Kornkamol Sukaree, women's golf. Sukaree's seven top-10 finishes included the NCAA regional in East Lansing, Mich., where she helped lead the Illini to the NCAA championships.
3. Adrien Dumont de Chassart, men's golf. Latest in the growing line of Belgian standouts at Illinois, Dumont de Chassart won two tournament titles, including the Big Ten championship.
4. Michael Fletcher, men's gymnastics. All-Big Ten first-team selection and Big Ten Freshman of the Year finished third in the all-around at the Big Ten team finals.
5. Giorgi Bezhanishvili, men's basketball. Georgian big man was the only player to start all 33 games and finished first in rebounding (5.2 rpg) and third in scoring (12.5 ppg).
6. Sydney Sickels, softball. Iowa native not only led the Illini and ranked fifth in the Big Ten with 19 wins, but she also tied for the Big Ten lead with five saves.
7. Cam McDonald, baseball. Big Ten All-Freshman Team outfielder (a position he had never played until this spring) hit .281 with four doubles and a team-high 34 RBI.
8. Taylor Kuper, volleyball. Defensive specialist played in all 36 matches of Illinois' Final Four run, led the team with 44 aces and finished third with 282 digs.
9. Ashley Cathro, soccer. Canadian defender earned Big Ten All-Freshman Team honors after helping anchor an Illini defense that posted seven shutouts last fall.
10. Maddie Marasco, women's cross-country. Schaumburg native had three top-10 finishes and became the first Illini freshman in seven years to earn All-Region honors.
TOP RECRUITS
1. Jerry Ji, men's golf. The two-time Dutch U21 champion currently ranks No. 73 in the World Amateur Golf Ranking, which trails only one Illini — Adrien Dumont de Chassart.
2. Ashley Yeah, women's tennis. Blue-chip recruit out of Los Gatos (Calif.) is currently ranked No. 15 and won California Central Coast Section singles titles in 2016-18.
3. Ellie Holzman, volleyball. Gatorade National Player of the Year finished her career at Mount Carmel (La.) with four state titles, 2,426 kills, 1,379 digs and 749 blocks.
4. Isaiah Williams, football. Don't call him "Juice." This Isaiah Williams goes by "One" instead, but he'll need to beat out Michigan transfer Brandon Peters to be Illinois' QB1.
5. Marquez Beason, football. The four-star athlete was mostly recruited as a defensive back, but Illinois could use his speed and athleticism at receiver and in the return game.
6. Kofi Cockburn, men's basketball. Four-star center provides a physical presence in the paint that really doesn't compare to any player the Illini have ever had.
7. Siyan Chen, women's golf. Chinese standout and five-time Florida Junior Tour Championship winner ranks 54th in the Golfweek Girls Junior Ranking.
8. Shammond Cooper, football. The Illini needed linebackers in the 2019 class and were able to add Cooper — a serious athlete and four-star recruit — out of Trinity Catholic (Mo.).
9. Grant Leader, baseball. Dan Hartleb has put together another solid recruiting class led by the Lyons Township right-hander ranked the No. 266 nationally by Prep Baseball Report.
10. Jaelyn Vickery, softball. Ranked No. 125 by FloSoftball when she signed, Bishop McNamara senior had eight home runs and 41 RBI and went 9-4 in the circle this spring.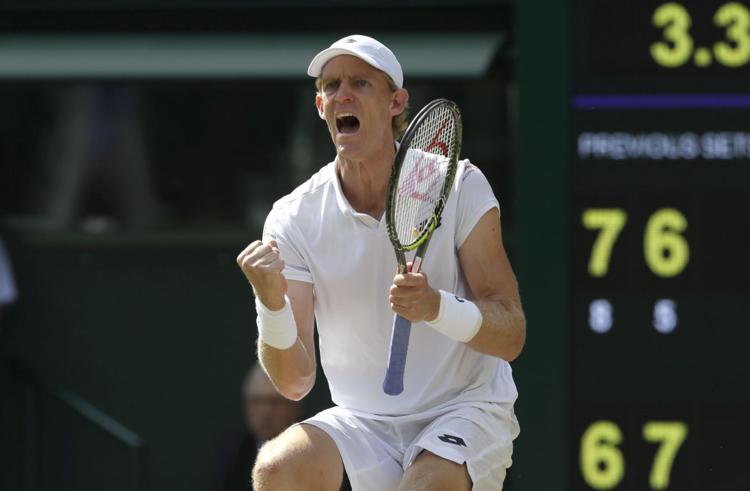 TOP EX-ILLINI
1. Steve Stricker. Ryder Cup captain vaulted to No. 2 on PGA Champions Tour money list after winning U.S. Senior Open title in South Bend, Ind., last Sunday.
2. Michelle Bartsch-Hackley. The three-time All-American was named the MVP of the inaugural FIVB Volleyball Nations League and will represent the U.S. again this month in China.
3. Kevin Anderson. The last calendar year saw Anderson, now ranked No. 8 in the world, reach the Wimbledon finals and win two other ATP events.
4. Brandon Paul. Paul caught on with Zhejiang Chouzhou in China this past season and averaged 28.4 points, 9.1 rebounds, 4.9 assists and 2.8 steals.
5. Ted Karras. Make that two Super Bowl rings for the former Illinois offensive lineman. Karras played in 13 games and started twice for New England this past season.
6. Meyers Leonard. Big man went off for 30 points and 12 rebounds in Game 4 of Western Conference Finals against Golden State. Playing for Portland. He was traded to Miami last week.
7. Isaiah Martinez. Former four-time Big Ten and two-time national champion won the U.S. Open Championship at 74 kilograms in mid-May.
8. Cody Sedlock. Injuries in 2017 and 2018 blocked Sedlock's progress in the Baltimore Orioles' system, but he's 4-0 with a 2.05 ERA and is a Carolina League All-Star this year.
9. Thomas Pieters. Former NCAA golf champ has three top-25 finishes on the PGA Tour this season and four more on the European Tour, including a tie for sixth at the Oman Open.
10. Scott Langley. Also a former NCAA golf champ, Langley had a good start to 2019 after tying for 12th at the Desert Classic and finishing sixth at the AT&T Pebble Beach Pro-Am.
MILESTONES
1. No Big Ten sprinter — ever — ran a faster 100 meters than Devin Quinn's 10.01 second race in the NCAA semifinals. The previous record holder? Former Illini Andrew Riley.
2. Jon Davis has now run the two fastest indoor miles in Illinois history, with his time of 3 minutes, 58.06 seconds on Jan. 19 in Iowa City breaking his own record from a year ago.
3. Ali Bastianelli wrapped up her career as a four-year starter for Illinois volleyball with 685 block assists and 750 total blocks — both new program records.
4. Two-time NCAA champion Alex Diab's fourth Big Ten rings title was a first in program history and made him just the second Big Ten gymnast to claim a career sweep on one event.
5. Alex Wittinger blocked four shots in the final game of her career to finish the season with 75 blocks and 274 for her career to pass Karisma Penn (271) for the program record.
6. While Jordyn Poulter's 5,156 career assists ranked her third all-time in Illinois volleyball history, she was the first setter to pass both 400 blocks and 1,000 digs.
7. Illinois closer Garrett Acton not only blitzed past Tyler Jay and Joey Gerber's single-season saves record, but his 19 saves this spring also set a new Big Ten best.
8. Deon Thomas' single-game scoring record for an Illinois freshman stood for 29 years before Giorgi Bezhanishvili broke it with a 35-point performance against Rutgers.
9. Reggie Corbin tied Buddy Young's 1944 season with four rushes of 70-plus yards this season, which included touchdown runs of 72 and 77 yards against Minnesota.
10. Kornkamol Sukaree tied teammate Bing Singhsumalee's single-round program record with a 6-under 66 at the Westbrook Invitational in February.
COACHES OF THE YEAR
1. Chris Tamas, volleyball. Tamas has set the bar pretty high in just two years with the Illini, reaching consecutive Sweet 16s and making the Final Four last season.
2. Renee Slone, women's golf. It's official. Illinois is a golf school, as the Illini Hall of Famer had her team within two strokes of making match play at the NCAA championships.
3. Mike Small, men's golf. Small experimented with his lineup more this spring than he ever had before but still found the right group to win a fifth straight Big Ten championship.
4. Dan Hartleb, baseball. Hartleb managed to mesh several freshmen with the veteran core of his team to finish in the top tier of the Big Ten and get back to the NCAA tournament.
5. Brad Dancer, men's tennis. Another season, another NCAA tournament appearance. This year's postseason play marked the 14th tourney berth in Dancer's 14 seasons.
6. Evan Clark, women's tennis. Clark's 2017 recruiting class continues to pay off. Led by NCAA singles quarterfinalist Asuka Kawai, that group has two NCAA tourney berths so far.
7. Janet Rayfield, soccer. Mired near the bottom of the Big Ten in 2016 and 2017, Rayfield got the Illini back above .500 last fall and at least contending for an NCAA tourney bid.
8. Tyra Perry, softball. Big Ten struggles, including a 9-14 record in conference play, were the only real blemish on the third NCAA tournament team in Perry's four seasons.
9. Jim Heffernan, wrestling. The Illini sent a half-dozen wrestlers to the NCAA championships, and four of them won multiple matches in Pittsburgh.
10. Nadalie Walsh, women's gymnastics. Following a runner-up finish at the Big Ten championship, the Illini competed in their 32nd NCAA regional.
MOST IMPROVED
1. Reggie Corbin, football. No Illini in any sport made as big a jump between seasons. Corbin topped his 2017 season rushing total in the first game of 2018.
2. Morgan O'Brien, volleyball. Illinois' full-time libero last fall, the two-time N-G All-State first-team selection set career highs in digs (571) and aces (28).
3. Varun Chopra, men's golf. Chopra only competed individually in 2017-18 but was in the lineup seven times this past season, including the Big Ten and NCAA championships.
4. Megan Cooney, volleyball. Save for one weekend playing outside hitter, Cooney proved she was a threat at opposite with a career-high 343 kills to rank second on the team.
5. Jack Yalowitz, baseball. This spring was a serious bounce back for the Illini outfielder after his junior year swoon. The 10th-round MLB draft pick hit 79 points higher in 2019.
6. Katie Murray, soccer. Illinois' scoring leader last fall had more goals in her final season (eight) than she did in the first three seasons of her career combined (five).
7. Vuk Budic, men's tennis. The onetime Champaign native won 22 singles matches in his first two seasons before going 20-9 this spring when the Illini needed someone to step up.
8. Kylie Noonan, women's gymnastics. Illini sophomore earned All-Big Ten second-team honors this spring after winning four individual event titles, including three on floor exercise.
9. Rhein Trochim, softball. Mostly a pinch runner as a true freshman in 2018, Trochim found a home in right field this spring and hit .328 after starting 25 of 48 games.
10. Eric Barone, wrestling. The redshirt junior went 18-14 at 157 pounds and got back to the NCAA championships after qualifying as a redshirt freshman and missing out last season.
BEST CROWDS
1. No surprise that a sellout crowd of 15,544 filled State Farm Center for a Feb. 23 game against Penn State that doubled as the 30th anniversary celebration of the Flyin' Illini.
2. Technically the third sellout of the year, the 4,152 fans at Huff Hall for the Elite Eight volleyball win against Wisconsin on Dec. 8 just somehow felt like more.
3. A sellout crowd of 4,152 at Huff on Nov. 10 saw the Illinois volleyball team get its first win against Penn State since 2014 and firmly plant the Illini flag among the Big Ten's elite.
4. Getting high-major teams to State Farm Center is a good thing for Illinois men's basketball, which the 14,656 fans at the Georgetown game on Nov. 13 helped illustrate.
5. With Champaign Central grad Tanner Gordon on the mound for Indiana, a season-high 2,779 fans showed up at Illinois Field on May 4 for a 3-1 Illini victory.
6. A Homecoming crowd of 41,966 on Oct. 13 was tops for Illinois football in 2018 — by more than 2,700 compared with the next closest. The Boilermakers won 46-7.
7. A season-high 1,107 fans flocked to Illinois Soccer Stadium for Soktoberfest, but the Illini lost 2-1 in overtime to No. 20 Penn State on Sept. 22.
8. The best crowd of the spring — 1,023 strong — turned out at Eichelberger Field for a Big Ten doubleheader against Minnesota on April 6 with Illinois earning a split. 
9. Illinois women's basketball's "Pack the House" promotion is always good for the best crowd of the season, although the 3,019 in attendance on Jan. 20 saw a 94-75 Iowa win.
10. Official attendance figures weren't announced, but Grange Grove was packed when Illinois wrestling took on Missouri outdoors in the inaugural Grapple in the Grove on Nov. 3.
WORST CROWDS
1. Given no attendance was listed for the morning match against Lipscomb on Sept. 15, the lowest turnout for the Illini volleyball team was 2,003 to see them sweep Maryland on Oct. 24.
2. Just 502 fans made it out to Illinois Field for the penultimate regular season game against Purdue on May 11, but the fact it was 50 degrees and rained might have kept some people home.
3. Soldier Field was at just 35 percent capacity for Illinois football's loss to South Florida on Sept. 15, and that 21,725 attendance mark included a bigger-than-you'd-expect contingent of Bulls' fans.
4. Just 31,898 fans made it to Memorial Stadium for Illinois football's season opener against Kent State on Sept. 1, but at least they got to see one of the Illini's four wins.
5. There's a reason Illinois men's basketball has put the kibosh on playing games at the United Center for the time being. Just 5,285 fans at last year's game against Ohio State on Dec. 5 is that reason.
6. The Illini men's basketball team at least hung with No. 2 Michigan in a 79-69 loss, but that Jan. 10 game saw an announced crowd of just 10,770 at State Farm Center.
7. Turns out Indiana State women's basketball isn't exactly a great draw. Only a season-low 981 fans saw four Illini finish in double figures in a 75-57 victory on Dec. 5.
8. Murray State isn't much better. Five more fans — for a grand total of 986 — were on hand at State Farm Center for Illinois' 84-52 thrashing of the Racers on Dec. 11.
9. The weather was fine (cloudy and 61 degrees), but the mid-week start time wasn't (3 p.m.) when a season-low 157 fans hit Eichelberger Field for Illinois softball's 7-0 win against DePaul on April 30.
10. Just 406 fans came out to Illinois Soccer Stadium to see the Illini play Ohio State on Sept. 20, and despite Illinois keeping the pressure on, the Buckeyes went home with a 2-0 win.
ALL-INTERVIEW TEAM
1. Giorgi Bezhanishvili, men's basketball. It will take Bezhanishvili's graduation (or turn to pro basketball) to unseat the gregarious Georgian as the best interview on campus.
2. Beth Prince, volleyball. That Prince is a communications major makes a lot of sense. She'll discuss anything volleyball related and lights up talking about her time on campus.
3. Nick Allegretti, football. Team success was few and far between during Allegretti's career, but he never ducked an interview request even when it would have been easy to avoid the media.
4. Garrett Acton, baseball. Acton can discuss spin rate and how it relates to and impacts his 94 mph fastball in a way that's actually fairly easy to understand.
5. Jordyn Poulter, volleyball. The Illini setter was always refreshingly honest about how well she and her team were playing.
6. Jaelyn Cunningham, soccer. Don't need much time with the Illinois goalkeeper (except in transcription). She treated interviews like her time on the field — with energy to spare.
7. Jack Yalowitz, baseball. It would have been easier for Yalowitz to pretend his junior season never happened, but he spoke honestly about how it affected and motivated him.
8. Alex Wittinger, women's basketball. The Illini senior certainly got lots of practice at the microphone in her career given she led the team in scoring in her final three seasons.
9. Kiana Sherlund, softball. The veteran center fielder's maturity shined through just as much when she discussed her game as when she showed out on the field.
10. Verdis Brown, football. Brown displayed his sense of humor when discussing his move from defensive to offensive line as the question everybody had about him.
BEST MOMENTS
1. The first dagger three-pointer wasn't enough, so Ayo Dosunmu hit another as Illinois beat No. 9 Michigan State and the Orange Krush stormed the court in celebration on Feb. 5.
2. A packed house. Multiple alums in the building. Big Ten rivals across the net. Illinois volleyball's Elite Eight win against Wisconsin came in an electric atmosphere.
3. Isaiah Williams was committed for 272 days before he signed with Lovie Smith and Illinois just before Christmas, giving the Illini their quarterback of the future (or maybe present).
4. Beating the Spartans was actually Illinois' second Top 25 upset in 10 days after Dosunmu dropped 20 points, Tevian Jones had 18 and the Illini beat No. 13 Maryland in NYC on Jan. 26.
5. Devin Quinn's 100-meter time of 10.01 seconds at the NCAAs on June 5 meant even more than new Big Ten record. It was also the 13th fastest time in the world this year.
6. Illinois women's basketball coach Nancy Fahey's first career Big Ten win — an upset at No. 12 Minnesota on Jan. 6 — snapped a 29-game regular-season conference losing streak.
7. Michael Feagles' first career tournament win was a big one. The Illinois junior golfer shot 15-under to claim the NCAA regional title in Myrtle Beach, S.C., by one stroke on May 15.
8. Big Ten wins came at a premium this spring for Illinois softball, so Katie Wingerter's two-run, walk-off home run to beat perennial power Minnesota on April 6 was extra special.
9. The team seasons might have ended earlier than preferred, but Asuka Kawai and Aleks Kovacevic making deep NCAA singles runs in late May gave extra life to the Illinois tennis programs.
10. Illinois soccer hadn't beaten a ranked opponent since 2016 heading into last season. By the end of August, Janet Rayfield's Illini had two such wins (Duke and Oklahoma State).
WORST MOMENTS
1. Lovie Smith got the phone call no coach ever wants to receive after junior defensive end Bobby Roundtree suffered a severe spinal injury on May 18 in Florida.
2. Illinois football fans streamed out of Memorial Stadium in mid-November as Iowa handed the Illini their most lopsided loss since 1906 in a 63-0 blowout.
3. That Missouri snapped Illinois' five-game Braggin' Rights streak on Dec. 22 was one thing. That the Tigers did so with Jeremiah Tilmon leading the way (plus Mark Smith and Javon Pickett) is another.
4. This could have been one of those years for Illini baseball with a veteran core and talented young players. Early exits in the Big Ten and NCAA tournaments said otherwise.
5. Illinois women's basketball at least got on the board in Big Ten play this season, but a nine-game losing streak in the heart of the schedule was part of a 1-15 finish to the year.
6. Home basketball games against mid-major teams are supposed to be wins. Supposed to be, of course, the operative word. Florida Atlantic went home with a 73-71 overtime win on Dec. 29.
7. Early struggles only snowballed for the Illinois men's golf team at the NCAA championships, as the Illini's 12th straight appearance ended with a tie for 27th.
8. Jeff Thomas, A.D. Miller and Dejon Brissett were all supposed to be key additions for the Illinois football team — until they weren't. Thomas staying at Miami stung the most.
9. Plenty of football players received waivers to play right away in 2019, but not Luke Ford. Illinois will have to go on without arguably its top tight end this fall.
10. True to recent form, Illinois football has just three 2020 commits with the 2019 season starting in a month. Smith's last three classes have ranked 53rd, 53rd and 46th nationally.
KEY INJURIES
1. Forget about what it might mean on the football field for Illinois. Bobby Roundtree's severe spinal injury this spring will have a profound impact on the 21-year-old's life.
2. Mikey Dudek just simply couldn't catch a break. Healthy heading into his final season last fall, the Illini wide receiver played just one game before a third season-ending knee injury.
3. Freshman wide receiver Edwin Carter made a splash in his Illinois debut — catching two touchdowns against Western Illinois on Sept. 8 — and suffered a season-ending knee injury.
4. The Illini baseball team could have used junior shortstop Ben Troike during their postseason, but he missed the final 12 games of the season with a broken thumb.
5. Foot injuries have plagued running back Mike Epstein his entire career at Illinois, with five games on the sidelines last fall making for 12 in his first two seasons.
6. Illinois women's basketball shot just 31.2 percent from three-point range as a team — a mark that could have been improved if not for Petra Holesinska's torn ACL that cost her the season.
7. Michael Massey was still able to start as Illinois baseball's designated hitter, but a back injury kept the Gold Glove-winning second baseman out of the field for 28 games.
8. AJ Bush Jr. missed two games and came off the bench in a third following a hamstring injury in the second game of the season, which might have swung the South Florida game.
9. Trent Frazier missed Illinois basketball's loss to Georgetown with a concussion and then dealt with a nagging foot injury the latter part of the season that affected his mobility.
10. Beth Prince missed the opening weekend of the Illinois volleyball season and dealt with same shoulder issue most of the season but still produced with 310 kills.
MOST IMPORTANT TRANSFERS
1. Garrett Acton, baseball. Stopover at Parkland following one season at Saint Louis got the Illinois closer on track, and he certainly produced in the ninth-inning role for the Illini.
2. AJ Bush Jr., football. Third FBS school was a charm for the former Nebraska and Virginia Tech quarterback, who ended his lone season in C-U as the Illini's second-leading rusher.
3. Andres Feliz, men's basketball. Junior college All-American took a little time adjusting to the Big Ten, but he found his form in the final weeks of the season.
4. Brandon Peters, football. Peters didn't commit to Illinois to not start at quarterback, but the drop-back passer from Michigan will have to compete with Isaiah Williams.
5. Luke Ford, football. Top prospect in the state of Illinois in 2018 barely played at Georgia, but tight end will have to sit out 2019 season after NCAA denied his hardship waiver.
6. Ashlyn Fleming, volleyball. Illinois had a clear rotation need heading into the 2018 season, which it filled by adding the University of Pacific middle blocker in July.
7. Richie Petitbon, football. Nick Allegretti exhausting his eligibility opened a major hole on the Illinois offensive line, which the Alabama grad transfer started filling this spring.
8. Oluwole Betiku Jr., football. Illinois didn't necessarily need more defensive line depth when the USC grad transfer committed, but Bobby Roundtree's injury makes Betiku a big get.
9. Trevon Sidney and Josh Imatorbhebhe, football. The Illini did need help at wide receiver heading into 2019, which the former four-star recruits at USC could provide this fall.
10. Joey Gunther, wrestling. The redshirt junior followed consecutive NCAA championship appearances at Iowa with a third representing the Illini this March.
MOST PUBLICIZED
1. Brad Underwood, men's basketball. He's the head coach of the most popular team on campus. Of course, the bad (21 losses; an investigation into his behavior) came with any good.
2. Lovie Smith, football. Nine wins in three seasons hasn't affected Smith's job security considering his two-year extension at the end of the 4-8 2018 campaign.
3. Josh Whitman, athletics. Athletic director hasn't seen much success come in the two big sports, but most of his other programs are thriving. He's trying to add hockey and improve facilities, too.
4. Ayo Dosunmu, men's basketball. Dosunmu mostly lived up to the expectations heaped upon him in the year before he even arrived on campus as the Illini's top scoring option.
5. Giorgi Bezhanishvili, men's basketball. The Georgian big man with an even bigger personality became an instant hit among Illinois fans. His Q-Rating has to be insane.
6. Men's basketball recruiting. It's sort of a common feeling that if you ask Illinois fans their favorite sports they'll say basketball and then basketball recruiting. It never stops.
7. Isaiah Williams, football. The four-star quarterback out of St. Louis has yet to take a single snap for the Illini, but that doesn't mean the hype train isn't already rolling.
8. Rod Smith, football. Home run hire for Lovie Smith. The first-year offensive coordinator injected life into what had been a rather moribund Illinois offense before he got to C-U.
9. Reggie Corbin, football. Consider Corbin the No. 1 beneficiary of Illinois' change at offensive coordinator. Given more opportunity — again — Corbin certainly delivered.
10. AJ Bush Jr., football. The transfer quarterback wasn't even around a full calendar year, but as soon as he started playing like QB1 last August, he was the guy.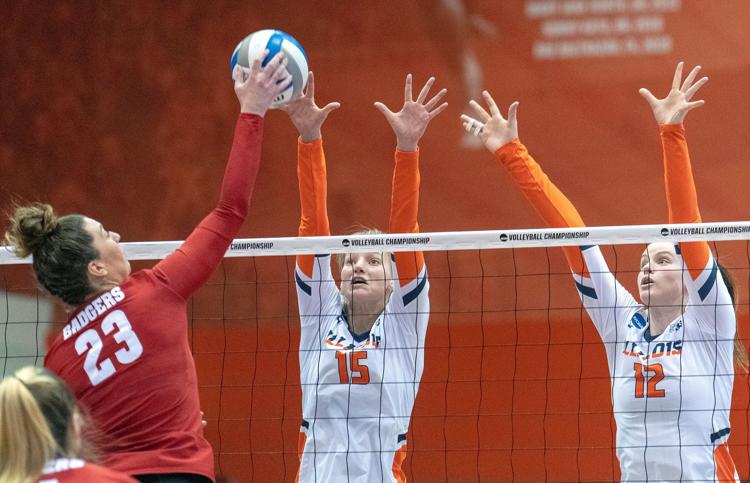 DESERVED MORE PUB
1. Megan Cooney, volleyball. While teammates like Jacqueline Quade and Jordyn Poulter might have generated more headlines, Cooney's 343 kills was second best for the Final Four team.
2. Devin Quinn, men's track and field. It's worth mentioning again. Only 12 other sprinters — in the world — have run a faster 100 meters than the Florida native.
3. Ashlyn Fleming, volleyball. The Illini needed a second middle blocker to pair with Ali Bastianelli, and Fleming played All-Big Ten second-team-caliber volleyball to do just that.
4. Carly Thomas, softball. All Thomas did in her career was hit better than .300 and play terrific outfield defense — both of which she continued in her senior season.
5. Hamish Carter, men's gymnastics. To be fair, the Scottish gymnast didn't arrive in C-U until the second semester, but the Illini freshman did win the Big Ten high bar title.
6. Andy Fisher, baseball. Lefty strung together quality start after quality start while leading Illinois in wins (seven), starts (16) and innings pitched (101 1/3).
7. Shaylah Scott, women's gymnastics. Texan had a breakout freshman season with three beam titles and already has the eighth-best score in program history in the event.
8. Travis Piotrowski, wrestling. The junior out of Crystal Lake not only made it back to the NCAA championship at 125 pounds, but he was also Illinois' wins leader with 20.
9. Gabriele Serniute, swimming and diving. Illini senior broke two program records in the Big Ten championship, including her time of 1 minute, 1.99 seconds in the 100 breaststroke.
10. Cory Patterson, football. If Illinois lands Mookie Cooper and Jalen St. John to go with Isaiah Williams, Shammond Cooper and Reggie Love, the Patterson hire has paid itself off.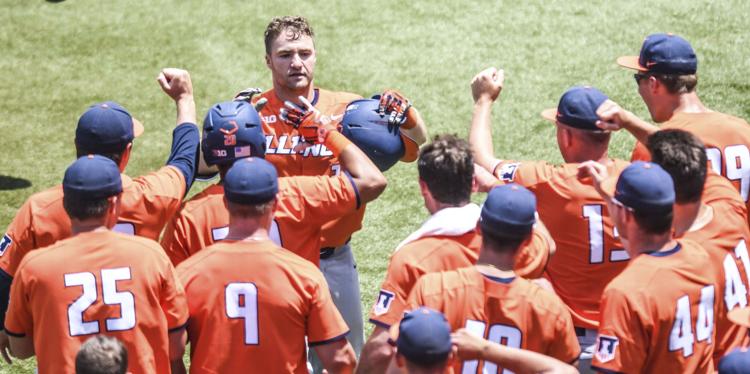 TOP ILLINI ON SOCIAL MEDIA
1. Chris Tamas, volleyball. No one interacts with the fan base quite as much as Tamas, who also has found every "dab" GIF to celebrate a new commit on Twitter (@coachtamas).
2. Giorgi Bezhanishvili, men's basketball. Bezhanishvili doesn't have a Twitter account, which is a shame, but you can follow his life in photographs on Instagram (@gforestdrop).
3. Rod Smith, football. Come for the celebratory Ric Flair GIFs on Twitter (@IlliniRSmith) ... and stay for the celebratory Ric Flair GIFs.
4. Ayo Dosunmu, men's basketball. Dosunmu doesn't tweet all that much (@AyoDos_11), but his favorites and retweets don't reflect that at all.
5. Ali Bastianelli, volleyball. The Illini senior usually had a spot-on pun ready for her gameday Instagram posts she shared on Twitter (@Big_Al_5).
6. Jamal Woods, football. The video the defensive tackle posted on Twitter (@jmal4425) projecting a bowl game in 2019 — plus some dancing — drew nearly 3,000 favorites.
7. Illinois baseball. Only one team account (@IlliniBaseball) tweeted out videos with an adorable puppy running around Illinois Field this spring.
8. Taylor Edwards, softball/women's basketball. First tweet (@ttaylor_edwards) as an Illini basketball player highlighted the punishment a VersaClimber can deliver.
9. Jaelyn Cunningham, soccer. Illini goalkeeper's retweets only enhance her own (@J_cunningham23), which show off a finely honed sense of humor.
10. Lou Hernandez, football. The Illinois football strength and conditioning coach (@Loustrength) is back for second stint in C-U. And the videos he posts are worth a watch.
HEADLINES YOU'LL SEE IN 2019-20
Whitman: 'Let's do that hockey'
Volleyball back in Final Four
Men's golf wins Big Ten title
Cockburn breaks State Farm Center backboard
Frazier joins 1,000-point club
Stricker names Small to Ryder Cup staff
Ayo hits the NBA lottery
Acton breaks saves record ... again
"One" starts football opener
Underwood signs under-the-radar Euro
HEADLINES YOU WON'T SEE IN 2019-20
Lovie: 'Beard too scratchy, I'm shaving it'
Underwood, refs share pleasant moment
Giorgi joins Ayo in NBA draft pool
Whitman: 'We're done with facility upgrades'
Spring sports stumble down the stretch
Illini fans praise Tate for positivity
Trustees approve new mascot — Alma Otter
Khan donates for hockey, gets name on building
Illini celebrate holidays with bowl trip
Smith, Tilmon met with standing ovation at Braggin' Rights game