Illinois drops two more spots in poll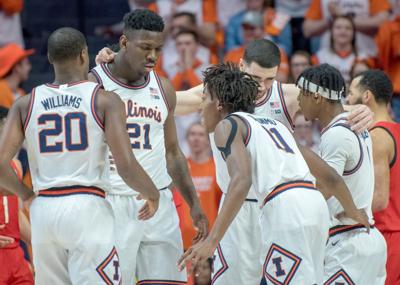 Consecutive losses to Iowa and Maryland — both ranked — wasn't enough to knock Illinois from the latest Associated Press Top 25. The Illini (16-7, 8-4 Big Ten) were ranked No. 22 in the newest poll released Monday, dropping two spots from last week.
Tuesday's rematch with Michigan State won't be, however, a top 25 showdown. The Spartans (16-8, 8-5), in the midst of a three-game losing streak, dropped out of the AP Top 25. Michigan State was the top team receiving votes, 36 points behind No. 25 LSU.
***
CHAMPAIGN — Illinois will take a two-game losing streak into Tuesday's rematch with Michigan State. Will the Illini still be ranked? Will the Spartans?
The two teams once tied atop the Big Ten standings have lost five in a row combined. Michigan State (16-8, 8-5 Big Ten) hasn't won since a Jan. 29 home blowout of Northwestern. Illinois (16-7, 8-4) is on its first losing streak since dropping early December games to Miami and Maryland back to back.
Based on where they fell in last week's AP Top 25 — and how other ranked teams fared last week — both teams still have a fairly good likelihood of being ranked come Tuesday's 8 p.m. showdown at State Farm Center. But probably just barely.
Michigan State and Illinois check in at Nos. 24 and 25 on my ballot this week. Both were helped by several other AP Top 25 teams losing at least one game in the past week. The here and now doesn't look as good for either, but there's still weight in the number of quality wins both programs have accumulated in the season as a whole. That's where the Illini's blitz through January and seven straight wins still has value.
Staying ranked moving forward, though, only comes with more wins. Illinois faces a vital portion of its season in the next week-plus with Tuesday's home game against Michigan State, a trip to play at Rutgers (where the Scarlet Knights remain unbeaten this season thanks to Northwestern's Sunday collapse) and a visit to suddenly white hot Penn State.
A double bye in the Big Ten tournament is still on the table for Illinois. The Big Ten title, too. But only with more wins.
This week's ballot
1. Gonzaga
2. Baylor
3. San Diego State
4. Kansas
5. Louisville
6. Duke
7. Dayton
8. Florida State
9. Auburn
10. Maryland
11. Seton Hall
12. Kentucky
13. Penn State
14. Oregon
15. West Virginia
16. Colorado
17. Houston
18. Iowa
19. LSU
20. Marquette
21. Creighton
22. Butler
23. Villanova
24. Michigan State
25. Illinois