CHAMPAIGN — Texas-San Antonio was the first opponent the Illinois football team was supposed to play during the 2021 season.
Eyes in Champaign-Urbana would likely tune in for the nonconference game. Perhaps others throughout the state and various pockets of the country.
Now, Irish eyes will center on the Illini. And maybe even those in various other parts of the world.
Because Illinois is kicking off the 2021 football season against Nebraska. In Ireland.
The Illini and Cornhuskers will meet on Aug. 28, 2021 at Aviva Stadium in Dublin, the Illinois athletic department announced on Monday shortly after informing the Illinois football team in a meeting at the Smith Center. This marks the first football game Illinois will play outside the United States.
"It's an exciting day," Illinois athletic director Josh Whitman said Monday during an appearance on 'Monday Morning Quarterbacks,' on WDWS 1400-AM in downtown Champaign. "Great opportunity for our football program, for our football student-athletes. It's one of those things as I talked with the team (Monday) morning, a lot of our student-athletes get the chance to travel overseas. Football, because of their schedule, they don't get the chance to do that. Ever. It's a great privilege for us to be asked to be included in this game."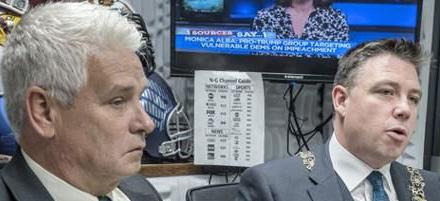 Fewer home games in 2021
Illinois won't face Nebraska in Champaign again until the 2023 season in order to play the game in Ireland. The two teams were initially slated to play at Memorial Stadium on Nov. 13, 2021, but that Saturday in 2021 will now serve as one of two bye weeks for the Illini that season.
"Giving up a home football game here at Memorial Stadium, of course, is not a decision that we make easily," Whitman said. "We value our home football games here. I was reluctant to do any cross-division games. Those games, obviously, don't come here very often. It was important to me that we continue to have those games played here at Memorial Stadium. A divisional foe, a team that comes here every other year, was more attractive to me."
Illinois will now only have six games at Memorial Stadium during the 2021 season — UTSA on Sept. 4, Maryland on Sept. 18, Charlotte on Oct. 2, Wisconsin on Oct. 23, Rutgers on Oct. 30 and Northwestern on Nov. 27 — instead of seven games at home, with almost a month in between games played in Champaign.
"Irish American Events and their many partners have been able to put together a package that makes us whole," Whitman said. "We're able to move through it without having to be concerned about the loss of revenue that's generated by a single game. I appreciate their partnership on that."
Whitman said the Marching Illini, who were the first American marching band to perform in the St. Patrick's Day Parade and has made trips to Dublin seven times, will travel to Ireland for the game. Marching Illini director Barry Houser is all for the trip.
"They're frequent guests over in Ireland," Whitman said. "When we talked with Barry, he was ecstatic for the chance to go over again."
Two years in the making
This marks the fourth time this decade Illinois gave up a home game to play a game at a neutral site. The first three were all at Soldier Field in Chicago against Washington (2013), Northwestern (2015) and South Florida (2018). Illinois played at Washington in 2014 and at South Florida in 2017, while Northwestern hosted Illinois both in 2014 and 2016, sandwiched around the Big Ten game at Soldier Field.
Recent neutral-site games haven't treated Illinois well, with the Illini compiling a 1-10 record in such games during the last 25 seasons. The lone win in that span was a 48-27 triumph against Northwestern on Nov. 20, 2010 at Wrigley Field in Chicago.
Whitman said conversations to play in Ireland began almost two years ago. John Anthony, of Irish American Events Limited, approached Whitman about the chance for the Illini to play in Ireland. The Illinois-Nebraska game will be the second game of a five-game series featuring college football games in Ireland, starting with Notre Dame-Navy on Aug. 29, 2020.
"When we were looking for year two, this is where I started," Anthony said. "Illinois has so many ties as a university with Ireland. Chicago is about the most Irish city in the country. And it just seemed like a natural place to start this conversation and where we could go with it."
Paul McAuliffe, the Lord Mayor of Dublin, said the reception from the Illinois football team after meeting with them Monday morning "was amazing to feed off."
"They were really excited," McAuliffe said. "They were all in the theater. Josh broke it to them and there were a lot of very happy faces in the room."
Nebraska leads the all-time series 13-3-1 against Illinois and defeated the Illini 42-38 on Sept. 21 earlier this season at Memorial Stadium in front of a season-best crowd of 44,512. The Illini, who are 2-4 and 0-3 in the Big Ten this season entering Saturday's 11 a.m. homecoming game against No. 6 Wisconsin (6-0, 3-0), are averaging 36,800 fans through four home games at Memorial Stadium this season. That ranks 13th in the 14-team Big Ten, only ahead of 1-5 Rutgers (34,305).
The kickoff against Nebraska in 2021 will also mark the earliest game on the calendar to start an Illinois football season. Illinois is 4-4 all-time in August games, winning the last three.
"As we started talking about this, to me, it just made a lot of sense," Whitman said. "Great chance in Week Zero to have the eyes of the football world upon us. There won't be a lot of other games that weekend, so a chance for us to really stand up and show people what Illinois football is about."
Game week preparation
The Illini plan to fly Tuesday night the week of the game, arriving in Dublin early Wednesday morning before going through practices and experiencing Dublin the next three days before that Saturday's kickoff.
A kickoff time has not been determined yet — Dublin is six hours ahead of Central Standard Time — but both Whitman and Anthony said the game will likely kick off between 11 a.m. and 1 p.m. CST, depending on what TV network is broadcasting the game.
"The great thing about Dublin is it has all the benefits of being a capital city, but it has all the intimacy of being a small city," McAuliffe said. "When college football comes to Dublin, everyone's doors open. That's what Nebraska and Illinois will expect when they come here."
Four college football games have taken place in Ireland since 1996, with Notre Dame beating Navy in 1996 and 2012. The latter game between the two teams was at Aviva Stadium. The venue seats 51,700 and opened in 2010.
Penn State defeated Central Florida on a last-second field goal in 2014 at Croke Park in Dublin, and Georgia Tech squeaked out a victory against Boston College in 2016 at Aviva Stadium.
ESPN's "College GameDay" will broadcast before the Notre Dame-Navy game in 2020, the first time that show will be done outside the U.S. No word yet on if ESPN's popular pregame show will make another trek to Ireland in 2021, but Whitman is all for this upcoming experience.
"It's just a tremendous opportunity, not just for the football program, but for the entire university and everybody who's connected to this university, to travel across the pond and have this unbelievable memory," Whitman said. "We've all had Illinois athletics form the backdrop of so many different memories, with different venues and different opportunities. Everybody wants to be a part of those events that are going to resonate with them for generations. To me, this is one of those opportunities."