Illinois up to No. 19 in AP Top 25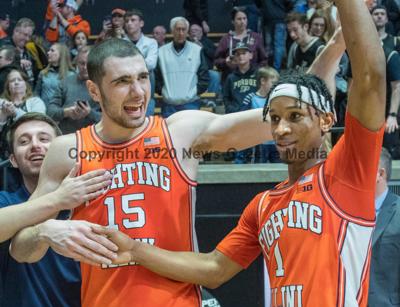 Illinois jumped two more spots in the latest Associated Press Top 25 on Monday morning to rank No. 19 nationally. The Illini (15-5, 7-2 Big Ten) are ranked for the third straight week and moved up from No. 21 after road wins at Purdue and Michigan.
Illinois is one of six Big Ten teams in the latest version of the AP Top 25. Michigan State, which is tied for the Big Ten lead with the Illini, is the highest ranked at No. 14. Maryland checks in at 15th, Iowa 18th, Penn State 24th and Rutgers 25th. Ohio State, Indiana, Purdue and Wisconsin were among the teams receiving votes.
***
CHAMPAIGN — Illinois is arguably the hottest team in the Big Ten heading into the final week of January. The Illini have won six straight conference games and had sole possession of first place for about 24 hours until Michigan State's Sunday win at Minnesota.
Illinois' winning streak is tied for the 14th longest active streak in the country. Unbeaten San Diego State tops the list, of course, at 21. Then comes Baylor's 16 consecutive wins, Gonzaga's 13 and 10 apiece for Florida State and (double checks to make sure; yep, it's true) Winthrop.
Top 10 teams Dayton and Seton Hall are among the four teams with nine straight wins. A surging LSU is one of four with eight. Then there's Illini at six along with Louisville, Villanova and five others.
All that's to say Illinois belongs in the AP Top 25 and will be ranked for a third straight week when the poll drops at approximately 11 a.m. Monday. The Illini should also jump from its place at No. 21 last week after winning on the road at Purdue and Michigan.
How far, though? Few teams are playing as well as Illinois right now. But that six-game stretch of success accounts for just 30 percent of the Illini's season as a whole. The other 70 percent still matters.
Don't get me wrong. I moved Illinois up four more spots this week, but couldn't go higher than No. 18. Two things are holding the Illini back from making a more serious leap on my ballot this week because the big picture matters as much as any recency bias.
A ho hum nonconference schedule where Illinois lost any game of consequence didn't help the Illini's cause. There's not tremendous value in beating the likes of The Citadel, Hampton and North Carolina A&T and even less in the win against Division II Lindenwood. Those are "can't lose" games and not much else.
The losses to Miami and Missouri are also turning out to be increasingly heavy anchors for Illinois' Top 25 résumé given the Hurricanes and Tigers have a combined 19-19 record at this point of the season. Both teams are spiraling, having lost four straight and six of their last seven.
Yes, those games happened in December. No, that doesn't mean they can be ignored. They're just as much a part of the story of this season of Illinois basketball.
The next two-plus weeks provide ample opportunity to cast those two bad nonconference losses further aside. Illinois has to get through Thursday's home game against Minnesota and Sunday's trip to ranked Iowa first, but the greatest of its opportunities comes next. Home games against Maryland and Michigan State presents a chance both for redemption and to take a commanding grip on the Big Ten.
Probably jump several more spots in the AP Top 25, too.
This week's ballot:
1. Gonzaga
2. Baylor
3. San Diego State
4. Kansas
5. Florida State
6. Louisville
7. Villanova
8. Seton Hall
9. Duke
10. Dayton
11. Oregon
12. Kentucky
13. Auburn
14. West Virginia
15. Michigan State
16. Maryland
17. Iowa
18. Illinois
19. Butler
20. LSU
21. Colorado
22. Houston
23. Rutgers
24. Penn State
25. Wichita State