CHAMPAIGN — Illinois volleyball put together a successful opening weekend even not at full strength for its back-to-back matches with Tennessee. The Illini topped the Volunteers in five sets in both victories, moved up one spot in the American Volleyball Coaches Association Top 25 when it was released Monday and will head into this weekend's Big Ten/Pac-12 Challenge in Iowa City, Iowa, as the No. 5 team in the nation.
Whether Illinois will be full strength against No. 16 Washington for its 4 p.m. match on Friday and against Colorado at 4 p.m. Saturday remains the question after four players did not play in the two matches against Tennessee.
Junior outside hitter/opposite Emily Hollowell was dressed and at least went through warmups Sunday but did not play. Redshirt freshman outside hitter Bruna Vrankovic, sophomore setter Mica Allison, an Auburn transfer and St. Thomas More graduate, and redshirt senior outside hitter Beth Prince did not dress or warm up for either match. The latter trio's participation in Tuesday's practice was also minimal.
"No secrets for my opponents," Illinois coach Chris Tamas said Tuesday. "Everyone's day by day. I think we were close on a few of them this weekend, but I'd rather them get healthy than try to push too much, too soon. I think I've said it before. It's a 14-week season, not a one-week season. They'll come back."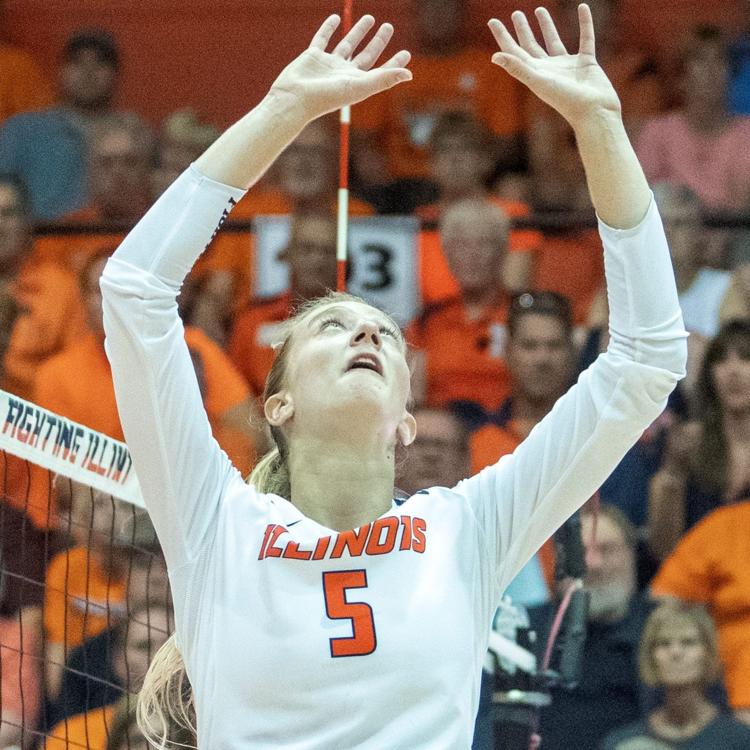 Tamas was pleased, however, with how his shorthanded team handled its opening two matches of the season. Jacqueline Quade carried a heavy load with 52 kills and 23 digs in the opening weekend. Megan Cooney (29 kills in both matches combined) and Kennedy Collins (nine kills, including the winner Sunday) both produced after being moved in the lineup because of the injuries.
With Prince out and Vrankovic also unavailable, Cooney moved from opposite to outside hitter. Collins trained at middle blocker in the three weeks leading up to the opener, but slid into Cooney's spot at opposite against the Volunteers. That left the other two freshmen middle blockers to each earn a start — Rylee Hinton on Friday and Kyla Swanson on Sunday — in place of graduated All-American Ali Bastianelli. Redshirt freshman Diana Brown also got her first two starts at setter after competing against Allison in the spring and last month in training camp.
"A lot of it's what we talk about a lot — just the mental capacity of being resilient and being tough," Tamas said. "That's what it is. That's what real tough looks like. It's not screaming and yelling and stomping on the floor. It's coming in and just doing your job.
"I thought they did a great job of accepting the role that they had in the match and gutting it through some tough moments. It was good to see as a group, both from the people on the court and then those cheering on off the court. I think every play the bench was just as rowdy as I've ever seen it."