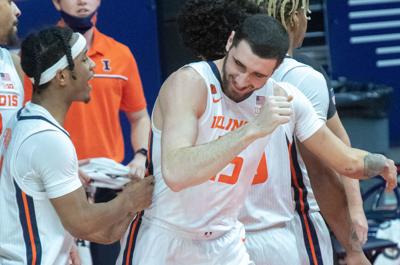 Instant reaction
What happened
Consider it a glimpse into the future. With Ayo Dosunmu sidelined Thursday night against Nebraska, a more confident, productive Adam Miller filled the void alongside a triple-double hunting Andre Curbelo. The future of the Illini backcourt showed they can play a key part of the Illini present, too, in the win against Nebraska.
What it means
The Illini likely would have preferred not being forced into the situation where they had to figure out how to win without Dosunmu, but they got the job done. The way Miller played — his best overall game in some time — is a good thing for Illinois even with Dosunmu expected back soon. There are worse third options for teams to have.
What's next
Illinois will face No. 23 Wisconsin on Saturday in Madison, Wis. The first of three consecutive games on the road to end the regular season. All three against ranked opponents, no less. Just a brutal finish that the uncertainty of Dosunmu's return only puts more into question. Of course, the Illini won the last time they visited the Kohl Center.
What was said
"It was bittersweet. Just knowing how hard the coaching staff and guys who have been here since day one worked to get to this point is special. Especially with (Da'Monte Williams), being here with him since day one and being able to stick through it." — Illinois senior guard Trent Frazier on Senior Night win
---
Grades
Player of the game
Illinois guard Andre Curbelo
Ayo Dosunmu isn't necessarily a "point guard" by name, but he's undoubtedly Illinois' floor general. He directs the Illini offense. Without his services, Curbelo rather seamlessly stepped into that role. Enough that he was chasing a triple-double of his own after two from Dosunmu earlier this month. Curbelo barely missed it, but did put up 10 points, 12 rebounds and eight assists in the Illini victory.
Backcourt
Illinois: A

Nebraska: B+
Between Curbelo's near triple-double, Adam Miller dropping 18 points (16 in the first half) and a do-everything performance from Da'Monte WIlliams (eight points, seven rebounds, four steals), the Illini trio was a problem for Nebraska. Trey McGowens gave a little bit of that back for Nebraska, but his 18 points came on 17 shots.
Frontcourt
Illinois: A

Nebraska: D
Nebraska tried to do its best Michigan State impression by getting physical with Illinois big man Kofi Cockburn. It had the Illini center visibly frustrated. But Cockburn responded with a dominant second half to finish with 24 points and seven rebounds. The 'Huskers had no answer save for fouling, and Cockburn made 8 of 10 at the line.
Bench
Illinois: A

Nebraska: B-
Curbelo alone provided the spark for Illinois off the bench. That Jacob Grandison was a force on the boards and chipped in 14 points and seven rebounds (four offensive) only added to the Illini's 34-29 advantage on bench points. Shamiel Stevenson and Kobe Webster's 12 points apiece helped the 'Huskers' side of that battle.
Overall
Illinois: A

Nebraska: C
Illinois simply took care of business in sweeping the season series against the 'Huskers. Down their leading scorer (and best player), the Illini turned to a multitude of players to fill the void. Illinois needed Dosunmu to beat Nebraska earlier this month on the road. The collective effort was the difference in the rematch — too many weapons for the 'Huskers to stop.
Scott Richey is a reporter covering college basketball at The News-Gazette. His email is srichey@news-gazette.com, and you can follow him on Twitter (@srrichey).