Instant reaction: No. 6 Illinois 77, Nebraska 72 (OT)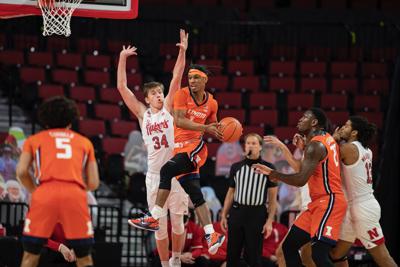 Instant reaction
What happened
Many thanks were offered that Ayo Dosunmu picked Illinois on that October night back in 2017. The Illini junior guard simply did what he does best when he took control of Friday night's game at Nebraska. Dosunmu put the team on his now broader shoulders and forestalled what would have been a disastrous loss to the last place team in the Big Ten.
What it means
Illinois avoids an ignominious fall out of the Associated Press Top 25 come late Monday morning. The No. 6 Illini just regained their status among the country's top 10 teams — a first in nearly two months — and a loss at Nebraska would have meant giving it right back. The end result, though, is what matters. A win is a win. No matter how ugly.
What's next
A fairly short memory would be good. It's not the quickest of turnarounds for Illinois with a Tuesday night matchup against Northwestern at State Farm Center, but forgetting most of what happened Friday night probably isn't the worst of ideas. The stretch run begins with the Wildcats, with as many as seven games possible in the last 2 1/2 weeks of the season.
What was said
"I drew a big 'T' on the white board and put a 'W' in one column and an 'L' in the other. Then I put a mark under the 'W.' That's what tonight was. We escaped in a very ugly fashion. Give Nebraska a ton of credit. Nobody, at the end of the year, is going to draw pictures about this one, but it's a 'W,' and we've got to learn from it." — Illinois coach Brad Underwood
---
Grades
Player of the game
Illinois guard Ayo Dosunmu
It's tough to be Kofi Cockburn these days. The Illinois center has averaged 22 points and 13.5 rebounds his last two games, but Dosunmu has been otherworldly. The Illini junior guard followed up his triple-double against Wisconsin by dropping 31 points, six assists and three rebounds on Nebraska. That he scored 17 of his 31 points in the final 3 1/2 minutes of regulation and overtime only illustrates how dominant he was to end the game when his team needed it the most.
Backcourt
Illinois: A
Nebraska: B-
Dosunmu wreaks the curve again. The Illini guards weren't perfect — particularly on the defensive end with Teddy Allen and Trey McGowens getting loose for 15 points apiece — but Dosunmu again carried a heavy load. A 10-point, seven-rebound performance from Adam Miller didn't hurt, though.
Frontcourt
Illinois: B+
Nebraska: B-
Cockburn's 14th double-double of the season and 11th in 13 Big Ten games was statistically notable. Mostly because he scored 21 points on just eight shots (seven of which he made) to go with his 13 rebounds. Coleman Hawkins had a good first half, but Giorgi Bezhanishvili and Jacob Grandison were both non-factors.
Bench
Illinois: C
Nebraska: B
The Cornhuskers got some unexpected production from guys like Thorir Thorbjarnarson (doubled his three-point total with two) and Shamiel Stevenson (hit his first three since mid-December). Hawkins and Da'Monte Williams, who had zero points, but did rebound and play defense, were it for the Illini reserves. It was another tough night for Andre Curbelo.
Overall
Illinois: B
Nebraska: B-
Was it the follow-up the Illini would have liked after beating a ranked Wisconsin team last week? Not so much. Does Friday night's game in Lincoln, Neb., still go down as win? Sure does. That's what does matter in the end, but Illinois got a bit of a rude awakening against the Cornhuskers with the moral of that particular story being that kind of effort likely won't cut it against the rest of the Big Ten.
Scott Richey is a reporter covering college basketball at The News-Gazette. His email is srichey@news-gazette.com, and you can follow him on Twitter (@srrichey).