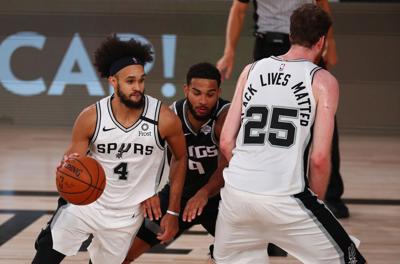 Black Lives Matter.
Equality.
Education Reform.
These are some of the social justice messages you'll see on the back of some NBA stars' jerseys, such as former Illini Kendrick Nunn, Giannis Antetokounmpo and CJ McCollum. Although every player did not choose to get a phrase on their jersey, I commend the NBA for even allowing them to be heard during a time like this — and on one of the biggest stages in athletics.
If I ever had the chance to replace my last name with a social justice message, I would do it for sure. Especially now, with the times we are living in and all of the injustices Blacks face on a day-to-day basis, it is a must that we are heard.
Black Lives Matter would be the phrase I would put on my jersey if given the chance. Reason being is because even though I know not all people have trouble understanding that message, there are still a lot who do. Those are the people I would wear the jersey for. The ones who have trouble understanding our lives matter. We have been quiet enough for too long and it is time we take the respect we deserve.
The NBA has made that possible with the messages on the jerseys. They support us 100 percent; they even have Black Lives Matter on the court and that speaks volumes. Hopefully other professional sports and maybe even collegiate ones can show the same support.
Ultimately, we just want equality. I was taught to treat the janitor with the same respect as the CEO, no matter the color. It bothers me how hard that is for some people to do. There is no way things that started hundreds of years ago should still be occurring today.
But, that's the world we live in.
Jay Simpson writes for The News-Gazette. His column appears Wednesday, Friday and Sunday. He can be reached at jsimpson@news-gazette.com
Spreading the words
A sampling of what NBA players are wearing on their jerseys in place of their last names:
Jayson Tatum: Black Lives Matter
Markelle Fultz: Respect Us
Trey Burke: Equality
Keita Bates-Diop: Vote
Noah Vonleh: I Can't Breathe
Russell Westbrook: Black Lives Matter
Jeff Green: Vote
JaVale McGee: Education Reform
Zion Williamson: Peace
Donovan Mitchell: Say Her Name