Lending a hand: A look at Big Ten assistant coaches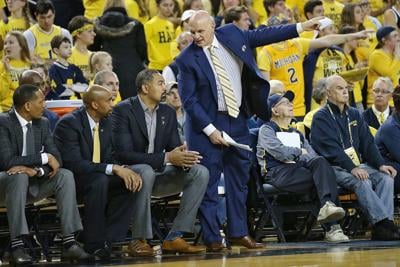 Illinois isn't the only Big Ten program that will have a new-look coaching staff for the 2021-22 season. Beat writer Scott Richey takes a look at all 14 (with more changes not out of the question):
Illinois
➜ Assistant coaches: Stephen Gentry, Chester Frazier, TBD
➜ Comment: Brad Underwood still has work to do with one (for now) opening on his staff. Should the Gentry back "home" to Gonzaga rumors play out, then last season's No. 2 team (and No. 1 seed in the NCAA tournament) will have turned over its entire assistant coaching staff.
Indiana
➜ Assistant coaches: Kenya Hunter, Dane Fife, Yasir Rosemond
➜ Comment: New coach Mike Woodson made a pair of shrewd moves in retaining Hunter and pulling Fife back to Bloomington after he spent a decade at Michigan State. Both have serious Big Ten credentials, and then Rosemond brings some variety after stops in the SEC and Pac-12.
Iowa
➜ Assistant coaches: Sherman Dillard, Kirk Speraw, Billy Taylor
➜ Comment: Consistency has been the standard in Iowa City. Fran McCaffery hired both Dillard and Speraw when he got the Iowa job ahead of the 2010-11 season, and even Taylor, who's entering his third year as an assistant, had a two-year stint as ops director from 2014-16.
Maryland
➜ Assistant coaches: Bino Ranson, Matt Brady, Danny Manning
➜ Comment: Ranson actually predates Mark Turgeon in College Park, Md., by a year after being hired by Gary Williams. To that institutional knowledge, Turgeon has added head-coaching experience in Brady (Marist, James Madison) and now Manning (Wake Forest).
Michigan
➜ Assistant coaches: Phil Martelli, Saddi Washington, Howard Eisley
➜ Comment: Bringing Martelli on board was a stroke of genius for Juwan Howard, whose now two seasons at Michigan are his only two as a college coach. Martelli's depth of experience after his lengthy stint coaching St. Joseph's served as a bridge in year one to a breakout season for the Wolverines this past year.
Michigan State
➜ Assistant coaches: Dwayne Stephens, Mike Garland, Doug Wojcik
➜ Comment: The Spartans had one of the most stable coaching staffs in the Big Ten before Fife left for Indiana. Of course, that still leaves Stephens and Garland, who have 32 seasons at Michigan State between them, and this is Wojcik's second stint working for Tom Izzo.
Minnesota
➜ Assistant coaches: Dave Thorson, Jason Kemp, Marcus Jenkins
➜ Comment: Minnesota ties were clearly important for new coach Ben Johnson. Thorson spent two decades as a high school coach in Minneapolis after a stint with the Gophers, Kemp got his start at Minnesota State-Moorhead and Jenkins has been on the UM staff since 2015.
Nebraska
➜ Assistant coaches: Matt Abdelmassih, Armon Gates, Nate Loenser
➜ Comment: Doc Sadler moving off the court to a staff job meant Fred Hoiberg could hire Loenser, who worked for him both at Iowa State and with the Chicago Bulls. The Cornhuskers also have a well-known recruiter in Abdelmassih and a potential future head coach in Gates.
Northwestern
➜ Assistant coaches: Brian James, Jon Borovich, Talor Battle
➜ Comment: While James has been on Chris Collins' staff from day one, Borovich was hired in 2019 and Battle was hired Monday. Maybe Battle is Collins' attempt to beat Illinois. The Wildcats have lost six straight to the Illini, but Battle had a career 5-3 record while playing at Penn State.
Ohio State
➜ Assistant coaches: Ryan Pedon, Jake Diebler, TBD
➜ Comment: Terry Johnson's departure for a similar job at Big Ten rival Purdue means a spot is open. Chris Holtmann will probably have to deal with this situation again soon. Ryan Pedon, a former John Groce staffer at Illinois, is already being tabbed as a soon-to-be head coach.
Penn State
➜ Assistant coaches: Adam Fisher, Aki Collins, Mike Farrelly
➜ Comment: Micah Shrewsberry's first Penn State coaching staff hit the important marks. He has a Nittany Lions alum in Fisher, an assistant with both NBA and college experience in Collins and an assistant with serious East Coast connections in Farrelly.
Purdue
➜ Assistant coaches: Brandon Brantley, Terry Johnson, Paul Lusk
➜ Comment: Matt Painter had to make two hires after Micah Shrewsberry (Penn State) and Steve Lutz (Texas A&M-Corpus Christi) took over their own programs. But Johnson knows Indiana and the Big Ten after time at Butler and Ohio State, and Lusk is back for his second stint at Purdue.
Rutgers
➜ Assistant coaches: Karl Hobbs, Brandin Knight, Steve Hayn
➜ Comment: Hobbs and Knight have been there from the start as Steve Pikiell breathed new life into the program at Rutgers and pulled the Scarlet Knights from the Big Ten basement. Hayn is a newer addition, but he brings the collective experience of the staff to more than 100 years.
Wisconsin
➜ Assistant coaches: Joe Krabbenhoft, Dean Oliver, TBD
➜ Comment: Krabbenhoft is the lone holdover from Greg Gard's first full season as the Badgers' coach, although Oliver did come on board a year later. Alando Tucker filled an interim role with Howard Moore on leave since May 2019, but he is reportedly not returning to the Badgers for the upcoming 2021-22 season.
Scott Richey is a reporter covering college basketball at The News-Gazette. His email is srichey@news-gazette.com, and you can follow him on Twitter (@srrichey).