CHAMPAIGN — Former Illinois defensive lineman Corey Liuget has donated $250,000 for the Henry Dale and Betty Smith Football Center, the DIA announced Wednesday. The donation will go toward what will now be the Corey Liuget Players' Lounge.
"The University of Illinois shaped me to be a hard worker and showed me how important it is to stay on track and to achieve your goals," Liuget said in a release. "I wanted to make this gift and put my name on the Players' Lounge because I want recruits to see that we have football traditions, players in the NFL, first-round picks. Illinois can make you whatever you want to be."
 The players' lounge in the Smith Center will be adjacent to the locker room. It will include a digital gaming area with flat panel TVs and an active gaming area with a pool table, foosball, ping pong, shuffleboard, a nutrition area and a two-lane bowling alley.
"Corey made a tremendous impact on this football program during his three seasons, and that impact continues today," Illinois athletic director Josh Whitman said. "He is a passionate Illini, who embraced all that being an Illinois student-athlete entailed, including returning to campus to complete his degree in 2016 even while pursuing his dream of playing professional football. His generous gift to this project will encourage future student-athletes to join the Illini family and to maximize their experience while on our campus, just as Corey himself has done."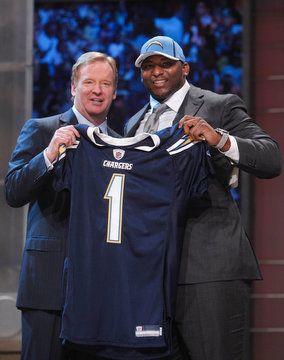 Liuget earned Fourth Team All-American and Second Team Big Ten honors in his final season at Illinois in 2010. He finished his three-year career with 125 tackles, 25 1/2 tackles for loss and 8 1/2 sacks. He was selected by the San Diego Chargers with the No. 26 pick in the first round of the 2011 draft.
Liuget played in six games with the now Los Angeles Chargers last season and is currently a free agent. He has 275 tackles, 59 tackles for loss and 24 sacks in his eight-year NFL career.
"We want all our former players to remain engaged in the Illinois Football program and having Corey Liuget support our new Smith Football Center in this way is an incredible testament to his experience on this campus," Illinois coach Lovie Smith said. "Corey has been a very productive professional player, and this gift shows the pride he has in his alma mater and place that helped elevate him into a first-round draft pick. We continue to thank Corey, and the many others, who have helped make this incredible facility a reality."