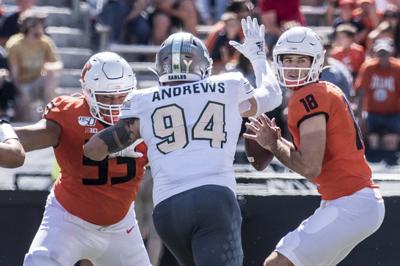 ****
Keep following the LIVE! Report for constant updates from beat writer Scott Richey. They'll all be right here collated from Twitter.
****
Good morning everybody. Another Illinois football game, another LIVE! Report from yours truly. The Illini are 90 minutes from kickoff against Eastern Michigan in a game that, well, has some interesting implications.
First of all, Illinois is 2-0 after wins against Akron and UConn. The chance to go 3-0 for the first time since 2011 (although that season didn't exactly end well) and just seventh time in the last 50 years is kind of a big deal. Lovie Smith, obviously, has never done in it in his tenure with the Illini. The program's bowl hopes are sort of predicated on a 3-0 run through nonconference play.
Here's the other implication. This is a game Illinois pretty much has to win beyond the 3-0 start thing. A home loss to a MAC team? Then it's just business as usual in the Smith era in a season where growth was supposed to turn into wins. Can't say the fan base would be energized by dropping this one to Eastern Michigan.
"We know that we have a good Eastern Michigan team coming in here, a bowl team, that of course upset a Big Ten opponent last year and played Kentucky strong this past week, so that's kind of where we are," Smith said Monday. " e need to make some improvements in some areas, all three areas, and to finish up the nonconference schedule 3-0 is where we want to be."
The LIVE! Report will be your go to for updates throughout the rest of the morning and into early afternoon here at Memorial Stadium. Follow along!