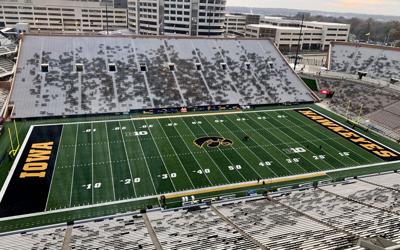 Follow along all morning and afternoon from Iowa City for Illinois vs. Iowa with beat writer Scott Richey posted up at Kinnick Stadium.
***
Let's just put this out there. Today's game is going to come down to turnovers. As in Illinois likes to force them and Iowa doesn't commit them. The Illini lead the nation with 26 takeaways. The Hawkeyes are among the national leaders — tied for ninth — having just turned it over nine times (four fumbles, five interceptions). 
Something has to give. One way or the other.
***
Some notable players not playing today for Illinois in Iowa City. Mostly linebackers. As in Jake Hansen (still) and also now Dawson DeGroot. The latter had a big game two weeks ago at Michigan State after Milo Eifler was ejected. Eifler, of course, will be back, but the Illini are going to be a bit thin in the middle level of their defense. Look for Khalan Tolson to get the start again in place of Hansen.
Better news for Illinois on the injury front is the return of Oluwole Betiku. The Illini defensive end missed the last three games. His return gives Lovie Smith another option. No Jamal Woods, though.
Down a couple wide receivers, too, in Jordan Holmes (more important for punt returns) and Dominic Stampley (playing less).
***
Good morning from Iowa City. A little brisk. Won't warm up all that much. Typical November football.
What's not typical November football — at least of late for Illinois — is a November game that really matters. The Illini locked down bowl eligibility two weeks ago with a wild come-from-behind at Michigan State, and wild might not be a strong enough description with Illinois scoring 27 fourth quarter points. 
Good morning, #Illini Nation! 🆚 Iowa🕝 11 am CT📍 Iowa City, Iowa📺 @BigTenNetwork🖥 https://t.co/63lshEomhi pic.twitter.com/GTCMQEjqnq

— Illinois Football (@IlliniFootball) November 23, 2019
Still, today's game against Iowa means just as much as two weeks ago when a bowl game was on the line. First, there's that whole thing about the Hawkeyes running roughshod over Illinois last year 63-0 in Champaign. The Illini remember.
Second, a win at No. 19 Iowa would probably allow Illinois to leapfrog the Hawkeyes in the bowl game pecking order. So long, Pinstripe Bowl. Hello, Gator Bowl. (As long as the Illini don't lay an egg next week at home against Northwestern). Giving up New York in December for Florida in January is a pretty good trade off.
Today's game could help decide some things.
It will also be interesting to see how Illinois comes off its bye week. Will it zap the momentum the Illini built with four straight wins? Or will the week to heal up and refresh give Illinois some juice at the end of the year?
Lovie Smith shared his opinion on that matter. 
"Bye week never comes at a bad time," the Illinois coach said. "Of course, it seemed like it was a perfect time for us. Had a chance to heal up a little bit more, so hopefully we will have most of our guys ready to go this week. Also a good time to get a bit of recruiting in.
"We realize where we are with our program. We realize how big of a game it is for us each week. The games do get a little bigger, and that's exactly where we wanna be in November. It's taken an awful lot to get us fired up, and we are anxious to play this game. We were embarrassed on our home turf last year, Iowa is a good football team and of course has an outstanding coach, outstanding program. So it will be a good challenge for us to go on the road, but we accept that challenge."