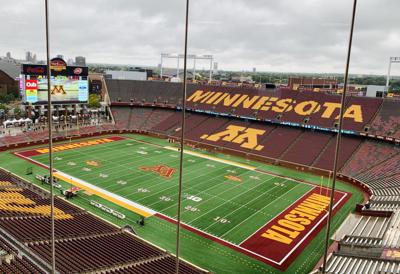 Beat writer Scott Richey will have all of your updates from today's game, which will now come from the warm, dry press box at TCF Bank Stadium instead of outside in what has been a persistent mist.
Follow along all afternoon.
We'll "pin" this to the top. Illinois quarterback Brandon Peters is out for the game after suffering an "injury" in the first half. That's all the Illini sports information folks would call it. Matt Robinson has played in Peters' stead.
****
Greetings from rainy Minneapolis. The weather for today's Illinois-Minnesota football game is, well, not ideal for fans wanting to enjoy the Homecoming weekend here in the Twin Cities. Maybe not ideal for two teams that have shown a willingness to (at least try to and sometimes succeed in) slinging the ball around in the passing game.
Could that be advantage Illini considering Reggie Corbin is Reggie Corbin and the Gophers' running game has been less than adequate so far this season? I suppose we'll find out.
"You really can't wait to get back to game weekend, and that's where we are right now," Illinois coach Lovie Smith said earlier this week. "We are getting ready to play a team who is undefeated so that gets your attention itself. Again, we need to get back on the football field and play. As we look at what we have done so far, there's some things we like and of course some things we don't like. It's as simple as that."
It is worth nothing that, at 48 degrees, it's 102 degrees warmer than the last time I was in Minneapolis to cover Illinois-Minnesota basketball. The temperature that day/night was minus-25, with a wind chill dipping to minus-54 at one point. I'll take 48 and rainy over that any day.
There was plenty of conversation earlier in the week about this game being a "crossroads" moment for Illinois. Kind of true. Beat an undefeated Minnesota team — on the road — and the season is maybe back on track at 3-3 with winnable games remaining against Rutgers, Purdue and Northwestern. 
Lose to the Gophers? Drop to 2-4 on the season with Michigan and Wisconsin up next on the schedule? See you in 2020, and maybe Smith will be there. His seat should be getting increasingly warm.
This was supposed to be the year of improvement. Of more wins. Smith said as much. So did athletic director Josh Whitman. A 2-4 record that might still yield five wins is only just living up to that.