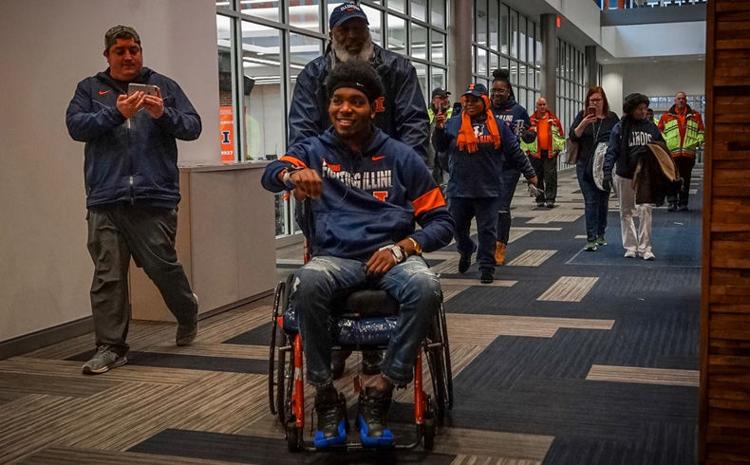 Andrew Marty ran for 111 yards and two touchdowns while passing for another and Northwestern upset Illinois 29-10 on Saturday.
It was the first Big Ten win for Northwestern (3-9, 1-8). Illinois — 21-point favorites going into the game — finished the regular season 6-6 and 4-5 in the conference. Illinois is bowl-bound despite the loss and will learn its destination on Dec. 8.
Marty made his first career start for the Wildcats after replacing Hunter Johnson during last week's game. Marty was the first Northwestern quarterback since Clayton Thorason in 2015 to gain at least 100 yards rushing in a game.
Perhaps the biggest surprise for Northwestern was true freshman and former cornerback Coco Azema, who led the way on the ground for the Wildcats with 123 rushing yards and two scores on just seven carries.
Illinois quarterback Matt Robinson, a sophomore starting in place of Brandon Peters (out with a concussion) was 8-of-17 passing for 108 yards.
Illinois' running game, generally its offensive strength, was nonexistent on a cold, rainy and windy afternoon. Leading rusher Reggie Corbin carried the ball 7 times for minus-ten yards. Dre Brown carried 5 times for 17 yards and the Illini's only touchdown,
Illinois had an abysmal first half and was lucky to only trail 10-7. Robinson was ineffective, going 1 of 5 passing for 29 yards, while Marty was 4 of 8 for 18 yards at the half. The Wildcats outgained the Illini 180 total yards to 30.
Northwestern racked up 162 yards on the ground compared to Illinois' 1.
Illinois will learn its bowl destination on Dec. 8. — AP
***
Memorial Stadium is a little on the empty side. For a good reason. The weather is, as they say around these parts, not ideal. So follow along with the LIVE! Report as beat writer Scott Richey provides updates all game long as Illinois and Northwestern square off for the Land of Lincoln Trophy.
***
A little more from Illinois coach Lovie Smith on his seniors:
"There's a lot of people who have a say in how a program goes, but if you're a senior, you've been around here the longest. So everything that we're doing right now, the position we've gotten our program in has as much to do with them as anyone. And they realize that. When you struggle and go through the hard times and put so much into it, you know what you've done.
"We've had some classes that have left here that have done an awful lot, but they didn't really feel as good about what happened during their time. But for this senior group, you look at them – the first senior class to move into the building, the first class in a long period of time to go to a bowl game. So there's an awful lot. Hopefully the first University of Illinois team to beat our rival in a few years. So these guys will leave here hopefully with a good taste in their mouth."
***
A group of 17 Illinois football players will go through Senior Day activities shortly here at Memorial Stadium. Some of them, though, might be back for another season, including running back Dre Brown, who could apply for a hardship waiver for a sixth season.
That will be decided later. For now, the Illini seniors will be honored together.
"It says a lot when you have a choice, and a lot of times when you have a coaching change, guys leave and want to try something different," Illinois coach Lovie Smith said. "As a new staff coming in, we let everyone know how we would run our program and what would be expected. And these guys that stayed all got on board and saw it the same way.
"So even though we didn't recruit them, they've been as much a part of us as any of the guys that we recruited. So it just feels like this is one of our classes that's leaving. There was a lot of disappointment. There's no other way to look at it, three years, haven't been to a bowl game. So for those guys to get a chance to leave here with a good feeling, a good taste in their mouths, it's pretty important."
***
Brandon Peters and Josh Imatorbhebhe are, in fact, out for today's game against Northwestern. They're also not the only ones. The full list of unavailable Illini ...
Out vs. NorthwesternDB AdamsLB DeGrootLB HansenWR HolmesWR ImatorbhebheDL MondesirRB NorwoodQB PetersWR SandyDL WoodsOut for the seasonDB BeasonWR CarterRB EpsteinDB KnightDL RoundtreeWR SidneyWR SmallingDB Wyatt

— Illini Stats & Notes (@IlliniStats) November 30, 2019
***
According to our Bob Asmussen, it's unlikely that quarterback Brandon Peters or wide receiver Josh Imatorbhebhe will be available for today's regular season finale against Northwestern. Peters' potential absence isn't all that unexpected after he was knocked out of last week's game at Iowa on what was officially not targeting, but was targeting if you ask Illinois coach Lovie Smith. 
That certainly changes the Illini offense — although the rain in the forecast for the entire game would probably have done the same. If Peters can't go, redshirt freshman Matt Robinson will likely get the start. He's more of a runner than passer, so if the weather is as expected the Illinois run game becomes more a priority. No Imatorbhebhe would mean more snaps for Caleb Reams, as the Illini get even thinner at wide receiver with Ricky Smalling and Trevon Sidney already out for the season.
On a different note ... these tweets, that came back to back, are kind of funny:
Illini Walk has been cancelled due to weather. https://t.co/hcyovVtVTE

— Illinois Athletics (@IlliniAthletics) November 30, 2019
A little rain never hurt anyone... #Illini | #JointheFight pic.twitter.com/eTCyvk6muj

— Illinois Athletics (@IlliniAthletics) November 30, 2019
***
Good morning everybody. We're in rare territory with today's LIVE! Report from Memorial Stadium. It's the last one of the regular season, but there will be another. Illinois' season won't come to a conclusion with the Land of Lincoln Trophy — HAT! — on the line during Rivalry Week against Northwestern.
GAME DAY 🔶🔷Throw on your 💦 gear and come send these guys off right! 🎩 #Illini pic.twitter.com/UyVA76Z6dZ

— Illinois Football (@IlliniFootball) November 30, 2019
There's more football to come a month from now with Illinois likely headed to either the Bronx to play in the Pinstripe Bowl or the other side of the country in Santa Clara for the Redbox Bowl.
Heady times given the gap since the Illini played in the Heart of Dallas Bowl in 2014. Under Tim Beckman. 
Illinois beat Northwestern that season to lock up bowl eligibility with Reilly O'Football (excuse me, O'Toole) leading the charge. This year's bowl eligibility is already secured, but that doesn't lessen the importance of today's game. Northwestern coach Pat Fitzgerald is 9-4 against Illinois in his head coaching career, and the Wildcats have won 12 of the last 16 rivalry games.
So, yeah, today's game remains kind of important. And beyond the Illini beating their rivals. A win today also ensures a winning season for the first time since 2011.
"It's a little bit more incentive to play your best football," Illinois coach Lovie Smith said. "We haven't beaten them since I've been here, but we're a better football team. I know what their record is. I know it's rivalry week a lot of places, and a lot of the same comments are being made. It doesn't matter what your record is when you play a rival. That's definitely the case.
Any team coached by Pat Fitzgerald, you know how they're going to play – 60 minutes, clean football all the way. But we're going to be doing the same thing, so we're excited about that."