Jordan Caroline, Kendrick Nunn and Rayvonte Rice all have ties to Champaign. And all three have worn NBA uniforms this month playing in the NBA Summer League. Before the playoffs begin on Friday, Sports Editor MATT DANIELS takes a look at how the trio has fared:
JORDAN CAROLINE
C-U connection: The son of former Illinois football All-American Simeon Rice and grandson of College Football Hall of Famer J.C. Caroline, another former Illini great, played his first two seasons of high school basketball at Champaign Central.
Since C-U: Caroline spent his final two high school seasons at prep powerhouse Montverde (Fla.) before embarking upon a college career at Southern Illinois (2014-15) and Nevada (2016-19), scoring 2,045 career points and grabbing 1,164 career rebounds.
This month: The 6-foot-7, 235-pound forward went undrafted last month, but wound up with the Los Angeles Lakers summer team. He's played in four of the Lakers' seven games, averaging 13.2 points and 4.5 rebounds. His best game happened on Monday during an 88-80 loss to the Warriors when he dropped in a game-high 27 points that included him making all 12 of his free throws.
KENDRICK NUNN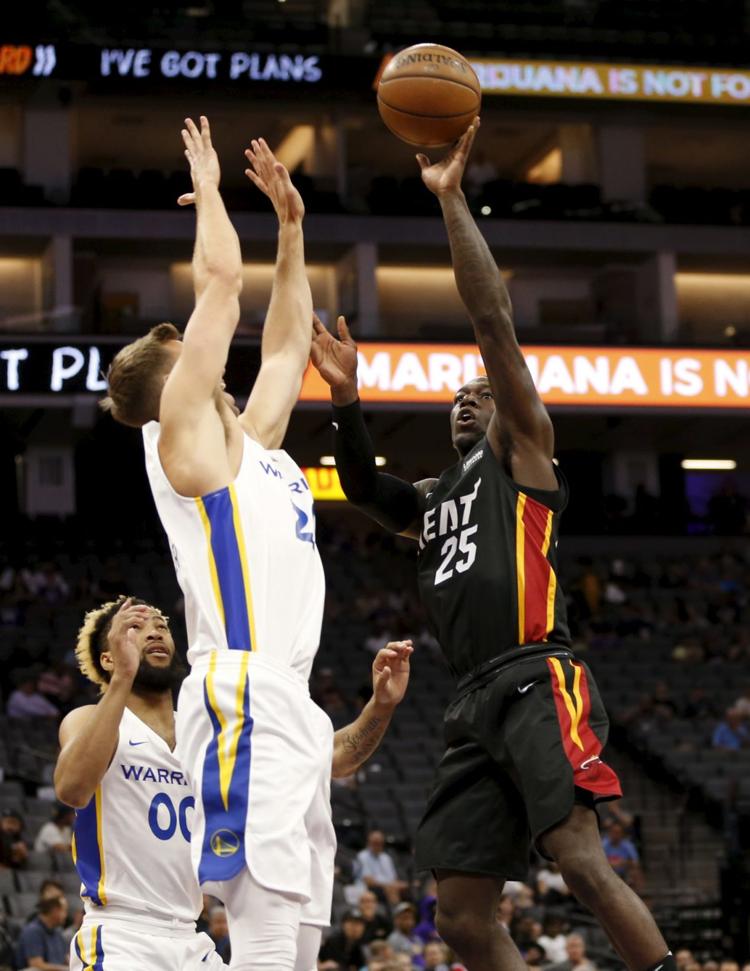 C-U connection: The former two-time News-Gazette All-State selection from Chicago Simeon signed with John Groce and the Illinois men's basketball team in November 2012. He spent the next three seasons with the Illini, scoring 1,018 points.
Since C-U: Nunn was dismissed from Illinois in May 2016 following a guilty plea on a misdemeanor battery charge. He transferred to Oakland, where he averaged 25.9 points, and spent last season with the Santa Cruz Warriors in the G-League before signing with the Miami Heat in April.
This month: The 6-foot-3, 195-pound left-handed guard has played significant minutes in six of the Heat's seven games. And he's doing well in multiple facets, helping Miami compile a 6-1 record in the process. Nunn has started every game he's played and he's averaging 22 points, 4.3 rebounds and 5.2 assists, pairing well with recent Heat first-round pick Tyler Herro.
RAYVONTE RICE
C-U connection: The former Edison Comet and Centennial Charger left his mark on the area high school basketball scene, scoring 1,810 career points. The 2010 N-G All-State Player of the Year helped guide Centennial to a Class 3A state title in 2009.
Since C-U: Well, he left and then came back. After two productive seasons at Drake, Rice transferred to Illinois. His final two seasons didn't produce an NCAA tournament appearance, but he did lead the Illini in scoring each season and started 54 of a possible 59 games.
This month: These aren't the first Summer League minutes for the 6-foot-4, 220-pound guard. After a stint with the Bulls during the 2015 summer league, Rice has embarked upon a successful pro career overseas in Italy, France and Mexico. Playing with the Phoenix Suns in Las Vegas, Rice has averaged 9 points and 2.3 rebounds while knocking down 7 of 17 from three-point range.