on illinois football
Lovie embracing run of success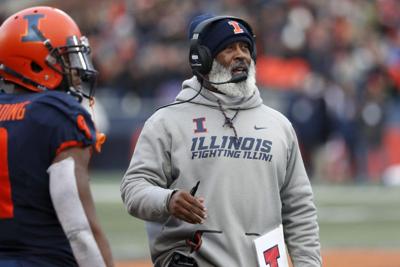 CHAMPAIGN — Normally, Lovie Smith is long gone by the time the Illinois football press conference wraps up. The head coach talks for 20 minutes, handles a couple of other duties and is out the door.
But not this Monday. He was there until the end at 2 p.m. So I rode down with him on the press box elevator from Memorial Stadium's eighth floor. It gave me a chance to ask him about the NFL. And his favorite team growing up in Texas, the Dallas Cowboys.
Years ago, the coach said, he was able to meet his idol, Cowboys legend Roger Staubach. The former quarterback was every bit as gracious as Smith hoped he would be.
It was the kind of chit-chat I got used to with previous Illini coaches. Ron Zook let it be known that I wasn't hanging out enough in the coaches' offices (my family might argue that).
Lou Tepper, Ron Turner, Tim Beckman and Bill Cubit were always willing to shoot the breeze.
From a "getting to know the community" standpoint, it makes a lot of sense. Every time we talked, they had a chance to learn something about C-U. And I learned more about the coaches and their teams.
These days, Smith seems more open to being open.
He's never going to tell reporters any state secrets. We won't get any injury information. No problem. He's protecting his team. I get that.
Light banter is good. It shows Smith is reaching a comfort level with the people who cover his team.
Winning is fun
Fresh off a much-needed open week, Illinois (6-4, 4-3 Big Ten) takes a four-game winning streak to No. 19 Iowa (7-3, 4-3) on Saturday. That kind of run would put anybody in a good mood.
I've only covered Smith for four years. This is the happiest I have seen him.
"Hope so, Bob," Smith said. "We like the position we're in. Life is a lot better when you're winning football games and you've accomplished more than you have in the past. And you see the program heading in the right direction.
"We're all in a little bit better spirit leading up to game week."
Smith observers, and the coach himself, often point to his even-keeled personality.
It's who he is. Most of the time.
"When things happen that are really good, you enjoy them and then you move on," Smith said. "When things are happening that you don't like, it's the same thing. You make the necessary corrections and you go from there. That's the approach I've always tried to take."
The Illini players and assistants have noticed a happier head coach.
But ...
"I've never seen him in a bad mood," offensive coordinator Rod Smith said. "Is he more jollier? Is it the beard that does it for you? Yeah, I think he definitely is. We all our. The air smells better, food tastes better, everything is better when you win. It's not just him. It kind of filters down through the entire program."
"I would say he's a little bit more happy than usual," Illinois .quarterback Brandon Peters said. "But I've never seen him not happy before."
Today is different than when the team was 2-4.
"When we started losing, people started getting a little tighter," Illinois receiver Josh Imatorbhebhe said. "Coaches are a little bit more strict. Everybody's not smiling. After we lost to Michigan, from then to now, he's definitely in a much better mood."
That was then
Smith worked nine season as the Chicago Bears head coach, leading the team to Super Bowl XLI more than 12 years ago.
It was a good run. Doubtful he is coach at Illinois without it.
The Bears job was Smith's first as a head coach.
David Schuster, a reporter/host for Chicago radio station WSCR, was there from the beginning of the Smith era.
"He was certainly more upbeat after wins than he was after losses," Schuster said.
The Chicago media didn't get to know Smith away from the field.
"He never really revealed too much of what was going on behind the scenes," Schuster said, "He was very guarded with almost everything he said. It wasn't a cantankerous relationship by any stretch of the imagination.
"He kept us at a very long arm's length."
The people who really matter, the players, "absolutely loved him," Schuster said. "He always had their back and never said anything bad about the players, at least not publicly."
Time is enhancing the perception of Smith's work with the Bears.
"We underrated Lovie the coach because we didn't care about Lovie the personality at the podium," ESPN1000/NBC Sports Chicago announcer David Kaplan said.
Thanks to Kaplan's friends, former Bears Alex Brown and Olin Kreutz, he knows better.
"They have said to me on multiple occasions, 'Dude, I know he was hard for you guys. But he's a helluva football coach.' Guys that I respect.
"I have re-evaluated my opinion of Lovie Smith the football coach. Guys that I trust said he's the kind of guy you'd want your son to play for."
Kaplan sees a different Smith at Illinois compared to his time coaching the Bears.
"Lovie Smith looks to be a happier person," he said. "Like he has embraced the college experience. The whole vibe has changed. Obviously, winning will do that for you. But I also think he just seems like he is in a really good place."
Bob Asmussen can be reached at 217-351-5233 or by email at asmussen@news-gazette.com.